Dartmouth College in Hanover, NH, and Aruba Networks say they're building one of the world's largest and most innovative Wi-Fi networks for wireless voice, video and data services.
Dartmouth is supporting next-generation voice, video and data services throughout its 200 building, 1.5 square mile campus by deploying over 350 Aruba dual-radio 802.11a+b/g access points and 12 Aruba 5000 wireless LAN switches.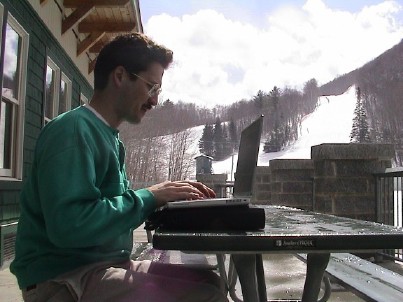 Over the next several months, Dartmouth is replacing over 550 Cisco 350 802.11b APs with dual-radio 802.11a+b/g Aruba 70 APs.
"When we installed our first AP, the technology we used was state-of-the-art, but the state-of-the art has quickly changed. We needed to change with it, but more importantly, we needed an architecture that could adapt to change," said Brad Noblet, director of Technical Services at Dartmouth College. "We are deploying wireless on such a large-scale that scalability, performance and security were non-negotiable items. Aruba had the only system we found that could reliably deliver all three."
Dartmouth's Wi-Fi network is being built to support more than 6,000 undergraduate and graduate students and 2,500 faculty and staff with voice, cable TV and data along with new location services over an 802.11 infrastructure supported by Aruba wireless LAN (WLAN) switching technology.
Nearly every Dartmouth student owns a personal computer and more than 9,000 PCs are in use campus wide. According to the college, approximately 90 percent of new freshman arrive with 802.11-enabled laptops.
The Dartmouth project was driven by the need for centralized wireless management, future-proofed protection and flexible security options. According to Dartmouth, universal authentication on any port and the migration to 802.1X for both wired and wireless users were key factors in the upgrade.
"We currently operate an open network but are moving users to 802.1X," said Noblet. "Aruba lets us do this quickly and easily from a central location for both wired and wireless users without impacting the ongoing operation of the infrastructure.
Dartmouth is using Cisco IP Softphones, a Windows-based client. Bellevue, Wash.-based TeleSym is also developing clients for both Pocket PC and Palm handheld devices, as well as for the Mac OS laptops and PDAs.
WiFi Planet has a list of companies offering of Wi-Fi/cellular and VoIP phone calling from handhelds.
At any given time 50 staff or students are also using Vocera IP badges over Wi-Fi within Dartmouth's Thayer Engineering School. It can uniquely identify voice and data traffic coming from the same laptop and prioritize voice over data to ensure the high quality calls.
Dartmouth is replacing its cable TV plant with cable over Wi-Fi by converting NTSC and digital cable signals to MPEG for streaming over its 802.11 infrastructure.
With voice, video and data running over Wi-Fi, Dartmouth improves its ability to quickly provide multi-media services to students and faculty wherever they are and reduces capital and operational costs from physical cabling changes that must be made.
"Aruba gave us 802.11a and b/g support in APs that can be managed from a single point. It also delivered a central point for all security and RF visibility and management that we didn't have with our existing wireless system"," said Noblet.