The effort to ban municipal networks in Texas has failed. Texas House Bill 789 originally had provisions to ban muni wireless networks. The Senate passed a significantly rewritten version, without a ban. A conference committee failed to reach agreement, so the bill died when the Texas legislature adjourned this weekend.
The fight to maintain free municipal wireless services in Texas included heavyweight Michael Dell as an ally. U.S. Representative Pete Sessions of Dallas even introduced federal legislation to ban municipal broadband networks nation-wide.
Meanwhile phone companies in Texas were unable to get state legislators to pass a bill that would have allowed phone companies to negotiate a single statewide contract for television service via the Texas Public Utility Commission. Now they'll have to work city by city to acquire franchises through local governments. Just like Comcast. SBC is based in San Antonio.
Verizon and SBC are challenging cable providers head-on for TV services, using fiber-optic networks for voice, data and video.
Verizon said that the legislative impasse will prolong a time-consuming process for allowing more competitors into the game. Business Week says without state or federal legislation, phone companies must win franchises in each municipality they hope to serve. For Verizon, that would mean gaining licenses in 10,000 municipalities.
Cable companies in Texas contended, however, that this would have created an unfair system for them because they currently must gain approvals from more than 800 cities in the Lone Star State to offer service.
SBC will provide Fiber to the Node (not the home). Once to the node about 500 homes will be served via existing twisted copper via VDSL. SBC says it will provide 6 Mbit/s to 8 Mbit/s per HD channel using either Microsoft's VC-1 or MPEG-4. Verizon has already spent $1 billion, or an average of $1,000 per home, to replace the copper lines serving areas with 1 million homes and expects that number to reach 2 million homes this year. SBC expects to spend $5 billion over the next three years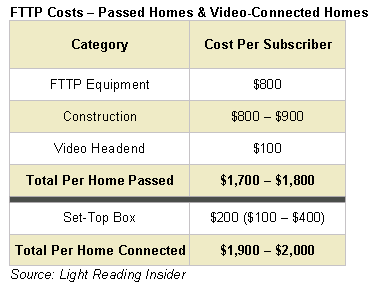 Broadband Infrastructure Costs per Kilometer vs. Other Infrastructure Costs

Road: $550,000
Water: $195,000
Electricity: $145,000
Gas: $85,000
Fiber Optics; $22,000 – $35,000
Coaxial Cable: $12,000 – $20,000
Copper Wires: $7,000 – $15,000
Wireless: $3,500 – $15,000
Source: Canadian Broadband Taskforce Report, 2001 page 46
Verizon's FIOS may run fiber to the home, then distributes video via coax around the house. SBC does IP-TV, Verizon is essentially digital cable. Verizon is building video networks based on cable TV not IP. Fios TV's fiber-to-the-premises service is scheduled to begin later this year. Internet connections at 30 Mbps cost $199.95.
Verizon first rips out the old twisted pair feed so consumers no longer have the option of "equal access" to competing ISPs. It's Verizon DSL or nothing. Like cable. Homeland Security, Bill Barr style.
Verizon will bring fiber to 6 of the 115 million U.S. households.
So what!
In Hong Kong, 10 Mbps costs US$16/month with 100 Mbps running $34/month. Alcatel and India's C-DOT recently signed an agreement for introducing WiMax technology in India, targeting 20-40 million subscribers in the next five years. The United States ranks 16th in broadband penetration — and falling fast.
No less a capitalist than Comcast's CEO Brian Roberts calls telephone fiber plans "FTTR" — Fiber-To-The-Rich. Intel's CEO Craig Barrett said DSL and cable were "half assed". He likes WiMax, of course.
Incumbents spent a quarter million dollars to convince locals to vote against a municipal broadband in Illinois. Broadband Reports tallies the travesties.
Related DailyWireless articles include; Banning Broadband Everywhere, Heartland Says The World Is Round, City Clouds Save Money, and Daily Wireless Testifies for Municipal Wireless and High Noon for City Clouds.