The 2006 Submarine Ring of Fire expedition on the research vessel Melville is the third in a series of explorative expeditions to the submarine volcanoes of the Mariana Arc. Some 90% of the world's earthquakes occur along the Ring of Fire.
Bob Embley gives us a short video briefing of this adventure. The volcano, called NW Rota-1, was discovered in 2004 and has since been visited several times by international teams of explorers.
A NOAA-led team of ocean explorers shot amazing footage of the eruption of an underwater volcano in the Mariana Arc, south of Guam. C/Net has a 5 minute clip. NOAA's Daily Video Logs have lots more.

The first video shows billowing plumes of debris, gas and ash so rich in sulfur that a yellow tinge is visible.

A second video shows flashes of red as lava is fired from the vent. In both, scientists watching the footage describe in excited voices the submarine explosions, believed to be the first ever caught on record.
The interdisciplinary team of 21 scientists from the U.S., Japan, Canada and New Zealand will work closely with the Deep Submergence Operations Group of Woods Hole. They utilize the remotely operated vehicle Jason II to explore and collect samples at hot-springs on these active volcanoes.
Learn what Bob Embley hopes to discover on this expedition with video and audio podcasts and daily logs. This May 4th video (left), shows bubbling liquid sulfur and fire walking crabs.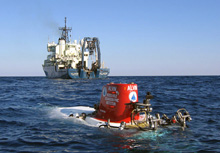 "One of the most exciting discoveries of the 20th century was the discovery of active sulfur volcanism on Io, the innermost (major) moon of Jupiter.
"Last night we came across another extreme of sulfur volcanism in the Solar System, a convecting pool of liquid sulfur under more than 40 atmospheres of pressure"…
Meanwhile the Research Vessel Atlantis and the deep diving submarine Alvin (left) are headed up the West Coast this summer.
It's far more interesting, relevant and exciting than any secret NASA/Air Force space program. That's because it's real science.
And you are there. Telepresence Now!
BULLETIN: Today a 6.2 earthquake struck the Indonesian island of Java, killing more than 3,000 people with at least 10,000 others believed to be injured.
Many people are still believed trapped under rubble and collapsed buildings.
The Indonesian Red Cross estimates some 200,000 people fled their homes after it hit early on Saturday morning
Indonesia is in a zone known as the Pacific "ring of fire", which is prone to earthquakes and volcanic activity.
In December 2004, a huge earthquake off Indonesia's coast killed hundreds of thousands of people across the Indian Ocean by triggering a tsunami.
Indonesia contains over 130 active volcanoes, more than any other country on earth. They comprise the axis of the Indonesian island arc system, which is generated by northeastward subduction of the Indo-Australian plate. The great majority of these volcanoes lie along the topographic crest of the arc's two largest islands – Java and Sumatra.
The cataclysmic blasts of Krakatau in 1883 (above) generated tsunamis, up to 40 m tall, and killed 36,000. Today's earthquake is thought to have been tectonic in origin and not directly associated with the ongoing eruption of nearby Mount Merapi, although the earthquake is reported to have caused increased activity in the volcano.
Google News, Yahoo Full Coverage, CNN, The BBC, WikiNews and Indonesia Earthquake Information have more on this breaking story. CBS has comprehensive disaster links.
By the way, I am posting this update at 1:42 am (Sunday) PDT and The Pacific Disaster Center has, at this time, no word about this disaster on their web page. The last news update was on 19-May-2006. They're undoubtly very busy. But people's lives may be depending on news from this agency. They appear to have dropped the ball (again).
The Pacific Command (Pacom), has its headquarters in Honolulu. They said they need good communications with units operating in or offshore Indonesia, Thailand and Sri Lanka because "if we can't communicate, we can't deliver the relief where it is needed."
Homeland Security's`website has nothing — but that's no surprise — it's not their job.
Meanwhile, at 1:46 am (Sunday), PDT, Wikipedia's 2006 Java earthquake, has a comprehensive page of details and links. The Red Cross, Northwest Medical Teams and Mercy Corps have details on today's quake on their websites and are on scene. Right now.
National Oceanic and Atmospheric Administration (NOAA) is deploying 32 new advanced technology Deep-ocean Assessment and Reporting of Tsunami (DART) buoys for a fully operational tsunami warning system by mid-2007.
In addition, the United States Geological Survey (USGS) will enhance its seismic monitoring and information delivery from the Global Seismic Network, a partnership with the National Science Foundation.
The new system will provide the United States with nearly 100% detection capability for a U.S. coastal tsunami, allowing response within minutes.
The new system will also expand monitoring capabilities throughout the entire Pacific and Caribbean basins, providing tsunami warning for regions bordering half of the world's oceans.
The Intergovernmental Coordination Group for the Pacific Tsunami Warning and Mitigation System (ICG/PTWS), conducted its first end-to-end Pacific-wide tsunami exercise for the Pacific Ocean just last week, on 16-17 May 2006.
The United States has led the GEOSS effort since 2003 when the G-8 called for establishing a global observation system.
INMARSAT is frequently used to provide direct-dial voice, fax, and telex to and from the international public telecommunications networks. A fast deployable WiFi network can be airdropped to support emergency relief work after a natural disaster.
DailyWireless has more on Global Tsunami Warning System Announced, Biggest Spotbeam Sat Launched, Global Satellite Providers Now Three, iPSTAR-1 & The Global HotSpot, Inmarsat F2 Launched, Tsunami Monitoring, Tsunami Mapping, WiMax: Trial By Fire, 700 MHz On The Line, More News Maps, Solar Electric to Go, FCC Talks Katrina, Pronto Managing Katrina Network, Georgia COWs, Mobile COWs & COLTs, Hurricane Frances Lineworkers, Earthquake First Responders, Hurricane Help, Public Service Bands, Corpus Christi Cloud, More Solar WiFi, USGS Aero Wireless, Wireless Recon Airplanes, More 700 Mhz Testimony, ISP in a Trailer, Getto Antenna, WiMax Vrs WiFi, Strix Satellite Mesh, D-Link Hotspot with Cell Backbone, Flarion & Netgear = Mobile Hotspot, Camphones For Journalists, GPS Blogging Phones, Map Space, Meetro Location Net, More Google Map Hacks, and Tsunami Warning Ideas.