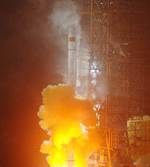 A
Long March 3A
lifted off from the
Xichang Satellite Launch Center
at 11:02 am EDT Tuesday, placing the
Zhongxing 22A
satellite
into a geosynchronous transfer orbit early Wednesday
. It was the second
Chinese launch
in less than a week. The smaller
Long March 2C
launched a science satellite
carrying 215 kilograms of seeds of plants and fungus
early Saturday.
The satellite, owned by the China Telecommunication Broadcast Satellite Company, will operate at 98 degrees east and is expected to be used for the 2008 Beijing Olympics. It was only the third Chinese launch of the year. The Chinese-developed SINOSAT-2, to be launched later this year, will be placed at 92.2°E and become the primary satellite of the Nation's DBS system.
The launch pad number 3 is being upgraded in preparation for the China's lunar exploration program, scheduled for April 2007.
Meanwhile, in a 7-hour, 11-minute spacewalk — nearly 45 minutes longer than planned — Astronauts MacLean and Burbank connected a new solar array and prepared its ferris-wheel-like rotary joint for an inaugural rotation later in the day.
The STS-115 crew is conducting three spacewalks to outfit the 17.5-ton, 45-foot-long truss and to prepare the arrays for operation. The solar arrays will be unfurled on flight day 6 to a total length of 240 feet.
Once the solar arrays are operating, the rotating joint will move with the sun to maximize the amount of power generated. They eventually will supply a quarter of the space lab's power when it is completed by 2010.
NASA has complete coverage of the Atlantis' Shuttle flight #115 which delivered the station's first 10-foot wide, wagon-wheel-shaped joint that allows the arrays to turn toward the sun. Nothing like this joint has ever flown in space. And there's no guarantee it will work like it's supposed to.
In addition to the construction work, the STS-115 astronauts and the Expedition 13 crew will transfer cargo between the two vehicles. Space Shuttle Atlantis and the STS-115 crew are slated to undock Sunday.
Instead of flying payloads to the International Space Station (ISS) on government operated vehicles, NASA plans to spend $500 million (less than the cost of a single Space Shuttle flight) through 2010 to finance the demonstration of orbital transportation services from commercial providers. On August 18, 2006, NASA announced that SpaceX and Rocketplane–Kistler (RpK) are the two winners for Phase I of the COTS program.
Goofy flights to the Moon and Mars may damage NASA's scientific reputation with taxpayers. Mars: Dead or Alive didn't need a $300 million PR campaign by Lockmart to capture the public's imagination.
NASA Ames may become the West Coast 'space portal' for affordable small satellites, but West Texas is where you want to be if you're a dotcom billionaire like Jeff Bezos (Blue Origin), Paul Allen (Scaled Composites), John Carmack (Armadillo Aerospace) or Elon Musk (SpaceX).
The list of private spaceflight companies keeps growing.
The largest "trophy" satellites are switchboards in the sky that deliver up to 20 kW. They're based on platforms like the Boeing 702, Loral 1300, Lockheed Martin 2100AX and EADS Astrium/Alcatel AlphaBus.
According to the World Satellite Communications & Broadcasting Markets Survey, revenues of the FSS industry totaled $7.6 billion in 2005. Demand was driven by HDTV, military communications and private corporate networks. Of the 4,535 transponders in service in 2005, 57 percent were for TV broadcasting services and 28 percent in North America.
Space news resources include; ComSpaceWatch, SpaceRef, SpaceDaily, Space, Space News, SpaceFlightNow, Florida Today, Houston Chronicle, Washington Post, HeadlineSpot, CBS News, CNN, MSNBC, AeroAstro, AeroSpaceCorp, Ball Aerospace, NASA SpaceTech 5, SpaceDev, SpaceQuest, Microsat Systems, Orbital Science, Russian Space Web, Surrey Satellite, Swales Aerospace, Association for Unmanned Vehicle Systems, UAV Forum, UAV News, AeroVironment, Insitu Group, Open Source UAV Projects, Lloyd Wood, Very Long Baseline, Atacama Large Millimeter Array, Green Bank, Mauna Kea, Allen Array, Tactical User Antenna, Military & Aerospace Electronics and NASA TV.
Related DailyWireless articles include; Cheap Space Access, Internet Satellite on E-Bay, Crisis at NOAA, Paint-On Antenna, Ofcom Supercharging WiFi?, Satcom Doubles Up, Homeland Security Gets Truckin', Emergency Communications SimDay, Cisco Does VSAT, Ring of Fire Earthquake, Big Brother Blimp, Robot Space Combat, Mars & Venus Missions, Tracking the NRO, Very, Very Large Array, Contact? and Arrays in Space.