It's a transmitter, a radio for speaking to God.
— Raiders of the Lost Ark
Broadband Reports says the long-rumored DirecTV share swap between Liberty Media and News Corp. is about to take off.
Liberty has long held a 16% stake in News Corp. that Rupert Murdoch didn't like. Now he's trading John Malone his 38% stake in DirecTV to get it. The swap would give Liberty a controlling stake in DirecTV. Owning several broadband networks in other countries, Murdoch had hoped that DirecTV would be his ticket into the broadband business in the United States. As many of you probably remember (and would like to forget), DirecTV already had one stint as a broadband provider, and it ended painfully.

The media mogul talked frequently this year about a theoretical billion dollar plan to get DirecTV back into the broadband business, this time as a nationwide Wimax operator. Plenty of scenarios were floated, from a partnership with Wimax operator Clearwire to a merger with Echostar.

But nothing seemed to go Murdoch's way.
If the [$11 billion] deal goes forward as planned, Mr. Malone's Liberty Media Corporation will acquire the News Corporation's 39 percent stake in DirecTV as well as some $550 million in cash and other operating assets in a transaction that will allow both sides to avoid paying taxes. The News Corporation would simultaneously retire Liberty's 19 percent voting stake in it in what amounts to a huge stock buyback. It also would give the News Corporation a gain of close to $5 billion on the investment, based on DirecTV's closing stock price of $23.53 today and the roughly $14 a share the company paid.
DirecTV is the nation's largest satellite broadcaster with 15.5 million subscribers as of June 30, and another 1.7 million subscribers in South America. Echostar is the 2nd largest satellite broadcaster in the United States serves more than 12.7 million satellite TV customers through its DISH Network.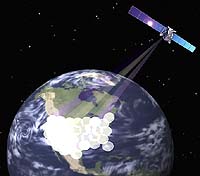 But there's a new kid in town — WildBlue. WildBlue isn't a television provider — it provides two-way internet connectivity using spot beams on KA band satellites. Currently WildBlue is offering a $250 dish with internet access as low as $50/month. A new, custom-build bird WildBlue- 1 is set to fly tomorrow.
WildBlue-1 and SES Americom's Americom-18 will be launched Friday night by an Ariane-5 launcher, from the Guiana Space Center in Kourou, French Guiana.
WildBlue is currently using Canada's Anik F2 satellite to deliver KA band service to its clients. WildBlue owns a lifetime lease on Anik F2's Ka-band payload over the U.S. and will continue to use that capacity as well.
The WildBlue-1 launch will triple the number of clients the Denver-based company can serve in the contiguous United States and "will help to ensure that we are able to handle 100 percent of our customer demand in the foreseeable future," said David Leonard, chief executive officer of WildBlue, in a statement.
UPDATE: Arianespace has successfully deployed WildBlue-1 and AMC-18 (Video Clips).
WildBlue-1 will cover North America with 41 overlapping Ka-band spot beams. Eight tracking antennas on board the satellite provide precision pointing of the beams over the contiguous United States. The 4.7 metric ton spacecraft will operate from the 109.2 degrees West longitude orbital position.
WildBlue will conduct in-orbit testing and plans to offer service using the new satellite beginning April 12.
The SES Americom's Americom-18 spacecraft was procured by SES Global Satellite Leasing Ltd., an SES company located on the Isle of Man. AMC-18, built on Lockheed Martin's A2100 bus, is an all C-band satellite optimized for HDTV and the third satellite in their Americom's HD-PRIME neighborhood. A transfer orbit should deliver AMC-18 to 80 degrees West; then AMERICOM takes over the spacecraft to begin in-orbit testing on December 19th.
If Murdock is getting out of DirecTV and bailed from the AWS Auction, what is he planning next? A partnership with Clearwire or Sprint for WiMAX broadband could be possible.
A Virtual Operator deal with T-Mobile for use of their nation-wide AWS cellular network might also be an option. Maybe throw in Crown Castle's mobile TV service, called Modeo (at 1.670-1.675 GHz), too. Crown could provide both mobile television and cell towers.
But some believe Murdock could be expanding his horizons with an MSS Satellite Phone service.
Terrestrial repeaters are the key. They may allow LEO-based Iridium and Globalstar, and GEO-based MSV and ICO, to compete more directly with cellular providers.
The Iridium network uses 66 low earth orbit satellites in polar orbits 485 miles above sea level. The Globalstar network utilizes 40 low earth orbit satellites orbiting at an altitude of 876 miles.
Globalstar signed a Euro 661 million contract with Alcatel Alenia Space this week to deliver 48 low-earth-orbit (LEO) Globalstar 2nd generation satellites. They'll be fitted with 32 transponders in C-band, S-band and L-band. Starting in 2009, Globalstar's 2nd generation satellites will be launched, 6 to 8 at the same time, with a lifetime of 15 years.
The MSS LEO satphone frequencies use the S Band from 1616 – 1626 MHz. GEO-based sat phones, like Inmarsat's B-GAN, generally must use VSATs on the L Band (1.5-1.6GHz) or the 2GHZ MSS band.
Spot beams on Mobile Satellite Ventures's geosynch satellites (right), will enable much smaller, cheaper handsets, working in conjunction with ancillary terrestrial repeaters.
Terrestrial repeaters, like XM's satellite repeaters, allow small portable devices with indoor reception. Local calls may not need to go through the satellite. That's because MSV (and other Mobile Satellite Service providers) are reusing their satellite phone frequencies. The terrestial frequencies are essentially "free". But a terrestrial build-out could cost $4-5 Billion.
That's where Murdock could come in.
DailyWireless has more on Satellites and Space including; BSkyB + Google, WildBlue Partners with DirecTV & Echostar, Be Your Own TV Network, WildBlue: AT&T's DeathStar?, WildBlue V-Sat, DirecTV Launches F2, DirectWay Lowers Sat Cost, Satphones Localize, Spaceway 1 Launched, DirecTV Kills Two-Way Spaceway, Spot Beam Satellite Launched, Mobile Satellite Access, Inmarsat Launches Spotbeam Satellite, Murdoch: Bang…Zoom!, Antennas In Space, Satellite Jam, Pacific Satellites Fail, Eutelsat HotBird 8, China/US Space News, MSS: AWS Alternative?, and Software Radios in Space.