"Shake and bake!" — Ballad of Ricky Bobby
A Sea Launch Zenit 3SL rocket exploded upon liftoff late Tuesday (YouTube Video), destroying the launch vehicle and its communications satellite payload.
Scheduled to launch the NSS-8 satellite for SES New Skies from the Odyssey Launch Platform on the Equator, the rocket exploded immediately upon liftoff, enveloping the launch platform in a fireball.
The explosion destroyed the rocket and satellite. The status of the launch platform is still unknown.
According to the Sea Launch schedules, six commercial satellite missions were planned in 2007, with today's flight being the first. The schedule included the Thuraya 3 mobile communications satellite, direct-to-home broadcasting spacecraft for DirecTV and EchoStar XI, plus the Spaceway 3 broadband satellite and Galaxy 19 for Intelsat.
As the smoke and steam billowed from the Russian RD-171 engine firing to life, the rocket didn't begin its normal quick rise skyward. Instead the three-stage rocket fell out of the camera view as the entire platform was enveloped in the explosion. Whether the rocket tipped over, fell downward from the platform or collapsed was inconclusive from the video seen live. Sea Launch immediately switched its broadcast to a company graphic and then signed off.
It's too soon to know when Sea Launch will be able to resume flights. As a practical matter, it might be assumed that Sea Launch has been taken out of service for a year or so.
Satellites needing Geo-Orbit may have to go elsewhere. But geosynchronous orbit requires launchpads near the equator with rockets launched eastward. Alternative launchpads might include Ariane's Guiana Space Center, Kennedy Space Center and Space X on Kwajalein.
It's been a bad month in Space. First, the Chinese Destroy a Satellite and Create a Space Debris Field. Next, the NRO's N-21 spy satellite goes dead. Then Iran converted a ballistic missile into a satellite launch vehicle and "will lift off soon." The Bush administration will likely view the vehicle as a rogue rocket developed in a cabal, reports Av Week's Craig Covault.
Now Hubble's main camera has stopped working, knocked out with an electrical glitch.
The Advanced Camera for Surveys (ACS), about the size of a public phone booth, is considered the Hubble's "workhorse," explains C/Net. The ACS' malfunction forced the Hubble to go into "safe mode" on Saturday, after some of its electronics essentially exploded.
In February, Atlas 5's initial military mission is expected to launch.
The Air Force has targeted a February 22 liftoff from Cape Canaveral to deploy a cluster of experimental satellites.
Onboard is DARPA's Orbital Express, a two-satellite payload that will demonstrate in-space refueling using the Autonomous Space Transfer and Robotic Orbiter (ASTRO) and the NextSat serviceable spacecraft.
In addition, Atlas will deploy four other satellites from the Evolved Expendable Launch Vehicle Secondary Payload Adapter (ESPA ring). It enables several small spacecraft to hitch a ride aboard EELV rockets.
Those satellites are the STPSat 1 featuring Naval and Air Force Research Laboratory experiments. A Micro-Electro-Mechanical (MEMS)-based PicoSat Inspector (MEPSI), a miniature free-flyer, will be released from STPSat-1. The PICOSAT can be released upon command to conduct surveillance of the host spacecraft and share collected data with a ground station.
Also hitching a ride on the ring is Los Alamos Laboratory's CFESat (above), testing inflatable antennas, deployable booms, a new type of launch-vehicle separation, and a high-density pack of AA lithium-ion batteries.
The Air Force Academy's FalconSat 3 and the Naval Academy's MidSTAR 1 will test a variety of communications technologies and structures.
The EELV mission must deal with the deployment of 5 satellites into two orbital planes at two different altitudes. The Orbital Express (prime payload) and MidSTAR-1 spacecraft will be deployed in the first orbital plane at an altitude of 492 km and an inclination of 46º.
After two more centaur burns, the remaining ESPA payloads, STPSat-1, NPSat-1, CFESat, and FalconSat-3, will be inserted into the second orbital plane at an altitude of 560 km and an inclination of 35.4º.
Russian President Vladimir Putin and Indian Prime Minister Manmohan Singh called for a "weapons free outer space", after China staged a satellite-destroying weapons test.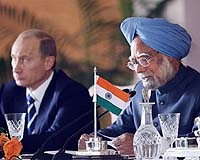 "The fundamental position of the Russian Federation is that outer space should be absolutely weapons free," Putin told a joint news conference in New Delhi.
India's prime minister said he shared that position. "Our position is similar in that we are not in favor of the weaponisation of outer space," Singh said.
Related DailyWireless articles include; Chinese Destroy Satellite – Create Space Debris Field, Space Capsule, Antartic Communications, Software Radios in Space, Satellite Jam, Advanced EHF – Wait for It and Pacific Telecommunication Council: 007.