Russian space experts are wondering if the United States used an anti-satellite weapon last month to kill a small Russian research satellite, reports MSNBC.

The claim that the Pentagon intentionally crippled the satellite brought an almost immediate denial from U.S. military officials.

"There's no way this is a credible story," U.S. Navy Capt. James Graybeal, spokesman for the U.S. Strategic Command, told MSNBC.com. "We've checked with everybody, we have talked to everyone."

Last month's satellite failure did not involve an actual breakup of the spacecraft.

The latest flap comes less than two months after China's surprising launch of a missile that hit one of its own retired satellites, blasting the spacecraft into thousands of shards of space junk and sparking an international outcry over anti-satellite weaponry.

The satellite in question is a small spacecraft built and launched for Moscow State University and St. Petersburg's Mozhaisky Space Military Academy to monitor space radiation. The probe, nicknamed Universitetsky or Tatiana, was launched as a piggyback payload along with a military satellite in January 2005 from Russia's Plesetsk Cosmodrome, north of Moscow.

The Russian space experts' speculation was based on the timing of the satellite's failure: They claimed that the satellite stopped functioning on March 7 and said the United States was conducting a military experiment at about the same time.

"According to some Russian experts, chances are high that the satellite fell victim to U.S. experiments in ray influence on spacecraft," Novosti reported. But Novosti talked with a second space expert who had a different explanation for the satellite's loss, but still blamed U.S. activity.

The source described how Universitetsky-Tatyana stopped sending signals suddenly: "Stable communication with the satellite was maintained until it left the sector of Russian ground-based assets' radio visibility," Novosti quoted the source as saying. "When it made a spin and returned to our zone about an hour later, its onboard equipment was already dead."

The U.S. Global Positioning System, designed for both military and civilian use, is under control of the United States. Its continued operation is vital, not just for the United States but the entire world.
The United States government's stated policy is to provide uninterrupted signals globally. But, according to the NY Times, the U.S. could deny navigation signals to any country as a high-tech form of economic sanction, potentially disrupting power grids, banking systems and other industries.
Glonass, a Russian version of the U.S. GPS system, will be inaugurated later this year. The Glonass global navigation system (wikipedia), is expected to have 18 satellites in orbit by late 2007 or early 2008, and a full orbital group of 24 satellites by the end of 2009.
The GLONASS signal uses FDMA technology to broadcast a common code on different carrier frequencies. GPS and Galileo use CDMA signals that transmit different codes on the same frequency. Some manufacturers — Javad Navigation Systems, Leica, NovAtel, Topcon, and Trimble — currently offer combined GPS/GLONASS receivers.
Another GPS satellite entrant, the Galileo Positioning System, is being built by the European Space Agency (ESA). The current project plan has the system as operational by 2011-12. The $4.5 billion Galileo navigation system has been delayed by a string of political setbacks.
Russia says they're in talks with the United States and the European Space Agency to prepare agreements on the use of Glonass jointly with the GPS and the European Galileo satellite navigation systems.
Russia will also put three new communication satellites into orbit this year and another two next year. Last year, Russia lost its Express AM11 satellite when it apparently collided with space junk, causing it to spin and leave its orbit.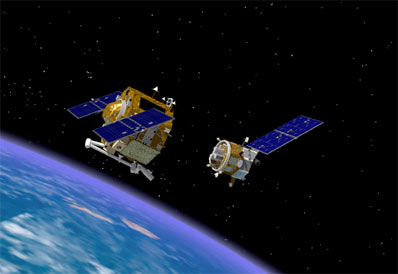 The autonomous ASTRO and NextSat (above), built by Boeing Phantom Works and Ball Aerospace, have been berthed together since their March 8 launch from Cape Canaveral. Orbiting some 300 miles above Earth, the satellites will soon begin an ambitious series of experiments, including multiple rendezvous scenarios, captures and transfers using a robotic arm.
Boeing and the U.S. Missile Defense Agency, recently fired the Airborne Laser (ABL) weapon system's tracking laser in-flight at an airborne target for the first time.
A five-day Schriever IV Space Wargame began March 25 at Nellis AFB, Nev. The 400-member team of space professionals battle in a global environment scenario set in the year 2025, designed to verify space capabilities, tactics and techniques used by the 21st century joint warfighter.
Space news resources include; SpaceDaily, SpaceWar, DefenseTech, DragonSpace, GPS Daily, Space, Space News, SpaceFlightNow, SpaceRef, Florida Today, Jonathan's Space Report, Gunter's Space Page, Satellite Constellations, Satellite Database, Lloyd Wood LEO Sats,
Houston Chronicle, Washington Post, HeadlineSpot, CBS News, CNN, MSNBC, Aviation Week, Defense Industry Daily, DefenseTech, Encyclopedia Astronautica,Janes, Space agencies, NASA Sites, NASA Space Data Center, JPL, Canadian Space Agency, China Aerospace Science and Technology Corporation, Chinese Space Program, CNES, European Space Agency, Indian Space Program, ISRO, Japan Aerospace Exploration Agency, Russian Space Agency, Russian Space Web, Russian Missiles, Space UK, Launch Sites, Launch Schedules, Ariane Space, International Launch Services, Sea Launch, NASA TV, X Prize, Space Review, Planetary Society, Berkeley Space Physics, Johns Hopkins, Air Force Satellite Control, Kirtland AF Base, Kwajalein, SPAWAR, Boeing Satellites, Lockheed spacecraft, Space Systems Loral, Boeing Delta IV, Lockheed Atlas V, Satellite Platforms, AeroAstro, AeroSpaceCorp, Ball Aerospace, BAE Systems, Surrey Satellite, Orbital Science, MacDonald-Dettwiler, Space X, Scaled Composites, Swales Aerospace, Microsat Systems, SpaceDev, SpaceQuest, Global Security, Satellite Observers, SeeSat-L Archives, FPSPACE Archives, Swarming UAVs, Association for Unmanned Vehicle Systems, UAV Forum, UAV News, AeroVironment, Insitu Group, Open Source UAV Projects, SBX Radar, Mauna Kea, Globus_II, Atacama Large Millimeter Array, Green Bank, Allen Array, Very Long Baseline, Military & Aerospace Electronics, ComSpaceWatch and Hobby Space.
Related DailyWireless articles include; Satellites from Subs, Dark Week in Space, Russian Satellite Hit, Chinese ASAT Tested, Space Capsule, China/US Space News, Pacific Satellites Fail, T-Minus 10 for Space X, Space Lasers, Satellite Jam, Advanced EHF – Wait for It, Pacific Telecommunication Council: 007, State Department on Space Policy, John Malone in Space, Large Millimeter Telescope, The Very Very Large Array, Software Radios in Space, Antartic Communications, Eutelsat HotBird 8, Swarming UAVs, Robot Space Combat, Middle East Telecom and Antennas In Space.