GNER
a leading UK train operator is testing
Icomera's Wireless Onboard Internet
as is
Grand Central, the UK's newest train operator
and the leading
Scandinavian Train Operator, SJ
.
Icomera's end-to-end solution includes hardware, software and communication channels using different wireless technologies i.e. satellite and multiple GSM/UMTS/HSDPA links in parallel for reliability.
Altamont Commuter Express is moving towards equipping its trains with WiFi on all ACE trains. Service tests are now being performed by Parsons, the system integrator. The price of the whole project for ACE has yet to be determined, but it will be partially subsidized by a marketing partnership with the University of Phoenix, which hopes to encourage passengers to take online classes while riding the trains.
Earlier, Ottawa-based PointShot Wireless was used in a three-month experiment for ACE passengers while making the three-hour, 172-mile round trip from Stockton to San Jose, California. Parsons develops and markets back office computer systems for rail companies and provides IT outsourcing services. Parsons also got the contract for Seattle's Bremerton Ferry but there have been several delays, reports the Seattle Times.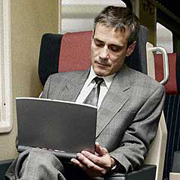 In early April, Wi-Fi Rail, an Irvine-based company, began installing equipment in BART stations. The test, which will cost between $1.5 million and $2 million, involves the Embarcadero, Montgomery, Powell and Civic Center stations. Once the test concludes, Wi-Fi Rail may be designated as the "lead carrier" to install wireless service throughout the BART system, a $55 million project that will take between 18 and 24 months.
About 172,500 passengers pass through the four stations involved in the test each day, according to BART's chief spokesman, Linton Johnson. The Wi-Fi Rail business model is based on network subscriptions with Daily, Monthly, Annual, and Corporate access subscriptions. It uses IP Networks' optical backbone.
The BayRail Alliance has 8 rail projects on the back burner with current passenger rail service provided by Altamont Commuter Express (ACE), Amtrak (Capitol Corridor, Coast Starlight, California Zephyr, San Joaquins), BART, and Caltrain.
Almost all major national railway operators are either running on-board WiFi trials or are already in early stages of deployments, in the UK, France, Netherlands, Sweden, Norway, Italy, Germany, Portugal, Spain — and many in China, Japan, South Korea and India. Here's a rundown of a few hotspot services for rail riders.
United Kingdom
Sweden
Scandinavian train operator SJ offers wireless Internet on all of its 85 trains through Swedish service provider Icomera.
Italy & Switzerland
Alstom, which makes trains for the U.S, Europe and Asia, will use Colubris Networks for WiFi. In January 2007, Alstom deployed more than 200 Colubris-powered access points on 26 Pendolino trains, which include the Trenitalia railway in Italy and the Cisalpino international railway that serves Italy and Switzerland.
France
France's 357 mph TGV train is also getting a Colubris WiFi trial. Tests in France will start in September 2007. If successful, Alstom and Colubris will put Wi-Fi on all 52 TGV trains, using 2,400 access points.
North America
Today, the Australian Rail Track Corporation and Telstra awarded an eight-year, $3 million contract, to Beam Communications to supply Iridium-based satellite equipment as part of their new interstate communication infrastructure. It will provide a single integrated network covering more than 10,000 kilometers of rail track nationwide and replace older technologies, such as two-way radios and CDMA devices, with Telstra's Next G technology with satellite backup.
Buses are also getting WiFi:

The Junxion Box can be configured with two WAN connections: a wireless WAN PC Card modem and an alternate WAN connection through Ethernet port 2 on the device. Either of the two WAN connections can be designated as the "primary" connection, which by default sets the other as the "secondary" connection.
Kyocera Wireless announced a free firmware update for its Kyocera KR1 Mobile Router, a $219 access point which uses 1xEV-DO as its backhaul. It now supports a variety of EV-DO Rev. A devices, including the Kyocera KPC680 ExpressCard as well as other Rev A devices including Novatel's S720 PCMCIA card and U720 USB device, Pantech's PX-500 PCMCIA card, and UTStarCom's PC5750 PCMCIA card. Current KR1 users can download free firmware upgrades.
EVDO-Info has more on the KR-1 mobile access point and the GPS module.
Very few train lines in North America have wireless capability, partially because of the difficulty of maintaining a signal to a speeding target along a narrow corridor.
While long distance rail may need satellite links to fill in sparse rural cellular coverage, metropolitan light rail may get by using just cellular backbones.
Construction is underway for the first commuter rail line in Oregon. The Washington County Commuter Rail will carry passengers between Beaverton, Tigard, Tualatin and Wilsonville when the line opens in September 2008. Cellular EVDO/HSPA or Mobile WiMAX backbones (from both Sprint and Clearwire) could be an option in 2008. In fact, it probably won't be an option — commuters will demand it.
For cellular backbones, WAAV makes "mobile access points" that allow Internet connectivity in mobile environments. Their AirBox CM3 provides local Wi-Fi hotspot service with integrated cellular backhaul.
The AirBox X2 ($1099), is the first mobile cellular router that establishes two cellular Internet connections, binding them together for additional speed. It can also utilize WiMAX or 4.9 GHz public service frequencies for the backhaul, mixing and matching various types of backbone providers.
The optional GPS adapter allows you to track a vehicle in real time. WAAV provides a simple web page to view your vehicle on Google Maps or Google Earth. View a single vehicle or your entire fleet at once. Easily toggle between map and satellite imagery views.
A service called Avis Connect (left), is provided by Autonet Mobile using 3G and 2.5G (EVDO, 1xRTT) connections. For an extra $10.95 per day, Avis says renters get wireless broadband connectivity "at all times and places during their travel, from airports to meetings to hotels, and everything in between." Autonet's mobile in-car router will begin shipping in late summer with price tag of $399 plus a monthly subscription of $49.95 for unlimited data.
How long until Navigation devices like the Mio DigiWalker (right) sprout Mobile WiMAX backbones with local WiFi access for trains, buses and automobiles?
If transit agencies don't provide cost/effective mobile connectivity, commuters might soon just do it themselves.
Intel's $500 Menlow gadget (left), has a slide-out Qwerty keyboard, a 4.8-inch touchscreen with 1024×600 pixel resolution, Wi-Fi, USB, Bluetooth, microSD and a choice of HSPA or Mobile WiMAX for wide area networking along with a GPS receiver.
Related Transit Connectivity articles on DailyWireless include; TrainFi On the Move, Buses Get WiFi, Wireless Parking, Houston METRO Unwired, Autonomous Bus, WiFi Train a Comin', Washington's HiWay WiFi, San Francisco BusFii and Train Surfing. Location-based services articles include; GeoVector 2.0 Streetside Navigation on a Phone, What Up at Where 2.0, Trip Mapping, 3-D Traffic/Weather Maps, Mapping Goes Live, Mobile Ad Delivery for Traffic.com, WiFi Tracking Tags from AeroScout, PanGo & Ekahau, Geocoding Content & Telemetry, GPS Tracking: In a Shoe, On a Bike, MIT's SENSEable City, and Cellular Navigation/Tracking.