Engadget says they have witnessed a full SIM unlock of the iPhone
with a small piece of software.
The iPhoneSIMfree.com team said they cracked Apple's iPhone SIM. That, apparently, allows the iPhone to be used on the other GSM network in the United States — T-Mobile.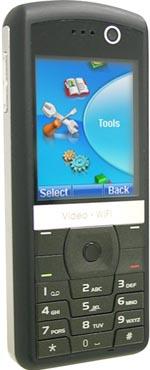 Congratulations, guys. Now it's on to the Google Phone (right). Oh, no wait…it's already open, isn't it?
Rediff is reporting that the rumored Google Phone will be launched in 2 weeks. The GPhone is said to simultaneously launch in both Europe and the United States, with the only thing standing in Google's way being US regulatory approval.

Om Malik reporting in December that a Google phone was being developed for release in 2008. Engadget posted alleged pictures of the GPhone in January 07 (see pic) with notes claiming that the device was a button-less touchscreen phone that came with GPS built-in for pinpoint navigation around Google Maps. ZDNet wrote that the phone was said to be 3G with built in Wifi and was designed by Samsung. The Register again reported in early August that the GPhone would include 3G, Wifi and GPS, and that UK mobile operator Orange was in talks with Google to carry the device.

Google has continued to deny rumors of the phones existence.