MIMO is going underwater
, says PhysOrg. As the United States and Canada take their first step toward establishing
a cabled ocean observatory
, a
University of Missouri-Rolla
researcher is trying to improve the speed of wireless underwater communication using using
Multiple Input – Multiple Output
(wikipedia) acoustic hydrophones.
The same acoustic waves that dolphins and whales use to communicate when they are thousands of miles apart can be used by humans to transmit information, says Dr. Rosa Zheng, assistant professor of electrical and computer engineering at UMR. Her research focuses on shallow water communications, a tool needed for environmental monitoring and other efforts. Shallow water communication is faced with additional challenges because signals are affected by waves and reflections off the ocean's top and bottom surfaces.
"The amazing thing about acoustic signals is that the lower the frequency, the farther away it can travel," Zheng explains. "The challenge is that acoustic waves have a very limited bandwidth. Our goal is to achieve very high reliability and a high data rate." Zheng plans to use multi-input, multi-output (MIMO) technology to increase the data transfer rate to hundreds of kilobits per second.
"MIMO technology provides some challenges because you're sending signals at the same time, using the same frequency band," Zheng says. "Theory proves that it's feasible, but we're still trying to figure out how you separate those signals at the receiver."
Zheng and her University of Missouri-Columbia collaborator have received a three-year, $270,000 award from the Office of Naval Research to fund their research.
Previously ocean scientists undertook boat expeditions to collect data. To study processes over time, they were limited to simple, self-powered scientific instruments that collected data without human supervision.
The Neptune Project will change all that, unwiring the West Coast, from Canada to California. Real-time data transmission, in concert with EarthScope, a nation-wide matrix of sensors, will allow early investigation of seismicity, magmatism and deformation at a scale never before possible.
Canada's NEPTUNE project will provide a continuous data stream to allow scientists to study the ocean in unprecedented detail and help tackle questions surrounding earthquakes and climate change when it becomes operational late next year. VENUS delivers real time information from the seafloor to the University of Victoria, BC, where they are archived.
MBARI has built a short undersea cable called MARS to function as a test bed for the instruments to be deployed on NEPTUNE Canada.
"This is a fundamental revolution giving us a direct connection to the seafloor… the ocean will no longer control our ability to study it," Marcia McNutt, president of the Monterey Bay Aquarium Research Institute (MBARI).
Meanwhile, a federal appeals court in San Francisco has given the U.S. Navy a temporary go-ahead to use high-powered sonar during nearly a dozen upcoming training exercises in Southern California waters.
Friday's ruling puts a temporary stay on an injunction ordered last month by a Los Angeles federal judge to stop the powerful bursts of sonar, because they could "cause irreparable harm to the environment." Scientists have linked sonar use to mass whale die-offs.
"The safety of our whales must be weighed, and so must the safety of our warriors. And of our country," wrote Judge Andrew Kleinfeld of the U.S 9th Circuit Court of Appeals.
BTW, Seattle blogger Dan Twohig, was browsing in Microsoft's Virtual Earth when he accidentally came across a photo of a nuclear sub in dry-dock with it's exotic propeller clearly visible (above). Twohig was evaluating real estate properties around Bremerton via Virtual Earth when he stumbled across the image. The designs of such stealth propellers have been secret for decades.
In other watery news, Fujitsu scored a $1.5 billion subsea network deal from FLAG Telecom, this week. Fujitsu also won an upgrade contract from Pacific Crossing for their PC-1 transpacific cable. PC-1 will be lit to at least 390 Gbps of capacity on each segment of its protected network by the first quarter of 2008 and could increase to at least 490 Gbps by the second quarter of 2008.
Finavera Renewables wants to harness wind and wave power, and has successfully deployed a prototype two and a half miles off the coast of Oregon.
Waves push the AquaBuoy 2.0 up and down in the water. The motion puts pressure on a hydraulic fluid. The pressurized fluid then turns a turbine, which creates electricity.
The Open Source Lab at Oregon State University, providies development and distribution of Open Source Software (such as FireFox), worldwide.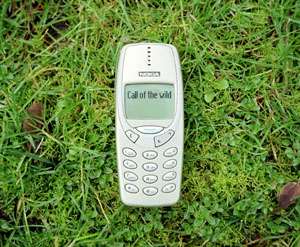 Sounds bring Google Earth to Life. Wild Sanctuary has created software that can layer relevant recorded sounds over locations in Google Earth, with over 3,500 hours of soundscapes from all over the world. Their blog explains.
Virtual historical tours might be created with students gathering local content on field trips. Teamed up with the local Audubon Society, your park system might be mapped for multi-media virtual tours, complete with live birdcams like OwlCams and available over cellphones or muni hotspots.
I hear bird songs, whales and insects.
Some of the 37 Oregon Web 2.0 Companies might be collaborative candidates.
Related mobile application articles on DailyWireless include; Mobile Aps Worth $66 Billion, One Laptop Per Child Morphs, Statewide/Nationwide Wireless Broadband, Mapping Goes Live, 3-D Traffic/Weather Maps, Google Apps on LG Phones, Tracking Hazardous Materials — & The Iditarod, Cellular Navigation/Tracking, Palm Goes Linux, Nokia & Sony: Free WiFi for Webtablets, Bridging the Digital Divide, Navizon on Blackberry: GPS Not Required, Freebasing the Semantic Web, New Transpacific Cable, Remote Ocean Viewer, Earth Day 2006, Tsunami Monitoring, Big Science Projects, and Mapping Goes Live.