OQO
, which claims to be the world's smallest PC running Windows Vista, as well as the first
Ultra Mobile PC
(
UMPC
), today announced
a new model 02
with higher performance and lower cost. OQO is lowering the entry cost of its upgraded handheld to $1,299, for full Vista compatibility.
OQO now offers up to 120GB hard disk, with 40GB in the entry-level model, and 80GB in the standard high-end configuration. A flash-based 32GB solid state drive provides up to 50% faster boot and application launch times, as well as increased battery life.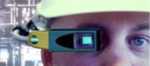 A faster CPU with speeds of up to 1.6GHz is available (a VIA C7M ULV), as well as cellular modems from Verizon or Sprint featuring EV-DO Rev A for improved upstream speeds. The entry-level price for an OQO model 02 has reduced $200 to $1299, while disk drive capacity increased by 33%.
Meanwhile, cell phones are getting smarter.
Today, Qwest Wireless announced the addition of two new handsets to its lineup of wireless communication devices: the Fusion HTC 5800 and the Mogul by HTC. Both handsets uses Windows Live services – including e-mail, instant messenger and search tools – powered by Windows Mobile 6. And Wi-Fi, of course.
Qwest is the first in the United States to offer the Qwest Fusion HTC 5800 which has a numeric keypad on its face. The new Windows Mobile 6 Smartphones offer stereo Bluetooth technology, a 2.0 megapixel camera and camcorder, voice dialing, a world clock and a mobile version of the Microsoft Office system.
The iPhone, launched in late June, has now sold one million units. Apple hopes to sell 10 million iPhones by the end of 2008.
With natural speech recognition and language translation maybe The Singularity is not far off.