Marge: "Say, Lou, ya hear the one about the guy who couldn't afford personalized license plates so he went and changed his name to J2L 4685?"
Lou: "Yah, that's a good one."
– Fargo

Free, free, everything free.
Fox, owned by media powerhouse News Corp., announced Monday it plans to launch new ad-supported mobile versions of its MySpace social networking site (mobile.myspace.com), as well as mobile versions of its FOXSports.com, AskMen lifestyle site, IGN gaming site and RottenTomatoes.com movie site.
Fox is offering free functionality to send-receive MySpace messages and friend requests, comment on pictures and profiles, post bulletins, update blogs, search for friends and view and change mood status as part of mobile.myspace.com. Fox will also offer some premium content, as well, on mobile phones.
NewsCorp says MySpace outperforms all other social networking sites, with 70 million active monthly unique users in the United States. Nearly one in four Americans used MySpace last month, according to newly released data from comScore MediaMetrix.
Seattle-based 3Guppies said today that it has made a mobile blogging widget that allows people to update their blog from their cellphone and allows text message alerts anytime a blog is updated.
Meanwhile, the world's first fully advertising-funded mobile phone service, launched in Britain today.
The service, known as Blyk, will target the 4.5 million young people in the UK, ages 16 to 24 years, with 217 texts and 43 minutes of voice calls every month for free in return for users agreeing to receive marketing.
Users will receive six text messages a day from over 40 brands including Adidas, Borders, L'Oreal, STA Travel and Manchester United after completing a set of profile questions when they sign up.
Blyk will rent airtime from Orange and use technology from Nokia Siemens Networks. Users will receive a SIM card to put in their existing mobile phone and those who want more than the free offering can add credit to "pay as you go".
Meanwhile, back in the Virtual World (like Second Life), users can build their own virtual space — if they don't mind hard work.
But SceneCaster hopes to change all that with a browser plug-in, adding drag-and-drop 3D creation tools. Windows only at the moment, but it does support Firefox and Explorer.
Rumors of a Google powered virtual world based on Google Earth are also circulating, reports Tech Crunch.
According to Google Operating System, it "will be publicly launched later this year" and will feature social networking, 3D modeling and video games. The questionnaire attached to the application process asks would be testers if they have a Gmail account, and if not would they be willing to get one. The product's name is shown as "My World." Google's Sketchup service already provides the tech to do 3D modeling and could also be used to create avatars.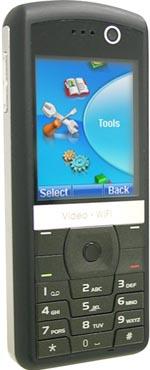 Maybe the rumored Google virtual world will run on the rumored Google Phone.
The Google Phone (right) was rumored to be launched in 2 weeks, one month ago. The GPhone reportedly will launch in both Europe and the United States, with the only thing standing in Google's way being US regulatory approval.

Om Malik reporting in December that a Google phone was being developed for release in 2008. Engadget posted alleged pictures of the GPhone in January 07 (see pic) with notes claiming that the device was a button-less touchscreen phone that came with GPS built-in for pinpoint navigation around Google Maps. ZDNet wrote that the phone was said to be 3G with built in Wifi and was designed by Samsung. The Register again reported in early August that the GPhone would include 3G, Wifi and GPS, and that UK mobile operator Orange was in talks with Google to carry the device.

Google has continued to deny rumors of the phones existence.
A new company is offering free phone calls with only one catch: they'll be listening to everything that is being said.
Pudding Media, a start-up based in San Jose, Calif., plans to use voice recognition software to display advertisements on users' computer screens customised to the topic of conversation being conducted over the phone.
According to Ariel Maislos, CEO and co-founder of Pudding Media.

"Consumers gain a cool new dimension to their calls with more interesting, timely information and advertising that seamlessly bridge their virtual and real-world experiences; brands reach consumers with more targeted, relevant offers; and communications providers gain a new revenue stream."
Maislos told The New York Times that his company has examined privacy issues before the service started.
The company's model, of course, raises questions about the line between target advertising and violation of privacy. Pudding Media executives said that scanning the words used in phone calls was not substantially different from what Google does with e-mail.
Still, even some advertising executives were wary of the concept.
Callers can try Pudding Media at www.thepudding.com, dialing any number in North America. Because the service has so far been in a quiet beta test, the company would not say how many people have tried it so far.
Pudding Media is also trying to sell the technology to Web publishers and media companies that would like to offer readers free calls and content related to those calls. A news site, for example, could show only its own articles and ads to people as they talked to friends.
Does all this free stuff represent Death to Traditional Telcos? You Betcha.