Today the Committee will explore the pivotally important topic of high speed internet access for small business. In particular, we will discuss the extent to which small businesses have access to broadband technology, whether the prices are affordable, whether the speeds are adequate and how we can make improvements.
The U.S. Senate is asking, Where is Our National Broadband? Two Democratic FCC commissioners, Michael Copps (pdf testimony) and Jonathan Adelstein (pdf testimony), appeared before the Senate Small Business Committee (video), yesterday, to discuss how improved Internet access would help small businesses.
"Our current efforts are woefully out-of-date and out-of-whack," Copps said. "We need a more credible definition of speed [than the current 200 kilobits per second for broadband] and more granular measures of deployment, as well as to start gathering data on price and the experience of other nations."
They called for a national broadband summit to discuss the U.S. high-speed Internet penetration rate, blaming its slow rollout on a lack of cohesive data and a reliance on marketplace conditions rather than government-sponsored initiatives.
The Directorate for Science, Technology and Industry has the latest OECD Broadband Statistics to December 2006.
South Korea Wants To Stay Broadband King, says Broadband Reports:
Now that the average South Korean has a 45Mbps connection, the government is conducting a massive analysis of the quality of consumer broadband. Once they've determined how well providers are performing, the government intends to establish safeguards holding ISPs accountable for poor service:

The quality evaluation plan for broadband comprises two categories–technology and user satisfaction. The evaluation index for technology will measure both upload and download speeds, delay time and loss factor, while the evaluation index for user satisfaction appraises the connecting rate of termination call, with plus points going to providers serving users with written contracts at each stage, from subscription to termination.

Obviously South Korea's small size and population density helps in enabling broadband connectivity, but obviously some lessons can be taken from their broadband policies. Here in the States even getting the FCC to provide accurate broadband penetration data has been like pulling teeth, and the best we get are a scattered few lawmakers insisting that having some broadband plan might be a good idea.

Incumbent lobbyists, fearful (and rightly so) that progressive pro-consumer policies could hurt their bottom lines, have lobbied this nation's government into apathy and inaction.

On Wednesday, the Minneapolis City Council unanimously approved an advisory committee's proposal to seek partners for a publicly owned fiber-optic cable network that could carry everything from e-mail to video to phone calls.
The proposed Community Fiber Network (pdf), would serve government offices first, then might be expanded to run fiber-optic cable into every home and business.
St. Paul's decision to pursue a fiber-optic network puts it on a collision course with the Twin Cities' two dominant providers of broadband services: Qwest Communications and cable provider Comcast, which both oppose the idea.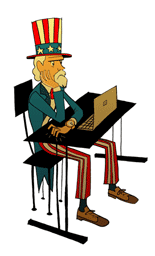 "In general, we don't think it is appropriate for the government to use taxpayer dollars to offer or subsidize a service in competition with private-sector alternatives, and high-speed Internet service is a particularly competitive and robust market in most areas," Comcast spokeswoman Mary Beth Schubert said.
"Government-run broadband networks are risky ventures that often rely on overly optimistic subscriber and revenue projections. When the networks fail to meet financial goals, the taxpayers get stuck with the bill," said Andrew Schriner, Qwest's director of public policy.
The fiber network could cost $200-$300 million, depending on the size of the network, but it's not clear how it would be financed.
Qwest, the incumbent telco in Utah, has also fought municipal fiber projects UTOPIA and iProvo . Tacoma's Click Network is one of the largest municipal telecommunications systems in the United States. They hoped to attract between five and eight ISPs to its network but costs were higher and projections optimistic. Same deal with Ashland Fiber in southern Oregon. On the other hand, The Dallas attacted Google with its Q-Life municipal fiber network.
Professor Tim Wu says city dwellers won't be able to get high-quality wireless Internet access for free. But Tim's World excludes Portland, Oregon.
Through a combination of good luck and good management, Portland scored one of the few city-wide municipal WiFi networks that offers completely free service (with banner advertising).
At first, I could never seem to get a reliable connection with MetroFi. Now it works well from my apartment. DailyWireless has been using it as our sole connection to the internet for the last month. So far, so good. While I can't speak for anyone but myself, I find that MetroFi is a valuable addition for the city. Who doesn't love the idea of free WiFi everywhere?
Personal Telco activists have demonstrated that free grass roots wireless is not only possible but effective. They pioneered the concept and made it happen in hundreds of coffee shops, small businesses and residences in Portland.
Russell Senior, a volunteer at the free community WiFi organization, Personal Telco, has reservations about MetroFi. He says MSN's new Sideguide software is going to be far more intrusive than MetroFi's banner at the top of a page.
Codenamed Shadow, the main purpose of MSN Sideguide is to fund the free wifi networks that Microsoft is currently testing in Oakland and Portland with its ISP partner, MetroFi – the wifi connection will be dropped if Sideguide is not running.

Portland city commissioner Dan Saltzman, who overviews the cable television and MetroFi WiFi franchise in Portland, is apparently considering a fiber network for the City of Portland. According to Saltzman's chief of staff, Brendan Finn, this might be a private, public or private/public partnership. Brendan Finn spoke to PersonalTelco (video) on September 26, 2007. The informal chat discussed some of the ideas that are currently circulating around City Hall.
Although they approach it differently, both PersonalTelco and MetroFi have the same idea. Free.
So here's an idea — free internet access should be a right of every United States citizen.
I was alive and I waited, waited
I was alive and I waited for this
Right here, right now
there is no other place I want to be
Right here, right now
watching the world wake up from history