United Launch Alliance
successfully launched the fourth modernized
GPS Block II R-M military NAVSTAR
today from Florida's Cape Canaveral, following a launch of
the nation's first Wideband Global SATCOM communications spacecraft
last week, reports
SpaceflightNow
.
GPS is being modernized to offer new signals and codes. GPS 2R-M (for Modernized), provides two new military signals as well as a second civilian signal. The two new signals on the IIR-M satellite will provide reduced vulnerability to interference and ionospheric corrections.
But space is getting crowded.
The next generation GPS is block III (right). Block IIIA will offer a spot beam for resistance to hostile jamming. The target date is 2013 with incentives offered to the contractors if they can complete it by 2011.
The Wideband Global SATCOM (below, left), launched last week, is a 13-kilowatt, Boeing 702 design to provide a major upgrade of the military's main communications infrastructure, replacing the aging Defense Satellite Communications System (DSCS) spacecraft.
A single WGS satellite, valued at $350 million, has as much communications capacity as the entire 9-satellite DSCS constellation flying today.
According to Col. Uhrich, the Air Force's Military Satellite Communications Systems Wing vice commander, "A Predator flying a mission has got some kind of sensor on it. That sensor information, let's say you want to push that 30 different locations. Instead of having 30 different circuits, you kind of 'DirecTV' broadcast it and the people who are supposed to have access to that data will have access, and you free up communications."
Previously known as Wideband Gapfiller Satellite, the Wideband Global SATCOM will have 19 different coverage areas that can be repositioned, compared to the current DSCS system which has about 8 coverage areas.
The eight steerable and shapeable X-band beams on WGS are formed by separate transmit and receive phased arrays; while 10 Ka-band beams are served by independently steerable, diplexed antennas. Thanks to a box inside the craft called a digital channelizer, a user with a Ka-band terminal can to talk to someone with an X-band terminal via WGS.
"WGS is backward compatible with DSCS, so the X-band terminals that are currently fielded can work with the first WGS satellite." Just like the DSCS satellites, the WGS craft will offer X-band communications that allow data, photos and video to be relayed to troops on the battlefield.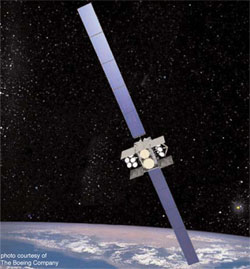 Commercial spacecraft that currently use the Ka band include the Hughes Spaceway 3, WildBlue and DirecTV 11. Commercial X-band satellites include XTAR. XTAR satellites are financed privately and designed to provide customized communications services exclusively to U.S. and allied governments. Loral owns 56 percent and the Spanish company HISDESAT, owns 44 percent.
An Atlas 5 will loft the second WGS next summer, followed by a Delta 4 rocket launch of the third WGS in late 2008. Two additional satellites with enhanced features are planned to launch in 2011 and 2012.
The Advanced Extremely High Frequency (AEHF) satellites will form the secure backbone of the Pentagon's MILSATCOM architecture, until the higher capacity Transformational Communications Satellite (T-SAT) system is available. The Transformational Satellite Communications System (TSAT) is the next generation but cost overruns and technical snafus have already set the optically linked program back to 2013 — and beyond. Boeing and Lockheed/Northrop Grumman are competing for the contract.
Boeing's TSAT team includes Raytheon, Ball Aerospace, General Dynamics, IBM, L-3 Communications, Cisco, BBN, Hughes Network Systems, Lucent, Harris, EMS Technologies, ICE and Alpha Informatics. The Air Force plans to select a primary TSAT Space Segment contractor in December 2007. The final price tag on the entire TSAT program is expected to reach $14-18 billion through 2016.
Costs for the DOD's major space programs have increased roughly $12.2 billion – or almost 44 percent – above initial estimates for fiscal years 2006 through 2011, according to GAO's Nov. 17 report (pdf, above), prepared for the House Armed Services Subcommittee. A cost overrun of 25 percent requires Congressional approval to continue.
Estimated costs for NPOESS, NOAA's polar orbiting satellite ballooned from $6 billion to $11 billion. Congressman David Wu called them on it (DailyWireless: Crisis at NOAA).
TacSat-3 (pdf) a microsat due to launch next year, includes a hyperspectral sensor (ARTEMIS), designed to deliver hyperspectral imagery direct to end users. The satellite will consist of three distinct payloads: the hyperspectral imager (ARTEMIS); the Ocean Data Telemetry Microsatellite Link (ODTML); and the Space Avionics Experiment (SAE). Target recognition is the name of the game.
Related DailyWireless stories include; Another Billion for WIN-T, Small Satellite Conference, Globalstar Gets Four Replacements, SkyNet Satellite Hacked?, Russian Satellite Zapped?, Satellites from Subs, Advanced EHF – Wait for It, Personal Location Devices, GOES-N Launched, Tracking the NRO, Space Capsule, Unwired in Maui, Pacific Satellites Fail and Chinese Destroy Satellite – Create Space Debris Field.