T-Mobile USA
is offering
one year of complimentary T-Mobile HotSpot access
to people who donate an XO
One Laptop per Child
laptop to a child in a developing country through the
Give One Get One initiative
.
"T-Mobile believes in helping people stay connected to those who matter most in their lives. The Give One Get One program delivers on our unmistakable commitment to enhancing personal relationships," said Joe Sims, vice president and general manager for Broadband Services, T-Mobile USA.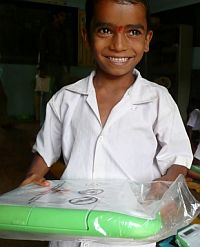 "We are excited and proud to partner with One Laptop per Child, and are hopeful that our contribution will not only encourage other people to participate, but also make a positive difference."
The Give One Get One philanthropic campaign puts laptops into the hands of children in the developing world. For a limited time – from Nov. 12 to Nov. 26, 2007 – people can donate $399 for two laptops. One laptop will be given to a child in the developing world. The other laptop will be sent to the donor along with information on how to activate the one year of complimentary T-Mobile HotSpot service.