I'm a space cowboy
Bet you weren't ready for that
I'm a space cowboy
I'm sure you know where it's at
Yeah, yeah, yeah, yeah.
– Dubya

That spy satellite shot — or anti-satellite test — has apparently been delayed due to bad weather.
Bad weather in the north Pacific makes it unlikely that a Navy ship will launch a missile today (Wednesday), says the AP, although the shuttle has safely landed in Florida. You can see the current position of USA 193 here.
FLASH: The USS Lake Erie fired a single modified tactical SM-3 missile, "hitting the satellite approximately 247 kilometers (133 nautical miles) over the Pacific" at approximately 10:26 pm eastern standard time (0326 GMT Thursday).

Pentagon spokesman, Bryan Whitman, dismissed suggestions that the operation had been designed to test the nation's missile defense systems. "This is about reducing the risk to human life on Earth, nothing more," Mr. Whitman said. Google News has the latest.
When USA 193 re-enters, friction from the atmosphere will roast the satellite to 7,500 degrees centigrade, hotter than the surface of the sun. The overwhelming probability is that the hydrazine tank will simply explode as the hydrazine expands.
It makes you wonder if there actually was some kind of radioisotope power pack on board — like Cosmos 954.
According to AV Week's Craig Covault, some analysts believe that the body of the satellite was built by Orbital Sciences Corp., based near Washington's Dulles International Airport.
Contrary to news media reports that say the spacecraft is as large as a school bus weighing up to 20,000 pounds, the failed satellite, they say, is actually one of the smallest launched in the last several years by the NRO, and is nowhere near that size.
All Governments Lie, as I.F. Stone reminds us.
Apparently NASA boss, Michael Griffin, didn't get the hydrazine memo (pdf). It was not NASA's finest hour, in an agency often known for tawdry science and happy faces.
It was a target of opportunity to test ASAT response, however, even if the official hydrazine story seemed as fatally flawed as the rumored [Boeing $1.5B imaging spacecraft]. Russia, China and India's response may be forthcoming — and just as dismissive.
It's wonderful the U.S. had an opportunity to test our ASAT system. But why squander the credibility of NASA and the administration in the process? A little honesty might go a long way. No wonder diplomats like Nicholas Burns (right) are leaving public service.
Below are 41 other science fair experiments for your rumination.
In other satellite news, SES AMERICOM says it has scheduled a March 15 launch of its Lockheed A2100 spacecraft by International Launch Services (ILS) for service at the 61.5 degrees West longitude orbital position.
AMC-14 is an advanced, high-powered Ku-band television satellite, designed for multiple missions to operate across the orbital arc from 61 to 119 degrees West. As the third satellite dedicated to AMERICOM2Home, an IPTV backbone service, the spacecraft has been optimized to provide Direct-to-Home video services.
After the launch, SES AMERICOM will complete the testing of all spacecraft systems and ready the satellite for continental U.S. service from 61.5 degrees West by EchoStar.
The AMC-14 satellite provides thirty-two, 24 MHz Ku-band transponders and a demonstration phased array antenna that enables coverage shaping while the satellite is in orbit. A militarized version of the A2100 bus serves as the platform of Lockheed Martin's offering for the U.S. Navy's Mobile User Objective System (MUOS), a next-generation satphone for the U.S. military.
In other satellite news, a variety of satellite phone providers are due to launch new platforms soon that will feature terrestrial repeaters for service that more closely approximates cellular, providing low-cost service with inexpensive handsets.
In the United States, six satellite phone providers may soon be competing:
The 2 GHz Mobile Satellite Service (MSS) Band:

ICO hopes to launch its huge spotbeam platform, ICO G1 by March 21. TerreStar Networks shares the 2.2 GHz (MSS) band with ICO and expects its hybrid mobile satellite, TerreStar-1, will launch during the December 2008 through February 2009 launch window. Terrestar recently announced $300 million in investor commitments.

Both ICO and TerreStar have 20 MHz each in the MSS band (2.0/2.1 GHz). They'll deliver spotbeam satphone services from geosynchronous space, but will suppliment the space connection with terrestrial repeaters which allow small, inexpensive handsets to be used.

Satphone providers Inmarsat and MSV are also launching satphone services from GEO orbit in the "L" band. The "L" band is centered around 1.6 GHz.

Inmarsat 4 will be launched March-April 2008, and positioned over the Pacific. That makes it handy for tiny BGAN terminals on the West Coast, that can plug into regular landline phones or laptops for 400Kbps service.

MSV-1 and MSV-2 are also sharing the 1.6ghz "L" band over the United States and Canada. They will provide a spotbeam satphone platform in GEO space, planned for 2010. MSV, like Terrestar and ICO in the 2GHz MSS band, will use terrestrial repeaters.

Meanwhile, in the Low Earth Orbit, Iridium and GlobalStar are battling it out for traditional LEO satphone service.
Some observers believe six satphone competitors would be untenable.
Instead of six providers, they envision three or four. Economics and logistics, they say, will force "MSS band" providers ICO and Terrestar to merge. Likewise "L Band" providers Inmarsat and MSV could merge and LEO providers Iridium and GlobalStar could merge.
More bandwidth at less cost — what's not to like. Perhaps an AWS band partner — like T-Mobile — would make a good partner, too.
Look for something to happen soon — perhaps before the big CTIA trade show, April 1-3, 2008.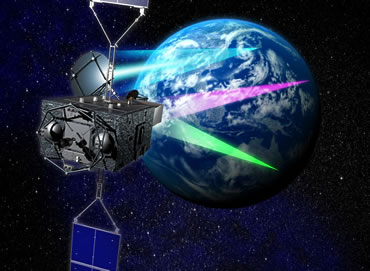 Meanwhile, Japan just launched the WINDS satellite — a joint project of the Japan Aerospace Exploration Agency (JAXA) and Mitsubishi Heavy Industries. It will test "super high-speed Internet" service to homes and businesses.
The rocket was launched from Japan's Yoshinobu Launch Complex at the Tanegashima Space Center.
The satellite is expected to offer speeds of up to 1.2 gigabytes per second and will initially focus on the Asia-Pacific region close to Japan. The Wideband InterNetworking engineering test and Demonstration Satellite (WINDS) uses the Ka-band, at 20 to 30 GHz.
JAXA has also been developing the Engineering Test Satellite series (ETS-1 through ETS-8). The S-band ETS-8 is one of the world's largest geostationary satellites (below). Each antenna on ETS 8 measures 62 feet by 56 feet, about the area of a tennis court.
JAXA also developed a portable webcam (below) for use in a disaster-stricken area which can communicate directly with ETS-8.