Canadian space hardware company COM DEV International, today announced that it has received an intial CDN $4.7 million contract from EADS Astrium to supply multiplexer and switch equipment for the Eutelsat KA-SAT communications satellite.
Scheduled for launch in mid-2010, KA-SAT will provide consumer broadband services across Europe and the Mediterranean Basin, while providing new opportunities for local and regional television markets. It will be configured with over 80 spotbeams, making it the most advanced multi-spot satellite designed in the world to date.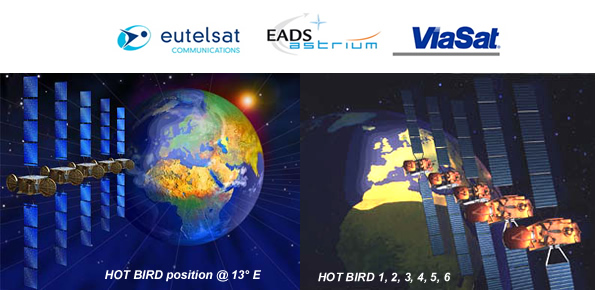 This satellite program represents the first fully dedicated Ka Band satellite being manufactured for the European market. Eutelsat will locate KA-SAT at 13° E where it will join three large HOT BIRD Ku-band broadcasting satellites.
KA-SAT is the European equivalent to ViaSat-1, a high-capacity Ka-band broadband satellite ordered by ViaSat to serve the North American market and planned to launch in 2011 by Telesat Canada. ViaSat and Eutelsat are cooperating closely around ViaSat's Ka-band SurfBeam networking system and a similar wholesale business model that works through ISPs, telecommunications companies and pay-TV platforms to serve subscribers.
Space Systems/Loral will build ViaSat-1, which is expected to be the world's highest capacity broadband satellite. It will be positioned at 115 West, providing services for Canada. Telesat's ANIK F2 satellite was the world's first major Ka-band spot beam satellite and provided the initial U.S. capacity for WildBlue Communications.
The amount of bandwidth enabled by ViaSat-1, coupled with ViaSat's next generation SurfBeam networking system, is unparalleled. Total throughput is designed to be over 100 Gigabits per second, which is more capacity than today's entire fleet of two-way Ka-, C- and Ku-band capacity over North America combined.
Randy Scott of VSAT Satellite Internet News says, "the ViaSat approach to Ka band is much less expensive, and it shows. On paper, bent pipe Ka band looks terrific, with all of that bandwidth re-use ….but as the rubber has met the road, bottlenecks have surfaced right and left at the Gateways and "bent pipe" Ka band has bloodied it's nose more than once".
"It remains to be seen if the "on board processing" approach of HughesNet's SpaceWay III will prevail or if all Ka band goes the way of the 8 track tape".
SPACEWAY-3 was launched August 2007. With Spaceway 3, Hughes believes it will open up a market that is not met by the bent-pipe satellites of conventional Ku-band spacecraft or even the Ka band offered by WildBlue. Northern Sky Research says there are as many as 15 million U.S. households without access to broadband service.
Currently HughesNet, with some 325,000 subscribers, offers 2-way satellite internet to consumers using the Ku band (11/14 GHz). Now the Ka band spotbeam with Spaceway 3 (at 20/30 GHz) should expand the business. Commercial service for Spaceway 3 is available is some places now.
Related DailyWireless Space and Satellite News includes Eutelsat HotBird 8, Hughes Launches Switchboard in the Sky, Clearwire & SatTV Do a Deal, Sprint Beams Up with MSV, TerreStar Gets a Slot, Satellite Repeaters – Grounded In Reality?, WildBlue Partners with DirecTV & Echostar, John Malone in Space, TerreStar Gets a Slot, BSkyB + Google, SkyNet Satellite Hacked?, Lockheed CEO: Space is Broken, MSS: AWS Alternative?, WildBlue: AT&T's DeathStar?.