ICO G1
, the largest commercial satellite launched to date,
today announced the successful deployment of the ICO G1 satellite's large antenna reflector
.
ICO G1 will deliver mobile interactive media services, like mobile video, interactive navigation and emergency communications services to consumers. The Harris antenna reflector enables the ICO satellite to focus 2 GHz S-band signals on North America.
The 12 meter reflector (pdf) utilizes a gold-plated mesh reflective surface and a unique new Harris design that allows a very large antenna reflector to stow safely and easily on the Loral 1300 satellite platform. The reflector size enables the increased performance typically required for mobile interactive media services.
"Last week, we deployed the 2.4 m Ka-band reflector and on Saturday, we successfully deployed the 12 meter reflector for the S-band antenna. We are on schedule and expect to make certification to the FCC by May 15, 2008 that ICO G1 is operational," according to Bob Day, ICO senior vice president, space systems.
ICO G1 was successfully launched on April 14, 2008. G1 is now on station at 92.85 degrees West Longitude in geosynchronous orbit. Alpha trials will take place later in 2008 in Raleigh-Durham, NC and Las Vegas, NV.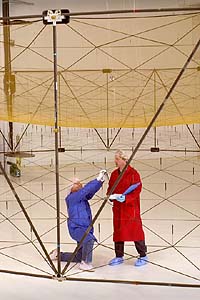 Harris has also built a reflector for TerreStar Networks's geostationary TerreStar-1 mobile communications satellite; and two reflectors for XM Satellite Radio's XM-5 radio broadcast satellite.
In September, ICO announced that WiMAX provider Clearwire will join as a service partner for its alpha trial in Raleigh Durham, North Carolina, and that an additional trial will take place in Las Vegas, NV. ICO will use DVB-SH for mobile video, delivering 10-15 channels of premium live TV content for 7–15 inch screens.
TerreStar-1 is a geo-based mobile phone satellite that will carry an 18-meter reflector. Hundreds of spot beams are expected to provide mobile phone use covering the Continental U.S., Canada, Alaska, Hawaii, Puerto Rico and the U.S. Virgin Islands when it is launched towards the end of 2008.
Competitor Astro Aerospace, has also designed and deployed large 12.25 meters (40 feet) AstroMesh reflectors for Thuraya, Inmarsat 4 and Japan's Mobile Broadcasting satellite program.
In other satellite news, the European Union on Sunday launched Giove-B, the second (and last) test satellite in its $5.3 billion Galileo project, a competitor to the U.S. GPS satellite, run by the military, as well as the Russian GLONASS system.
Giove-B will test the program's high-precision atomic clock and signal transmission, Reuters reported.
GPS space is getting crowded:
GPS is being modernized to offer new signals and codes. GPS 2R-M (for Modernized), provides two new military signals as well as a second civilian signal. The two new signals on the IIR-M satellite will provide reduced vulnerability to interference and ionospheric corrections.
The next generation GPS is block III. Block IIIA will offer a spot beam for resistance to hostile jamming. The target date is 2013 with incentives offered to the contractors if they can complete it by 2011.
Sunday, an Indian rocket released nine satellites from six countries, demonstrating low-cost space technologies.
The Polar Satellite Launch Vehicle blasted off at 0353:51 GMT Monday from the Satish Dhawan Space Center on Sriharikota Island on India's east coast. Five minutes later, the nine satellites were all deployed and Indian officials announced the launch was a success.
Released first from the launcher was Cartosat 2A, a 1,521-pound satellite built to snap images of Earth along with Cartosat 2, a predecessor launched in January 2007. Six tiny CubeSat spacecraft, each weighing between two and eight pounds, were also launched.
The CubeSats were built by students at universities in Canada, Japan, Germany, Denmark, and the Netherlands. Monday's launch was the 11th successful launch of the PSLV in 13 tries since 1993.
Related Dailywireless articles include; ICO G-1 In Space, ICO Wants Its Mobile TV – via DVB-SH, Dish Network Testing DVB-SH, AT&T Goes with FLO, What's Dish Network Planning?, WiMAX TV from NextWave, Italy Testing DVB-SH Mobile TV, Mobile/Handheld TV: Killer App? and Mobile TV War at NAB 2007.