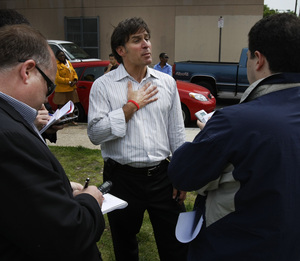 Greg Goldman
still sees a future for Wireless Philadelphia, the nonprofit firm set up three years ago to help city residents gain access to Internet service.
Just don't ask him what it might be, says the Philadelphia Inquirer.
The Wireless Philadelphia chief executive called reporters to a North Philadelphia street corner yesterday to declare the nonprofit "alive and kicking" even though EarthLink asked a federal judge on Tuesday to let it dismantle the network it built to provide the Internet service for the program.
Goldman, after reading a statement and urging a group of about 20 young people to pose for pictures holding up laptop computers, tried to slip away without answering questions. Reporters blocked his escape.
"We're still working to identify a partner or partners that will be able to step in behind EarthLink," Goldman said. Mayor Nutter this week said he has no plans to use city money to save the wireless network. The city says it would cost taxpayers at least $3.6 million a year to operate the network.
Goldman repeatedly said he could not talk about the specifics of failed negotiations to have OneCommunity, a Cleveland-based nonprofit firm, assume control of the wireless network from EarthLink. If EarthLink is allowed to dismantle the network, Wireless Philadelphia could still pursue "digital inclusion" efforts to help city residents with limited incomes gain Internet service.
EarthLink offered to give the network away for free, and offered an additional $2 million in equipment, and still couldn't find any takers, said Goldman. EarthLink is seeking permission in federal court to take down its $17 million in hardware. The company requires court approval because of the nature of the partnership among EarthLink, Wireless Philadelphia and the city.
Earthlink wants to remove their Wifi nodes next month.
"We assert that EarthLink does not have the ability under this arrangement to unilaterally do anything like that," said Goldman.
EarthLink complained this week that it was losing up to $200,000 a month in Philadelphia for a system that was expected to draw more than 100,000 customers but had only 5,942 subscribers. EarthLink said 908 were digital-inclusion customers who pay about half the regular monthly $19.95 rate.
EarthLink – not city taxpayers – put up the multimillion-dollar investment to build the system, notes the Philadelphia Inquirer. Former Mayor John F. Street, a technology guru, negotiated the high-profile deal in an effort to blanket the city with WiFi — the nation's largest municipal wireless system.
The network, about 75% complete, covers most of Philadelphia, the 5th largest U.S. city, with one million residents. Earthlink hoped to sell its muni Wi-Fi business after writing down a $20.7 million charge on discontinued municipal Wi-Fi operations. Now they're having a hard time giving it away.
The vision was there, the business wasn't.
Wired Magazine has mapped hundreds of municipal wireless projects on Google Maps. Most are smaller cities and counties, where bureaucracies are less onerous and costs are lower. Here's a pdf version (224k).
Here's a recap of Municipal Wireless Project in the United States:
Sascha Meinrath, research director, Wireless Future Program, at the New America Foundation, a Washington, D.C. public policy group, argues that 2007 showed the failure of the free market approach to critical infrastructure. Government has a traditional role, he writes, as the builders and maintainers of critical infrastructure.
Personal Telco Project (PTP) in Portland, is building a network from the ground up, using volunteers, Linksys or similar Wi-Fi routers reflashed with the WiFiDog software, and shared DSL or fiber broadband connections. They unwired the Mississippi neighborhood in north Portland.
Like Meinrath, PTP prez Michael Weinberg sees a synergy between community efforts and municipal policy goals. "What I'd like to see Portland do is get on the viral side of this," he says. "There are hundreds of thousands of broadband connections [in the city]. We could unwire Portland tomorrow if enough people got on board."
Here's an interesting fact; DailyWireless is posting this story using Portland MetroFi's FREE WiFi service. It's been our sole source of internet connectivity for 6 months.