The
National Emergency Technology Guard
(NETGuard) mobilizes a corps of volunteers with technology experience who could help out after a disaster.
Sen. Ron Wyden of Oregon discusses the effort
with NPR (
audio
). It is funded by the
Department of Homeland Security
.
NET Guard teams may assist local communities in temporarily reconstituting voice, data, and other communications systems.
The idea of NET Guard was born in the aftermath of 9-11, when a number of communications and technology companies told Wyden they wanted to help New York City when it was attacked – and there was no system for using their volunteers.
A total of $80,000 is available for each pilot jurisdiction and four pilot grants will be awarded. Applications must be received by 11:59 PM EST July 2, 2008.
To be eligible to apply, local government applicants must be located in one of the 2008 DHS Urban Area Security Initiatives' jurisdictions, must have a Citizen Corps Council and programs supported by emergency management. Additional eligibility criteria are included in the solicitation. The announcement and application are available at grants.gov (currently unavailable due to site maintenance).
In other news, the National Geospacial Agency is now providing timely access to current imagery for first responders, as well as its traditional military and intelligence customers. Google Earth and Microsoft's Virtual Earth (above) pioneered public geospacial database access, especially with Map Mashups.
Local expertise is generally faster, better, cheaper then databases created by bureaucrats.
Broadband communications started at the grass roots and trickled up.
Intel's Nigel Ballard provided speedy leadership during the Katrina disaster, as did other companies, who volunteered time, equipment and expertise. Temporary communications networks can be setup in a relative snap with Mobile WiMAX.
Yesterday Mike Boyd from Hillsboro, Oregon utilized a Motorola CPEi 150 ($199), a Mobile WiMAX client, and plugged it into a Meraki outdoor WiFi hotspot ($199) to provide free wi-fi at a blues festival in Portland, Oregon that attracts 120,000 people.
The 200 mw Meraki automatically synced to a second Meraki, mounted high on the stage at Portland's Water Front Blues Festival, now being set up for the July 4th weekend.
Mike Boyd just did it. He provided the entire concert with free WiFi in a couple of hours. No problem.
We got an enthusiastic okay from the Festival Coordinator, Clay Fuller, and borrowed the Motorola CPEi 150 modem from an Intel employee who is testing the service in Portland.
Intel had no official involvement. The project happened because friends helped friends — for the benefit of the community. No red tape.
The picture (right) shows Motorola's WiMAX modem halfway up the tripod (secured with cable ties), which is plugged into the Meraki Access Point (on top). The whole thing could be self-contained when powered with a car battery at the base of the tripod.
Mike's meter indicated the combined current draw for the WiMAX modem and Meraki was only .7 amps. A car battery could probably supply power for a couple of days.
Add a solar panel to charge it and they'd run forever.
The Meraki Outdoor unit does not use standard 48 volt Power Over Ethernet. Instead it uses a non-standard (12-22V) system that actually worked to simplify the system.
Mike sent 12 volts up a single CAT-5 (Ethernet) cable to connect and power the Meraki AP, while the WiMAX modem had a stock 12 volt external power jack (with power supplied from AC or a battery).
Mike made a very clean system that worked great with just a couple of wires.
The WiMAX client unit delivered reliable 2-4 Mbps backhaul for the Meraki APs without problems or complicated set-up. I was impressed. Portland will have some 300 Mobile WiMAX cell sites by launch time toward the end of the year, says Unstrung. By this time next year, many cities will have it.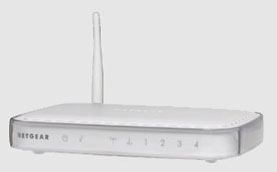 The latest NETGEAR open source wireless router is the WGR614L ($60). It's the open wireless router platform of choice for free WiFi organizations like Portland's Personal Telco Project. It features a 240 MHz MIPS32 CPU core with 16 KB of instruction cache, 16 KB of data cache, 1 KB of pre-fetch cache, and incorporates 4 MB of flash memory and 16 MB of RAM. The WGR614L can support many popular third party firmware applications, including DD-WRT, Tomato, and Sveasoft.
B.A.T.M.A.N. (better approach to mobile ad-hoc networking), is a new routing protocol for multi-hop ad-hoc mesh networks developed by Open-Mesh. ROBIN (ROuting Batman Inside) is an Open Source mesh network project, that runs on Meraki, Open-Mesh or La Fonera hardware using the BATMAN routing algorithm. ROBIN spreads a wired internet connection such as a DSL/WiMAX throughout an apartment complex, neighborhood, village or school, and works on a variety of commonly available, low-cost hardware.
With open source firmware, a Wi-Fi router gets a new brain. You can create a wireless distribution system (WDS) or a mesh network, run a VPN or VoIP server, manage a hotspot RADIUS server, manage bandwidth use per protocol, control traffic shaping and other features.
I also have two mobile routers, a used Linksys WRT 54G3G (which I picked up on Craig's list for a song) and a brand new 802.11n Cradlepoint MBR 1000, which the company generously sent me to test. With these devices, Dailywireless hopes to put mobile communications in a bike trailer.
The FAA's maximum carry-on size for a weatherproof Pelican Case is (20″ x 11″ x 7.6″). Why not stuff it with three Merakis, a WiMAX modem and batteries. You don't need an act of Congress. Just do it.
Free streaming video solutions, that work with a USB or video camera hooked to a laptop, include BlogTV, Justin.tv, Kyte.tv, Mogulus, Seesmic, Ustream, Vimeo, Yahoo Live and Zannel. The live video streams from these (free) services can be embedded in virtually any webpage or blog and even deliver live chat.
Qik is a cell phone solution. A little piece of software enables you to stream videos directly from your phone to the Web. Use it to stream videos to your friends in Facebook, Twitter, etc. PocketCaster from ComVu also streams video from your phone to your video blog or homepage.
While the cellular network is ubiquitous, it will likely be under heavy use (or inoperable) in an emergency. Mobile WiMAX can provide a high speed alternative. Providing local connectivity with WiFi or WiMAX or providing point to point connections is not just fun – it could save lives.
Broadband applications and mashups invite everyone in the pool. Social networks like Twitter have created a networked community of active, vital people. That's where groups like Mercy Corps and Humaninet come in. They have real-world experience and know what's needed in an emergency.
Mobilizing a corps of volunteers with experienced professionals seems worthwhile. It can also be fun working together on projects like music concerts. Plus you get free tickets.
During the recent Field Day, hosted by the American Radio Relay League (ARRL), ham operators across North America spent 48 hours demonstrating their communications abilities.
Related DailyWireless articles include; Mobile Livecasting, Webcasting Concerts, Emergency Communications Applications, Emergency Communications SimDay, Eye-Fi Now Geotags, Cellular Photosharing Software, CNN's News Bureau in a Bus, WiFi Camera Adapters, Geocoding Content, Minneapolis Bridge Collapse & Emergency Communications, MIT's CarTel, CNN's News Bureau in a Bus, Amateur Radio to the Rescue in Oregon, Mountain Rescue UAVs, E911 & Triangulation, Katrina Telecomunications Report, Hyperspectral Search, Report on Kim Search, Cellular Triangulation, Wireless River Monitoring, Underwater MIMO, McSignage, Emergency Com Gets WiFi/Sat Link, Taiwan Earthquake Knocks Out Cables, Remote Ocean Viewer, Dan Reed's Network, VoIP Gets 911 Extension, VoIP E-911 Rush?, 211, 311, 411, 511 & 911, Tracking Individuals, Location, location, location, Rescue By Cell Triangulation, Android Developer Challenge — $10M, California Wildfires Networked, Kyocera KR2 Mobile Router, Topoff 4 Begins in Portland, Mobile Mashup, Olympic Mesh, IP Camera Embeds Phone, The Next Big Thing: Small, Solar Man, Solis Solar Powered Hotspots, Solar RoofNet Wiki, Solar Powered WiMAX & WiFi, Wireless Camera Adapters, Minnesota Solar WiFi, Park City: Solar WiFi, and Solar Powered Solstice.