Verizon Wireless has agreed to buy
the fifth largest cellular operator in the United States,
Alltel
for $5.9 billion. That would make Verizon Wireless, the second largest cellular provider in the United States, the largest.
Alltel has 13.2 million subscribers in 34 states, mainly in rural areas away from the coasts which would be added to Verizon Wireless 67.2 million subscribers. The size of the combined company would have more than 80 million customers, surpassing AT&T, currently the largest U.S. cellular provider, with some 71.4 million subscribers.
Verizon Wireless will pay $5.9 billion for Alltel's equity and $22.2 billion for Alltel's projected net debt, bringing the total value to $28.1 billion, the parties said Thursday.
The deal comes just seven months after Alltel was taken private by TPG Capital and a unit of Goldman Sachs. They paid $24.7 billion for the stock and took on $2.7 billion in debt, bringing the value of that deal to $27.4 billion.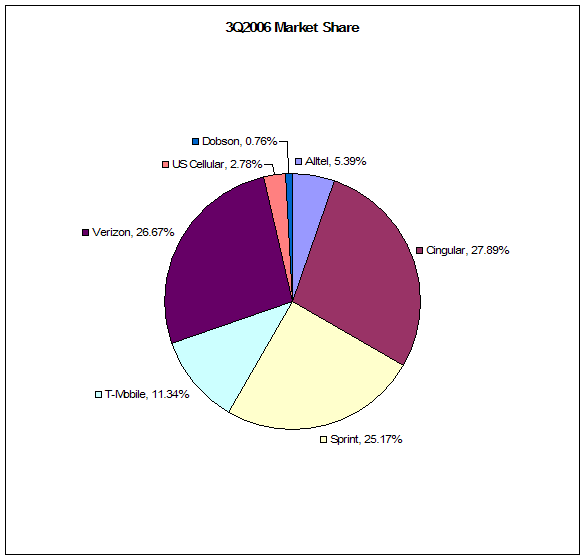 AT&T has mostly held the lead for total wireless subscribers since merging with Cingular back in 2004. AT&T bought Dobson for $2.8 billion last year. Dobson had 850MHz spectrum in rural areas. Verizon Wireless bought Rural Cellular Corp. for $2.67 billion last July. Verizon Wireless said it will also expand its wireless service coverage in rural areas.
Both AT&T and Verizon may plan on getting subsized by U.S. taxpayers using the Universal Service Fund.
Verizon and Alltel expect their deal to close by the end of the year, pending regulatory approvals. The deal is likely to face scrutiny by the Department of Justice and the Federal Trade Commission, but analysts expect it to pass.
In a statement, Verizon Communications Chairman and Chief Executive Ivan Seidenberg said Alltel is a "a perfect fit," given its valuable customer base and solid financials. He also pointed to the fact that the carriers share the same network technology. AT&T and another wireless carrier T-Mobile USA use an incompatible technology.
The deal signals that "the days for a mid-sized, regional stand-alone wireless operator are numbered." That would be you, US Cellular.
US Cellular owns and operates the sixth largest wireless telecommunications network in the United States serving 6.112 million customers in 189 markets in 26 U.S. states.