Inmarsat-4
(F3) – one of the biggest commercial satellites ever built –
was successfully launched by a Russian Proton Breeze M rocket today
. The
F3 satellite
, operated by
Inmarsat
, will complete the firm's globe-spanning, 3-satellite broadband network. Each I-4 satellite can generate 19 wide beams and more than 200 spot beams using its giant unfurlable antenna reflector, stretching 30 by 39 feet.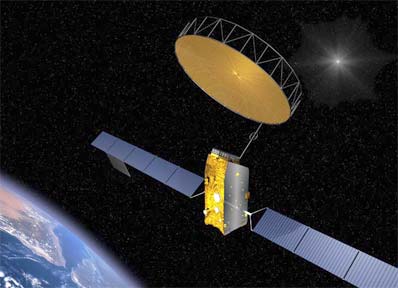 The Inmarsat-4 F3 satellite, a Eurostar 3000GM model built by EADS Astrium, is expected to go into service at 98 degrees West longitude, providing broadband wireless access for small, laptop-size terminals on ships and aircraft as well as for businesses. Handy for West Coast emergency communications, too.
The I4s are almost the size of a double-decker bus and weigh six tons. It will take about a month to get the I4-F3 ready for service. "Each I4 is 60 times more powerful and has 16 times the capacity of an Inmarsat-3 satellite," said Andrew Sukawaty, CEO and chairman of Inmarsat.
The Proton Breeze M, operated by International Launch Services, left the Baikonur Cosmodrome in Kazakhstan at 2243 GMT, Monday.
The 700-ton rocket was making its return to flight after stranding the US AMC-14 satellite well below its intended operational orbit. A review board determined that a pipe rupture in the Breeze M upper-stage caused the booster to shut down early, and the rocket's manufacturer – the Khrunichev Space Centre – was ordered to make modifications.
Although the Proton can be regarded as one of the most successful heavy boosters in history, the March failure was the third in three years, notes the BBC, and a successful outing for the Inmarsat satellite was deemed absolutely essential to maintain market confidence in the rocket.
The Proton booster and Breeze M are both manufactured by Khrunichev Space Center, the majority owner of ILS and one of the cornerstones of the Russian space industry.
In other news, a German Synthetic Aperture Radar reconnaissance satellite (SAR-Lupe-5) was launched from Plesetsk last month. The final of five satellites, they operate in three, 500-kilometre orbits (about as high as the space station), and use an X-band radar with a three-metre dish. One-metre resolution of the International Space Station was achieved on ground tests, says Wikipedia, with day or night resolution down to 50 centimetres.
Of course you don't need to be a space faring bureaucracy. A Short-Wave Infrared (SWIR) camera fits inside the diminutive ScanEagle UAV and may deliver an intelligence fix faster and cheaper. Inmarsat's I-4 series might provide the backbone for all sorts of UAVs, as well as Wi-Fi in commercial jets.
Related satellite phone stories on DailyWireless include: America to Bomb the Moon, Satphone Terrestrial Repeaters: Uncertain, TerreStar Roams with AT&T, Skyterra/MSV Get $500M, MSS: Battle Space, ICO Deploys 40 Foot Antenna, ICO Wants Its Mobile TV – via DVB-SH, Spot Beam Sats Multiply, Satphones: Merger Ahead?, Inmarsat + SkyTerra = Spectrum Sharing.