Seven years on from the launch of the original BMW iDrive, which has been fitted into more than two million cars, BMW has introduced the second generation of iDrive.
The development process of the second generation iDrive, which started back in 2002, involved the use of mobile driving simulators, cockpit models and two concept cars equipped with prototypes of the new system variants. An evaluation program with a total of 500 representative test persons was conducted at four different locations in Europe, America and Asia.
The new generation of BMW iDrive comes with no less than eight 'favourite' buttons on the centre console, enabling the user to save radio stations, telephone numbers and navigation destinations, as well as all menu items subsequently available for direct retrieval via iDrive.
The second generation of BMW's control system also comes with four direct selection keys on the Controller for the menu options used most frequently, enabling the driver to spontaneously switch between CD, radio, telephone and navigation functions quickly and efficiently, making the entire system very easy to learn and memorise.
This great-grandson of iDrive made its debut in revised 2009 3 Series and 1 Series models this month as a roughly $2,000 option (depending on the model). It will be standard in 7 Series models starting in the spring.
The iDrive could (and still can) control everything from the temperature settings and the speed of the air-conditioning fan to the radio, navigation system and cellphone. The trouble was that it was frustratingly complex.
This marks the third version of iDrive. The first, in 2002, had eight general functions that you selected by first sliding the controller in one of the eight compass directions. Version 2, circa 2004, reworked the functions to just four (communication, navigation, entertainment, and climate control). This third variant adds the function buttons, much like programmable PC function keys
NPR had a field day testing the Voice Command on the BMWi 7 Series (ram). It needed a little work.
PC World says the day of the in-car satnav may be over, with GPS smartphones like the Apple iPhone 3G outsripping their sales. Global shipments of satnavs or PNDs (Portable Navigation Devices) were down 6 per cent in Q3 2008 in EMEA (Europe, Middle East and Africa – falling behind shipments of smartphones with built-in GPS, which soared from 4.7 million last quarter to 10.4 million in Q3 although North America and Asia Pacific still seeing good volume growth.
Nokia is already the third largest provider of mobile navigation solutions across all platforms in EMEA, behind TomTom and only narrowly behind Garmin.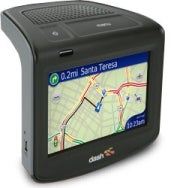 The Dash Express is leaving the GPS navigation device business. It was notable for its seamless Internet connectivity (via GSM cellular and Wi-Fi networks) that supported real-time searches, live traffic reports from other Dash users, and easy data entry via the Web. But it cost $400, and the Internet services cost $10 to $13 a month (depending on whether you prepaid for a year or not).
Nokia may incorporate the social aspects of The Dash to monitor traffic. Working with General Motors, BMW, and CalTrans, they are conducting a large-scale experiment to test how cell phones can monitor and predict traffic. The California Center for Innovative Transportation is working with Nokia and special traffic-monitoring software developed by Nokia. The phone sents data about each car's speed and position back to the company's research facility.
A Wind River white paper argues that Linux is well positioned to succeed in the uniquely challenging market for automotive infotainment, since open-source operating system like Linux can address the "hugely divergent" life cycles of cars and consumer electronics.
Related DailyWireless stories on transit connectivity include; Cars Talking WiMAX, Motorola Car Computer, Livable Streets Network, Google Streetview on Cell Phones, Rest Area Hotspots Closed, Chrysler Offers Internet Access, Portland Commuter Rail Readies Wi-Fi, Chrysler Rolls Out U-connect , Ford Sync, Mobile Livecasting, Google Transit Maps + WiFi, Chrysler: Wi-Fi Car This Year, The Connected Bus, Hotspot for Bedouins, Chrysler Getting WiMAXed, Verizon Traffic Mapping , PePWave Mobility: Connectivity for Vehicles, Civic Booster, Broadband Wireless Modems, Kyocera KR2 Mobile Router, Gadgets That Listen, Analog Cellular to Shut Down, Microsoft Vrs OnStar and 3-D Traffic/Weather Maps.