"This is the President of the United States speaking. Through the marvels of scientific advance, my voice is coming to you via a satellite circling in outer space. My message is a simple one: Through this unique means I convey to you and all mankind, America's wish for peace on Earth and goodwill toward men everywhere." — Dwight D. Eisenhower, December 18, 1958

The first communications satellite was launched 50 years ago, on December 18th 1958. Called Project Score, the vacuum tube-powered satellite with a recorder that could store and forward messages, broadcast the recording to the world at 8 Watts on 132 MHz. The 150 lb, battery-powered SCORE burned up in space 34 days later.
SCORE, Courier, and Echo were the beginnings, but Telstar and Syncom laid the foundations for today's satellites. At the time, it was hard to imagine how significant the new invention would be. Today, literally thousands of satellites link the world. Cell phones can even receive television programs directly from satellites 23,000 miles away.
TerreStar Europe, a case in point.
Today the European mobile communications company and a subsidiary of TerreStar Corporation, announced that its application with the European Commission (EC) for a Pan-European 2GHz MSS S-band spectrum authorization has been accepted.
TerreStar Europe plans to create a pan-European network to provide mobile voice, data and video services across both a satellite and terrestrial mobile broadband networks. It will be available to government, emergency responders, enterprises and consumers for ubiquitous connectivity across urban, rural and remote regions of Europe.
TerreStar is a giant geosynchrous satellite phone system designed to provide next-generation, 2-GHz mobile voice and data communications, monitoring and messaging services throughout the United States and Canada. The TerreStar broadband network can use both traditional land-based wireless networks and the satellite network. The terrestrial repeaters use the same frequency as the satellite, enabling small, inexpensive mobile phones with a direct to satellite capability.
The European TerreStar may have competition from Solaris Mobile, a joint-venture by Eutelsat and SES ASTRA that plans to provide European Mobile TV services. The S-band payload, to be integrated onto Eutelsat's W2A satellite, is due for launch in early 2009. Their satellite will provide TV, video and radio plus two-way communications to handheld devices.
Like ICO, Solaris Mobile will use DVB-SH. Handsets from Sagem Mobiles, using DiBcom's DVB-SH receiver, can pick up the satellite signal directly or via terrestrial repeaters.
Other recent space activity:
Last month the FCC granted an extension of TerreStar's MSS (2 GHz) U.S. satellite launch milestone from September 30, 2008 to June 30, 2009. TerreStar requested the extension because of issues experienced during construction of its satellite reflector. In September 2008, Industry Canada (IC), the federal government department in Canada which is responsible for radio spectrum licensing and telecommunications policy, granted a similar request by TerreStar Networks.
"TerreStar greatly appreciates the grant of the extension requests by both the FCC and IC," said Jeffrey Epstein, President of TerreStar Networks Inc. "We will continue to maintain momentum and focus on realizing our vision of North America's first IP-enabled integrated satellite-terrestrial mobile broadband network."
Progress on the construction of the TerreStar-1 satellite (TS-1) has reached a very advanced stage at Space Systems/Loral in Palo Alto, California.
The S-Band feed array has recently completed final testing and is being integrated onto the satellite. The S-Band reflector, being constructed by Harris Corporation in Palm Bay, Florida, recently completed its first hands-free deployment. Likewise, ground support systems are also progressing, including acceptance of the North Las Vegas, Nevada feeder link facilities and construction of the Telemetry Monitoring, Tracking, and Control facilities in Allan Park, Ontario.
TerreStar plans to launch its TerreStar-1 satellite in the second quarter of next year. TerreStar-2, scheduled for delivery in 2009, features a large unfurlable reflector similar to TerreStar-1. The satellite will generate hundreds of spot beams covering the Continental U.S., Canada, Alaska, Hawaii, Puerto Rico and the U.S. Virgin Islands.
Meanwhile, ICO Global Communications today announced changes to the boards of directors for both ICO Global and its subsidiary, ICO North America.
Nicolas Kauser has joined the board of ICO Global Communications. Mr. Kauser is a principal of Eagle River Holdings, LLC and he serves on the boards of RadioFrame Networks and Triquint Semiconductor. He has previously held the position of chief technology officer at both AT&T Wireless Services and Clearwire Corporation, and served as president of Clearwire International.
ICO Global directors R. Gerard Salemme, Donna Alderman and Benjamin Wolff have resigned from the board of ICO Global, and will remain on the board of ICO North America. Craig McCaw has resigned from the board of ICO North America, and will remain on the board of ICO Global. All other directors for ICO Global and ICO North America will continue to serve in their respective existing capacities.
For Clearwire, ICO may be the elephant in the room. ICO delivers mobile television via DVB-SH and may extend the functionality of broadband wireless devices in both rural and urban environments. Terrestrial towers (with RadioFrame software defined radios), may do double duty. The Raleigh NC trial will examine the feasibility of utilizing Clearwire's 2.5 GHz spectrum and ICO's 2.0 GHz spectrum more efficiently.
Public service agencies might even grasp the cost/effectiveness of a satellite link in the 700 MHz "D block". ICO and TerraStar seem ready to go (and could compete with the Qualcomm's FLO). A DBS partnership would be tricky business after Clearwire's deal with cable operators, but 700MHz would be handy for rural telephony and first responder communications.
ICO G1 was successfully launched on April 14, 2008. G1 is now on station at 92.85 degrees West Longitude in geosynchronous orbit.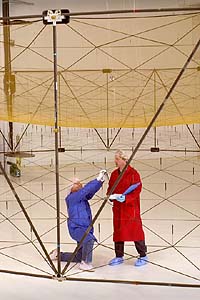 In September, ICO announced that WiMAX provider Clearwire will join as a service partner for its alpha trial in Raleigh Durham, North Carolina, and that an additional trial will take place in Las Vegas, NV. ICO will use DVB-SH for mobile video, delivering 10-15 channels of premium live TV content for 7–15 inch screens. Harris also built the reflector for TerreStar Networks's geostationary TerreStar-1 mobile communications satellite; and two reflectors for XM Satellite Radio's XM-5 radio broadcast satellite.
Meanwhile, Globalstar, which operates a LEO-based satellite phone system (similar to Iridium), is also talking about sharing terrestrial frequencies and towers.
Globalstar has won approval from the FCC to incorporate WiMAX in the ATC with the help of terrestrial partner Open Range Communication. The two will offer WiMAX to more than 500 rural communities–with the help of a $267 million loan from the Department of Agriculture's Rural Development Utilities Program. Globalstar said it will be looking for other partners too.
With two LEO satphone platforms; (Iridium and GlobalStar), two 2 GHz (MSS platforms); (ICO and TerraStar) and two 1.6 GHz (L-band) platforms; (Inmarsat and MSV's planned SkyTerra), the possibility of a merger has been long discussed. Perhaps 2009 will see it come to pass.
Satellite mobile television service, a major thrust for ICO, has failed in Japan, even though the country has a concentrated population footprint with gadget-loving citizens.
Toshiba is shutting down its four-year-old, satellite-based digital multimedia broadcasting service in Japan, which it offers through their Mobile Broadcasting Corporation unit.
The MBSAT from Mobile Broadcasting Corporation is a three-axis attitude stabilized geostationary satellite designed and manufactured by Space Systems / Loral, based on the SS/L 1300 bus and featured a 12m-aperture (40 foot) S band high gain antenna.
Toshiba said the Japanese service has failed to attract sufficient customers in the face of demand for free mobile broadcasting services that are targeting mobile handsets. Toshiba said it will dissolve the company and end services by March of next year. It is expected to cost Toshiba about $232 million. The company launched the service in Oct. 2004.
In 2005, South Korea began a similar mobile TV service using Satellite-DMB (S-DMB) and terrestrial DMB (T-DMB) service. Since launching in May 2005, South Korea's TU Media has signed up more than one million subscribers, uses the S-DMB (satellite digital multimedia broadcasting) standard, offering 15 video and 19 audio channels.
WTA's 2008 research, published in October, indicated that only 35 percent of teleport operator's revenues came from media and entertainment, while enterprise, government, and carrier markets together now contribute 47 percent. Euroconsult says world government space program expenditures are at a historical high of more than $62 billion dollars in 2008, with planned satellite launches in the next ten years to increase 38% over the previous decade.
Satellite communications is a tool that can be used for good and evil. The first satellite message, after all, was as much about power and control as it was peace and harmony.
While the technology has changed, human nature has not. Governments may be tempted to use the huge satphone platforms as national ELINT resources. The National Applications Office enables domestic intelligence using military and civilian assets. Reportedly, MSV, a Canadian company, had to agree to honor U.S. government wiretap orders, even moving some assets onto U.S. soil. One could speculate that the actual agreements (and capabilities) behind the Thurayas, the ICOs, the Skyterras and TerreStars will never be completely known.
Related satellite phone and mobile tv stories on DailyWireless include: Canadians Launch Spotbeam DBS Satellite, Globalstar: We Bad, Inmarsat F3 Successfully Launched, Globalstar Gets ATC, Inmarsat Does SCADA, Satphones Get Qualcomm Cell Roaming Chips, TerreStar Roams with AT&T, Skyterra/MSV Get $500M, HughesNet + Wayport + ICO/DVB-SH, ICO Deploys 40 Foot Antenna, ICO G-1 In Space, MSS: Battle Space, Satphones: Merger Ahead?, Chrysler Offers Internet Access, ATSC Mobile TV Tested, Streaming Media West 2008 , Live Mobile Coverage, Qik Goes Live — Everywhere, 2008 Summer Olympics: On Demand, WiMAX for TV Remote Feeds, Mobile WiMAX: Live in Idaho Falls, Mobile Livecasting, Webcasting Concerts, Emergency Communications Applications, Emergency Communications SimDay, What's Dish Network Planning?, Satphones: Merger Ahead?, America to Bomb the Moon, Satphone Terrestrial Repeaters: Uncertain, TerreStar Roams with AT&T, Skyterra/MSV Get $500M, MSS: Battle Space, ICO Deploys 40 Foot Antenna, ICO Wants Its Mobile TV – via DVB-SH, Spot Beam Sats Multiply, Satphones: Merger Ahead?, Inmarsat + SkyTerra = Spectrum Sharing, Satellite Repeaters – Grounded In Reality?, MSS: AWS Alternative?, Eutelsat HotBird 8, Globalstar in Trouble, GlobalStar: Give Us Repeater Freqs, Satphones Localize, John Malone in Space, T-Mobile Plans UMTS, AWS: It's Done, Fight for the Right (of 3.5GHz), and The AWS & 700MHz Dance, Dish TV Gets Lucky, Vietnam Launches Its First Satellite, Spot Beam Sats Multiply, TerreStar to FCC: Almost Done, TerreStar Gets a Slot, Birthday for Morse and 100th Anniversary of Wireless.