A cell gets out and it will imitate everything! — The Thing

South Korea has ratified a voice-over-WiMAX standard, reports IntoMobile. The new protocol, approved by the Korea Communication Commission (KCC), is essentially a VoIP (Voice over Internet Protocol) technology. South Korea's WiBro has been a data-only system since going live in 2006.
Now Korea Telecom is planning to roll out voice-over-WiBro in 2009. KT, which controls more than 90 percent of the fixed-line telephony market and about 44 percent of the broadband sector, had gathered about 206,000 customers for WiBro by the end of June, 2008, while SK Telecom, the dominant cellular carrier, has a comparatively miniscule 2,000 WiBro subscribers.
The KCC's approval of the voice-on-WiMAX standard may spur voice services over the Clearwire/Sprint WiMAX network in the US, opines IntoMobile. Sprint's new dual-mode CDMA/WiMAX modems allow for voice-calls on Sprint's CDMA network, but requires subscriptions to two distinct wireless networks.
The ability to combine mobile broadband data and make voice calls on the same WiMAX network is more convenient, cheaper, and may give WiMAX an advantage for heavy data users.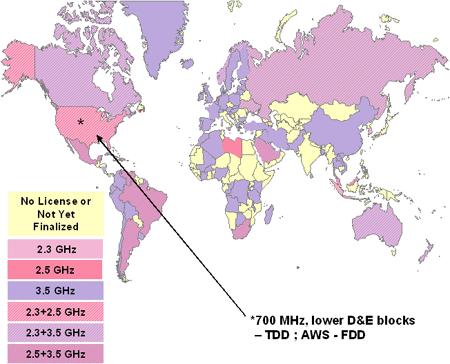 In the land of 4G, LTE networks may be prefered for voice. But Mobile WiMAX can deliver faster, cheaper data. That's because cellular providers don't (and won't) have the spectrum bandwidth.
Beceem's WiMAX Voice and Data chipset the BCS5200, is the industry's first to integrated voice and gateway router functionality on a single chip. It includes an applications processor that supports a complete suite of VoIP codecs and IP network protocol stacks. Samsung's CPE devices, used in both South Korea and the United States, include Beceem chips. Their publicly announced OEM customers include Motorola, NEC, Samsung, Sanyo and ZTE, along with Taiwanese ODMs AWB, D-Link and Quanta. Samsung is developing its own WiMax and LTE chips to lower costs of its handsets and reduce its exposure to patent royalties, says EE Times this week.
Unstrung reports that Clearwire is developing at least some of the mobile virtual network operator (MVNO) software in-house. It will handle Sprint, Comcast and Time Warner Cable services on the WiMax network through its IntraISP subsidiary. The firm has been hiring all kinds of people for the software unit in St Louis recently, including MVNO specialists, says Dan Jones of Unstrung.