Oregon's first commuter rail line opened Friday
, with free WiFi. Some 15 years in the making,
TriMet's Westside Express Service
(
WES grand opening
) will provide weekday rush hour service between the cities of Beaverton, Tigard, Tualatin and Wilsonville. Travel time along the 15 mile route between Beaverton and Wilsonville is 27 minutes.
Besides free WiFi, each WES car can seat up to 80 people with spaces for two mobility devices and two bikes. Tickets cost $2.30
The diesel trains are unique in that the locomotive is integrated into the passenger vehicle. They were made by Colorado Railcar Manufacturing in Fort Lupton, Colorado.
The company's financial difficulties were well documented by Les Zaitz in the Oregonian. The commuter railcars were finished only after TriMet seized control of the private company earlier this year. Agency officials said they took the unprecedented action after discovering that contract payments meant for TriMet's cars had been diverted.
But the Wi-Fi works great. I checked it out yesterday on the maiden voyage using my Wi-Fi enabled Android phone. I got a strong signal from the two SSIDs (WES1 and WES2). Unfortunately, my Android batteries died shortly after getting onboard, so I didn't get a good opportunity to check it out.
The Westside Express Service (WES) uses a ruggedized mobile router system based on the Cira (Cellular Internet Routing Appliance) designed by Eugene, Oregon-based Feeney Wireless. It uses EVDO for the backhaul.
Justin Bloom, CTO / Senior Engineer for Feeney Wireless tells DailyWireless that the system deployed on the WES was actually developed specifically for Trimet, using core components of their CiRA mobile router. The system uses Sprint's EVDO Revision A data network and incorporates a load balancing functionality to allow the use of multiple cellular data radios connected simultaneously.
The CIRA mobile router has been battle tested in New York City taxicabs. Creative Mobile Technologies (CMT) provides New York City taxicabs with credit and debit card processing, media and advertising content, text messaging, interactive passengers maps, GPS and electronic trip sheets.
In other news, WiFi Rail is installing WiFi on BART trains in San Francisco. Bay Area Rapid Transit has a 20-year agreement with WiFi Rail to provide Wi-Fi access throughout the BART transit system and on all BART commuter trains.
The company installed a demonstration network on 2.2 miles of the BART Hayward test track and in the four downtown San Francisco stations. During the year of testing, more than 15,000 consumers registered and used the system more than 85,000 times, including live streaming video from the trains, proving the utility of the network.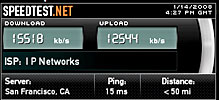 Unlike other transit Wi-Fi projects Wi-Fi Rail doesn't depend on satellite or cellular backhaul. The BART model uses "leaky coax" in the tunnels, backhauled by fiber-optics. Tests on moving trains – at over 65mph – have demonstrated upload/download speeds over 15 Mbps.
The goal is to outfit the 104 miles of track and the 43 stations by the end of 2011, said Cooper Lee, CEO of Wi-Fi Rail, the startup based in Sacramento County that will provide the communications system.
Once fully complete, subscribers will be charged about $30 a month, $9 a day, $6 for two hours and $300 for a year's subscription, Lee said. The service will be offered at reduced rates until the entire system is up and running. BART riders may be able take advantage of free Internet access – but with a catch. Access will be cut off after 3 1/2 minutes and the users will have to endure 30 seconds of ads before being able to surf the Internet.
WiMAX may provide faster, cheaper backhaul for WiFi on trains and buses. Without the ads.
Transit riders in Portland can connect directly to Clear's WiMAX cell sites. No Wi-Fi required. At Clearwire's Launch Party in Portland this month, my friend Nigel Ballard (left), helped make the light rail cameras happen.
Creating the live train camera network was easy. WiMAX-enabled Netbooks (with cameras) pointed out the train window. Done.
Motorola's tiny USB WiMAX dongle, provided connectivity inside Portland's Streetcar and on demo buses at the Clearwire demo.
Unstrung notes that Comcast is conducting a technical trail in about 100 New Jersey Transit commuter rail stations. It is providing free wireless access if you're a cable modem customer. Those subs can tap in applying the user names and passwords they use for their home-side cable modem services. This is strictly a technical trial," says Comcast spokeswoman Mary Nell Westbrook, who stressed that the Comcast's WiFi activities are completely separate to those involving WiMax.
Meanwhile, Cablevision's Optimum WiFi service in Long Island has a similar subscriber arrangement for free Wi-Fi. Their WiFi cloud is much larger, however, extending to public parks, marinas, shopping centers, sports fields, and beaches across Long Island. Long Island Rail Road has WiFi at Penn Station and Grand Central for customers waiting for their trains.
Chrysler's UConnect Web system, available with new Chysler, Jeep and Dodge models, costs $450, not including an installation fee and a monthly access fee of about $30.
The DSRC spectrum is divided into seven 10MHz wide channels. Channel 178 is the control channel which is restricted to safety communication.
The extreme two channels on either side are reserved for accident avoidance application and high power public safety communication usages. The rest are used for both safety and non safety applications.
Portland's TriMet bus system is building a multi-modal trip planner using OpenLayers, an open-source visualization tool for GeoServer data, that will let people plan trips involving multiple forms of transportation.
OpenStreetMap is a free and editable map of the world. Founded in 2004 in the United Kingdom in response to the need for a free geospatial data source, it is a community-driven project, allowing for anyone to edit and contribute information.
Yesterday, after my WES commuter rail trip, I jumped on Portland's MAX train to head back home…but I was dying for a pizza. I wished for a "pizza-to-go" touch screen.
Maybe that's the next big thing for commuters. Fast food.
Dailywireless' connected transit stories include; Caltrans Installs Solar-powered Radar Sensors, Wi-Fi: Land, Sea & Air, Clearwire's Launch Party in Portland, The Magic Bus, Bullet Train Wi-Fi, Traffic Cameras and ITS, WiFi on Trains, Mobilizing WiFi on Trains & Cars , TrainFi On the Move,The Connected Bus, Buses Get WiFi, Vehicle Tracking Saves Money, Boingo Gets Ferry-Fi, Feeney Does WES, Cars Talking WiMAX, Motorola Car Computer, Chrysler Offers Internet Access, Portland Commuter Rail Readies Wi-Fi, Chrysler Rolls Out U-connect, Ford Sync, PePWave Mobility: Connectivity for Vehicles, Civic Booster, Broadband Wireless Modems, and Kyocera KR2 Mobile Router.