Eutelsat
announced today
the full entry into commercial service of its HOT BIRD 9 satellite at 13 degrees East
. Built by
EADS Astrium
, it was
launched on 20 December 2008 by Arianespace
.
HOT BIRD 9 is currently copositioned with Eutelsat's HOT BIRD 6 and HOT BIRD 8. HOT BIRD 7A will now be redeployed to 9 degrees East. Rebranded as EUROBIRD 9A, the satellite will assume all broadcasts currently carried by the 20 transponders on EUROBIRD 9 and introduce 18 additional transponders at the 9 degrees East neighborhood, which now has almost 150 channels at that location.
HOT BIRD 9, the second in Eutelsat's new generation of HOT BIRD broadcast satellites has a payload of up to 64 Ku-band transponders. Hot Bird 9 was launched on December 20, 2008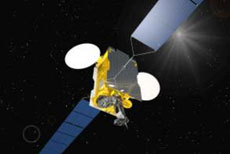 HOT BIRD 10, the third in the new series, was launched on February 12th, 2009, on an Ariane 5, along with an NSS-9 spacecraft for SES NEW SKIES. The HOT BIRD 10 payload was Eutelsat's 24th Arianespace launch.
Eutelsat plans to temporarily park Hot Bird 10 at 7 degrees West. Eventually, Hot Bird 10 will be moved to its intended position at 13 degrees East longitude, joining identical sister-satellites Hot Bird 8 and Hot Bird 9. Together they will beam nearly 1,100 television channels and 600 radio stations to 120 million homes across Europe, North Africa and the Middle East.
HOT BIRD spacecraft target the most premium real estate in geosynchronous space — 13 degrees East. It is the most dense satellite position in the geosynchronous arc. Satellites are stacked like pancakes at 13 degrees East.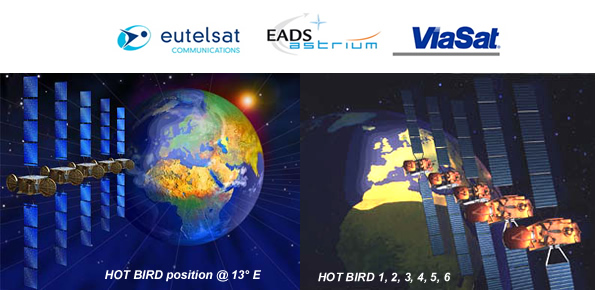 More than 120 million TV homes in Europe, North Africa and the Middle East receive satellite television from that location. A Superbeam enables Direct-To-Home reception. ASTRA 1M, the second Eurostar satellite in the ASTRA fleet with ASTRA 2B, delivers direct-to-home services.
Eutelsat is one of the world's three leading satellite operators in terms of revenues, after Intelsat and SES. Eutelsat's satellites broadcast more than 3,200 television channels and 1,100 radio stations.
Related Space and Satellite articles on Dailywireless include Satellites Collide, Geosync Spies, Eutelsat HotBird 8, Godzilla SatPhones WiMAXed, Dish TV Gets Lucky, Galaxy 18 Cable Sat Launched, ICO Deploys 40 Foot Antenna, AMC-14: Not Dead Yet, Dish Network Testing DVB-SH, ICO G-1 In Space, Vietnam Launches Its First Satellite, AMC-14: Killed by Lawyers?, HughesNet's Spaceway 3 Now Available, Intelsat & Panamsat to Merge, Global Satellite Providers Now Three, U.S. Antisatellite Weapon to be Tested, Satellite Shootdown Fallout and To Mars…and Beyond.