A Nielsen Online report
(
pdf
) says two thirds of us now use what it calls "Member Communities," which includes both social networks and blogs.
Social Networks now make up "the fourth most popular category online
– ahead of personal email," says Nielsen Online. The others are search, portals, and PC software.
Nielsen found that 66.8 percent of the global online population spends time at "Member Communities," a category that includes both blogs and social networks.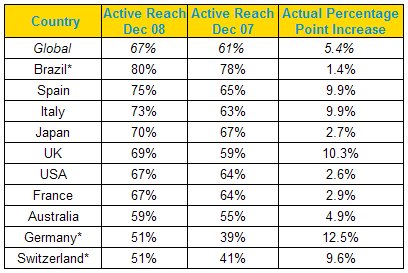 According to The Guardian, it's easy enough to understand the shift towards social networking from email. Email has a huge spam problem, and efforts to stop spam frequently block legitimate messages. It's quicker to use Twitter, Facebook or an instant messaging service and there's less chance your message will be lost or blocked.
According to Nielson, Facebook – the world's most popular social network – is visited monthly by three in every 10 people online across the nine markets in which Nielsen tracks social networking use. Facebook has its greatest reach in the UK market (47%). Orkut in Brazil has the largest domestic online reach (70%) of any social network in these markets.