The free Skype for iPhone will finally be available to download from the iTunes App Store sometime on Tuesday, says C/Net. The announcement will be made at CTIA 2009, April 1-3 in Las Vegas. C/Net says Skype's VoIP app for iPhone looks more like your traditional iPhone app than it does Skype 4.0 for Windows. But 'Skype for iPhone' can only be accessed via Wi-Fi hotspots and not via standard mobile networks.
Skype already offers a Windows Mobile version of its client, as well as Skype for Nokia phones and for Android phones. Skype for the BlackBerry is planned for May as part of its effort to expand beyond desktop computers. Skype for the iPhone allows subscribers use to the phone numbers in their existing iPhone address book, eliminating the need for duplicate lists.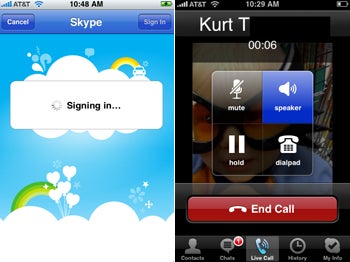 Om Malik says Skype will use Wi-Fi networks, and calls to landlines will cost 2.1 cents a minute. There is no calling over the 3G network. SkypeIn and SkypeOut, along with Skype Chat, are the key features of this new version of the Skype application.
Scott Durchslag, Skype's chief operating officer, said he did not think the limitations on using Skype on the iPhone would be a big drawback for users, since Wi-Fi networks have become common. However, reports the NY Times, he hoped Apple and AT&T would relax restrictions and let people make Skype calls anywhere they roamed. "We think these things should work on any device, any network, at any time," he said.
In related news, the number of mobile application users is set to quadruple in five years, according to market researcher In-Stat. In-Stat believes worldwide sales of open source-based smartphones are expected to be twice that of devices based on Apple's software in five years.