WiMAX Forum Congress Asia
concluded this week in Singapore with over 1,600 in attendance. Equipment provider
Samsung reiterated its support for WiMAX
unveiling new indoor mobile WiMAX solutions and announced partnerships with 24 major mobile operators in 20 countries. Amid speculation that they were backing off WiMAX,
Alcatel-Lucent clarified its position that it is currently providing mobile WiMAX equipment for 14 commercial networks worldwide
, including the largest – Packet One in Malaysia, and that it has secured 32 mobile WiMAX contracts overall.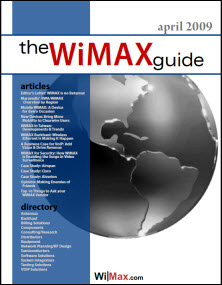 Meanwhile, LG Electronics announced this week that it has been selected by NTT Docomo to supply it with LTE modem chips, a competing technology with WiMAX, while US equipment provider Motorola announced that it was cutting its 4G investments, both in WiMAX and LTE as a way to control costs.
The April 2009 WiMAX Guide is a FREE online resource published twice a year that contains feature articles and company listings for decision makers deploying WiMAX & 4G networks. It overviews the WiMAX Market by region with case studies on Airspan, Cisco and Alvarion.
The WiMAX Guide includes company profiles with information on each company. You must submit your company name, email and phone number to download the guide.
In other news, DigitalBridge Communications signed a distribution deal with the National Rural Telecommunications Cooperative in return for the NRTC's "significant" investment in the WiMAX provider pdf. In addition, NRTC will acquire a seat on the company's board of directors.
The deal comes just weeks after NRTC filed comments to the FCC saying that it is developing a plan to enable its members to offer universal access to broadband throughout rural America by using a combination of WiMAX and satellite. DigitalBridge Communications is a 4G wireless Internet provider using WiMAX to deliver broadband services to underserved communities nationwide.
AlphaStar, a hybrid satellite/terrestrial broadband wireless service, is promoting its system as a solution to rural broadband delivery. AlphaStar@Home does not go directly to your home via satellite, such as 2-way satellite providers Spaceway and Wild Blue. Instead, AlphaStar uses a hybrid delivery method with terrestrial wireless for last mile delivery.
WildBlue demonstrated it can deliver download speeds that are up to 12 times faster than its current speeds if it gets a new high-capacity satellite such as the Viasat-1 platform.
ViaSat-1 is expected to have more capacity than the combination of all other satellites in operation over the United States, providing 2-10 Mbps download speeds at retail prices competitive with terrestrial services, says the company.
The new satellite would be able to offer broadband (depending on the speeds) to between 1.5 million and 2 million rural Americans. WildBlue estimates there are about 15 million homes and businesses in rural, underserved areas in the US.
ViaSat currently uses LinkStar and LinkWay VSATs with Enerdyne's video data link and AcceleNet compression for Unmanned Aerial Vehicles. Insitu's Scan Eagle, for example, can also transmit 2 Mbps of IP data simultaneously with compressed video using a terrestrial FM video transmitter that uses less than 8 watts. Viasat-1 might also open up the domestic UAV market for Boeing.
WildBlue currently delivers services via two satellites, WildBlue 1 and Anik F2, which have enough capacity to serve about 750,000 subscribers at WildBlue's current service/speed levels. It's also in the process of leasing additional Ka band capacity from EchoStar's AMC-15 satellite, a move that will allow it to support as many as 75,000 additional subscribers.
That should give it some fresh capacity to serve some areas that have the heaviest demand for its services –- East Texas, Louisiana, Alabama, and portions of Kentucky and Tennessee, reports Light Reading. WildBlue has completed an agreement with EchoStar, but a new satellite would take 2-3 years, stretching the time frame of stimulus funds.
Some $6.39 billion in the stimulus bill will be targeted for broadband and administered by the National Telecommunications and Information Administration and the Department of Agriculture's Rural Utilities Service.
Organizations and groups can download the CTC authored Rural Reference Model (pdf). This model will help operators in their planning and budgeting process as it supplies baseline references, technical capability, and integration with other systems, says the company. It reviews the costs and benefits of delivering the last mile by various flavors of WiFi and WiMAX.
Proxim's Government Grant Resource Guide provides an overview of the options that are available to help fund wireless broadband networks.
Alvarion also offers a complete line of RUS-accepted solutions with "Buy American" status using a range of unlicensed, semi-licensed and licensed frequencies. Alvarion says you can build your rural wireless network using 3.65, 5.3, 5.4, 5.8, 4.9, 2.3 or 2.5 GHz and qualify for funding by using RUS-accepted Alvarion solutions if you are currently working on projects to bring wireless broadband access to rural communities or have plans to develop such projects.
Meanwhile, Eutelsat plans to launch a satellite next year that it says will offer the entire UK up to 10Mbit/s broadband, including rural areas that are poorly served by ADSL and cable. Eutelsat's "Tooway" broadband, launched this week in the UK, offers up to 2Mbit/s, via an existing satellite. Tooway is currently available using Ka-band capacity on Eutelsat's HOT BIRD™ 6 satellite.
Eutelsat's new KASAT (pdf), launching in the third quarter of 2010, will use the Ka band and offer 10 Mbps, using over 80 spotbeams. Eutelsat will locate KA-SAT at 13 degrees East where it will join three large HOT BIRD Kuband broadcasting satellites that form the world's leading video neighbourhood.
There are at least 3 billion people on the planet who have no affordable way to connect to the Internet–a problem Google aims to solve by helping foot the bill for the launch of 16 satellites in the O3B constellation.
The O3B satellite network ("O3B" stands for "the other 3 billion") is set for launch in late 2010. An ISP would install a pair of high-tech antennas capable of tracking multiple satellites and establish a 155-megabit per-second connection to the global Web. ISPs could use 3G cellular and WiMax towers for local connections. Each satellite in the network will have 10 spot beams, each delivering in excess of 1Gbit/s. Just how they plan to get 10 Gbit/s UP TO the satellite is less clear.
Related DailyWireless Space and Satellite News includes; HughesNet's Spaceway 3 Now Available, Hughes Launches Switchboard in the Sky, HughesNet & Broadband Corporation, Spot Beam Sats Multiply, Clearwire & SatTV Do a Deal, Sprint Beams Up with MSV, TerreStar: I-HSPA for Satphones, Satphones: Merger Ahead?, Inmarsat + SkyTerra = Spectrum Sharing, Mobile Satellite on the Move, TerreStar Gets a Slot, Satellite Repeaters – Grounded In Reality?, WildBlue Partners with DirecTV & Echostar, John Malone in Space, TerreStar Gets a Slot, BSkyB + Google, SkyNet Satellite Hacked?, Lockheed CEO: Space is Broken, MSS: AWS Alternative?, WildBlue: AT&T's DeathStar?