April has been declared as Earthquake and Tsunami awareness month
by the Governor of Oregon, and a disaster response drill, called
Cascadia Peril
, is planned for this week. It is intended to prepare the Northwest for responding to
a Cascadia subduction zone earthquake
. Such an event can produce magnitude 9.0 earthquakes or greater.
The scenario for Cascadia Peril '09, is a major earthquake and a coastal tsunami. The three-day exercise will test the region's readiness for a magnitude 9 quake off the Oregon coast that scientists say is coming.
The exercise begins on April 24th, and involves Portland's Humaninet, which is providing support with their Maps 2.0 team. It's the first time that a volunteer mapping team will post critical data using online maps in a U.S. exercise.
Humaninet tested the Google Maps tools in Thailand last November (pdf) and has a team of six highly qualified volunteers working in five states, with a team from Google providing technical support. Humaninet has posted a guide to using Google Earth (pdf) for such events. Gregg Swanson, Executive Director of HumaniNet, says they still need to raise $2000 to complete the mapping software work.
On April 24, the City of Astoria will hold its own table-top exercise that will focus on a hypothetical collapse of Bear Creek Dam, which holds the city's water supply. The drill will rely largely on radio communications, including ham radio operators, to relay messages within the county and to and from Salem, the state capital.
The Cascadia Peril '09 scenario assumes widespread destruction throughout the coast and inland, with U.S. Highway 101 and other vital roadways blocked in several locations by downed bridges, slides and high water. It assumes many buildings have collapsed or suffered major damage from the quake, and the tsunami has flooded many coastal communities. Aftershocks as strong as 6.6 magnitude hit the area for several hours. Injuries and fatalities are heavy.
The county operations center, during the day of peak activity, April 27th, will be the hub of activity. Dave Houghton, director of emergency management, said a Webcast (to be scheduled later that week) will be available. A social event nearby on April 28th from 5:30 – 7:00 will also take place.
The Tigard CERT team, Portland's Office of Emergency Management and Oregon's Department of Geology has more information and web links.
The Pacific Ring of Fire is one of the most volcanically and seismically active regions in the world.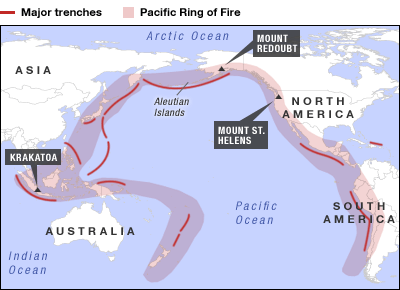 The National Volcano Early Warning System (NVEWS) is a proposed national-scale effort by the U.S. Geological Survey (USGS) Volcano Hazards Program and its affiliated partners in the Consortium of U.S. Volcano Observatories (CUSVO) to ensure that volcanoes are monitored at a level commensurate with the threats they pose. Roughly half of the 169 young volcanoes in the United States are dangerous because of the manner in which they erupt and the communities and infrastructure within their destructive reach.
Related Dailywireless stories include; Volcano Sensor Net, Alaskan Volcano Monitored, California Wildfires Networked, Fish Net, Wireless River Monitoring, Remote Ocean Viewer, Hurricane/Tsuanmi Satellite Access, Ring of Fire Earthquake, Chicago Networks 3000 Cameras, Mountain Rescue UAVs, E911 & Triangulation, HDTV from Aircraft, Ham Radio, Lousiana: Broadband Trial By Fire, Volcano Monitoring, Wireless Recon Airplanes, Mt St Helens Erupts, On Mt. Saint Helens, Earthquake Monitoring, The Platform, Tsunami Monitoring Act Passed, Visualizing the Future, Earth Day, Earthquake Rescue Tech, USGS Aero Wireless, Global Tsunami Warning System Announced, and Tsunami Mapping.