Laptops, netbooks and devices with embedded broadband wireless may surpass wired connections
in the near future,
says Light Reading
.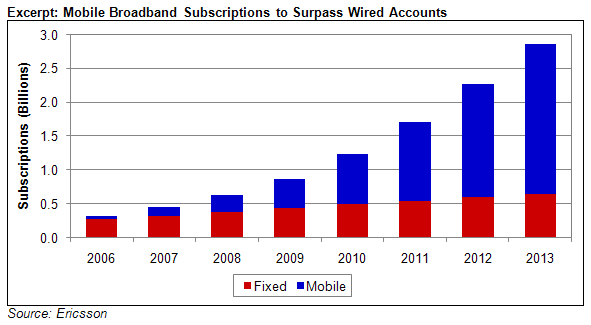 This year it appears to be split about evenly. But in the next few years, broadband wireless is expected to grow, says LightReading's Insider Report.

Unlike so-called "adapter" modems that plug in via the PC card slot or USB port, embedded modems do not have anything that can break off. The savings on repair and employee downtime alone can support a business case for going with embeds.

For consumers, embedded PCs are a mixed bag. Unless they are willing to use cellular as their primary way to access the Internet, the $40 to $60 consumers pay each month for mobile data will be on top of whatever they pay for cable broadband or DSL. That is a significant barrier to adoption, and one that AT&T is now trying to overcome by bundling cellular and DSL for $59.95 per month in some markets.

Light Reading Insider expects more service providers – including cable operators and telcos – to offer such bundles.

The report also examines the competitive environment, including pricing pressure on modem vendors and how embedded PCs will affect the wired broadband market.
A new, upcoming 11.6-inch Eee PC netbook from ASUS, due to be released later in May, is estimated to account for nearly a third of all PC sales from the company, ASUS president Jerry Shen said on Monday, while the 10-inch will account for 50% of total shipments. ASUS expects to sell roughly 7 million netbooks in 2009, while Acer expects to sell 12-13 million netbooks this year. Shipments of netbooks in 2009 could top 30 million units, or almost 20% of total notebook sales in 2009.
Meanwhile, Smartphones remained stable at 12 per cent in the fourth quarter of 2008 with total smartphone sales in 2008 reaching 139.3 million units. Informa predicts sales of new smartphones will grow over 30% in 2009 to 211.2 million units, driven by innovative new devices and operator subsidies designed to promote mobile data consumption.