The Oregonian's Brad Schmidt reports
that one municipal fiber network, plagued by loose planning and oversight, exemplifies the risks and challenges of government-funded Internet projects now running in a handful of Oregon communities.
Sherwood Broadband has been subsidized by $1.55 million in taxpayer money. It has missed revenue projections by nearly one-third while expenses have been more than one-quarter over budget. It serves about two dozen business locations — nearly half of them outside city limits — and about 50 wireless users each day. One elected official publicly called it a "significant money loser."
In March, the City Council transferred $950,000 from the general fund to rectify Sherwood Broadband's budget problems. The transfer cut the city's general fund reserves by almost half. But officials say they are developing a new strategy and insist that the 60-mile network could eventually lead to new jobs and economic development.
Experts estimate about 100 governments nationwide have invested public money to create wireless networks, with an additional 50 providing high-speed fiber connections to homes and businesses.
Ashland Fiber, in southern Oregon, launched a triple-play cable network including Internet, TV and telephone. Initial expenses jumped to about $15 million — four times higher than expected — and payback won't happen until 2024. "This is the only service we run where we're in direct competition with the private sector in a high-tech business," says Martha Bennett, Ashland city administrator. "It's just not what governments do."
Monmouth Independence Networks, in the central Willamette Valley, is considered Oregon's top government-funded Internet service. The partnership between Monmouth and Independence is backed by about $14 million in state loans. Offering triple-play options through a fiber connection, it serves about 3,200 homes and businesses. "We are a shining star," says Phil Garrett, general manager for the municipal owned nonprofit.
Q-Life, in The Dalles, Oregon (pop: 12,175), is a municipally built 17 mile fiber optic loop around the City. Built in 2003, the fiber network was a big factor in bringing the Googleplex to The Dallas.
The City of Portland, meanwhile, continues to explore the possibility of its own $450,000 city-backed fiber network. But the idea is on hold indefinitely, says the Oregonian's Mike Rogoway, with the credit markets still largely shut down and city commissioners lukewarm on the concept.
PersonalTelco's president Michael Weinberg and secretary Russell Senior, expressed strong support of the city's fiber initiative. PersonalTelco's Mississippi Neighborhood Project was seen as a good grass roots wireless community model. It provided businesses and some homes along a ten block section of North Portland with free WiFi and was funded with a $14,000 grant from the Fred Meyer Memorial Trust.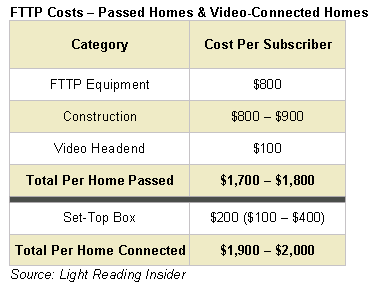 Will FTTH pay for itself? Some skeptics are saying it may not.
ConnectKentucky is funded 90% by the state and 10% by private businesses and foundations. The Wall Street Journal praised the initiative, saying "it shows how public-private partnerships, as well as a willingness by local governments to work with less-established telecommunications providers, can drive increased access to high-speed Internet service and spur economic development". ConnectKentucky's interactive maps show broadband coverage along with population density, allowing providers to spot gaps in service in areas.
Related Fiber Optic stories on DailyWireless include; The Dallas Wired, Municipal Fiber: Fits and Starts, Muni Fiber for Portland?, Broadband 2.0, City Fiber Networks, Free MAN in Hood River, Oregon MuniFiber: the Bad & the Good, GoogleNet?, Oregon Fiber for Google, DailyWireless Testifies for Muni Broadband, Universal Access to All Human Knowledge – at 100Mbps – Free, Bill to Free 2155-2180 Mhz, Free 2155-2175 MHz!, Seattle: Fiber For All.