TerreStar successfully launched the world's largest satellite, TerreStar-1, on July 1, 2009, and looks to become a leader in the communications industry with an innovative terrestrial/satellite phone service with partner AT&T Mobility on a pocketable satphone (spec sheet).
The satellite, manufactured by Space Systems/Loral, will unfurl a 60-foot-diameter mesh antenna reflector and activate some 500 narrow spotbeams to communicate with the smartphones, plus laptops and portable devices. The first call via TerreStar 1 is expected later this month, followed by full testing and the start of service by year's end.
TerreStar 1 is currently being maneuvered into a circular geostationary orbit (real-time satellite tracking) and will eventually park itself above the equator at 111 degrees West longitude to cover the United States, Canada, Puerto Rico and the U.S.
TerreStar will have a footprint that covers 330 million people throughout the United States and Canada.
TerreStar-1 has an antenna approximately 60 feet across that will enable it to communicate with wireless devices the size of regular cell phones. Using licensed 2GHz radio spectrum, it will provide voice service as well as data at approximately 64K bits per second, said TerreStar Chief Technology Officer Dennis Matheson. The handsets will switch between satellite and 3G coverage as users roam in and out of cellular coverage areas.
The handset, about the size of a Blackberry, will connect to the satellite and terrestrial networks, offering voice calls, HSPA, push e-mail, and other typical Windows Mobile features. When new chips from Qualcomm become available in 2010, satellite connectivity will be enabled for the first time in mass-market handsets. Skyterra, TerreStar and ICO Global Communications are party to this non exclusive agreement with Qualcomm.
AT&T will resell that service in a hybrid offering, aimed initially at local, state and federal governments. The first handset, which will use separate cellular and satellite chips, will cost about $700 without a carrier subsidy. Pricing of the satellite service will be up to the service provider but should be lower than today's going rate of about $1 per minute for satellite calls, according to TerreStar.
The phones will work in North America only. Neither TerreStar or SkyTerra will replicate Iridium's worldwide coverage.
TerreStar Corporation will market their hybrid terrestrial/satellite handset later this year. The huge TerreStar-1 satellite with close to one hundred spot beams, will enable it to link to small handsets. Ground-based phone networks, like AT&T will provide coverage in more dense areas.
TerraStar offers Mobile Satellite Service (MSS) in the two gigahertz band (the S-band), in conjunction with ancillary terrestrial components (ATC). ATC towers are essentially repeaters, that use the same frequency as the MSS satellite. But TerraStar also allows a user to communicate over AT&T's cellular network.
"Until our 4G network is deployed we have the luxury of roaming on AT&T's 3G network," TerreStar President Jeffrey Epstein said. "The big difference is the 4G network is all-IP based, so there will be some features we won't be able to provide on the 3G network and when 4G is rolled out the phone will work."
TerreStar Corporation, formerly Motient Corporation, is based in Reston, VA. It will offer applications over a fully optimized 4G IP network. TerreStar-2, a ground spare identical to TerreStar-1, is scheduled to be finished this year.
SkyTerra Communications is planning on launching a similar satellite and offering a similar service sometime fourth quarter of 2009, at a different frequency (1.6 GHz). SkyTerra-1 and 2 will use a 22-meter L-band reflector for mobile terminal links, complemented with a 1.5 meter Ku-band antenna.
FCC rulemaking permits Mobile Satellite Service (MSS) licensees in the 2 GHz (1990-2025 MHz and 2165-2200 MHz) bands (where ICO and Terrastar operate), the L-band (1525-1544 MHz/1545-1559 MHz) and 1626.5-1645.5 MHz/1646.5-1660.5 MHz) bands (where Inmarsat and Skyterra operate), and the "Big LEO" (1610-1626.5 MHz and 2483.5-2500 MHz) bands (where Globalstar and Iridium operate).
ICO G1 was successfully launched on April 14, 2008. G1 is now on station at 92.85 degrees West Longitude in geosynchronous orbit. Trials of their service, which is targeting multimedia delivery to vehicles, took place later in 2008 in Raleigh-Durham, NC and Las Vegas, NV.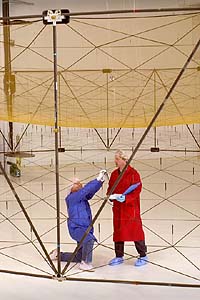 ICO's 12 meter reflector (pdf) utilizes a gold-plated mesh reflective surface in a unique new Harris design that allows a very large antenna reflector to stow safely and easily on the Loral 1300 satellite platform. The reflector size enables the increased performance typically required for mobile interactive media services. In September of 2008, ICO announced that WiMAX provider Clearwire will join as a service partner.
Harris has also built the 20 meter (60 ft) reflector for TerreStar-1; and two reflectors for XM Satellite Radio's XM-5 radio broadcast satellite.
Globalstar and ICO are currently up and running. TerreStar-1 launched on July 1, 2009 may provide service later this year, while Skyterra service in the "L" band isn't expected until next year.
Skyterra's satellites, made by Boeing (below), will operate from 101 degrees and 107.3 degrees west with 22-meter elliptical mesh reflectors in the L-band.
The Harris 22-meter L-band reflector will complement a 1.5 meter Ku-band antenna. Each spacecraft will supply 11,000 watts of power through 5-panel solar array. In 2006, U.S. regulators approved a plan by Motient and SkyTerra to simplify their ownership of the "S-band" (TerreStar) and "L-Band" MSV (Skyterra) satellite systems.
Obtaining wiretaps through a Canadian controlled company was reportedly one of the issues that complicated rollout. Giant satellite platforms such as these may also have privacy implications that have yet to be thoroughly aired.
TerreStar also applied for S-band spectrum in Europe and was one of four qualified companies. But TerreStar and ICO lost their bids for MSS service over Europe. Instead, an Inmarsat consortium and Solaris Mobile were awarded licenses for 18 years of two 15MHz bands of spectrum in the S-band. Solaris Mobile is a joint venture between SES Astra and Eutelsat. They will provide mobile video and broadband access, navigation and emergency assistance services to broadcasters, telco operators, and the automotive industry throughout Europe.
There are at least 3 billion people on the planet who have no affordable way to connect to the Internet–a problem Google aims to solve by helping foot the bill for the launch of 16 satellites in the O3B constellation.
The O3B satellite network ("O3B" stands for "the other 3 billion") is set for launch in late 2010. An ISP would install a pair of high-tech antennas capable of tracking multiple satellites and establish a 155-megabit per-second connection to the global Web. ISPs could use 3G cellular and WiMax towers for local connections. Each satellite in the network will have 10 spot beams, each delivering in excess of 1Gbit/s. Just how they plan to get 10 Gbit/s UP TO the satellite is less clear.
Space-Based Radar (SBR) is expected to integrate both Radar and Moving Target Indications using large antennas on LEO and MEO platforms. The Athena Radar-Responsive Tag detects a radar pulse, adds data to it, then sends the unique identity back into space.
Northrop's Ground Moving Target Indication is currently on Unmanned Aerial Vehicles like the Global Hawk and planes like J-Stars.
The littoral surveillance radar system (LSRS), which is operational today, is capable of tracking moving ground targets and has allowed some of the navy's P-3Cs to shift into the overland surveillance mission, performing a role normally reserved for the USAF's JSTARS fleet (video).
Radar uses Doppler to show moving targets. Huge space antennas can link small satphones or act as passive radar systems in space. A blip-field in the sky. The NSA has data centers in Ft Meade and creating new ones in San Antonio and near Salt Lake, but the agency has never said that it sucked in the telephone records of millions of Americans or eavesdropped wholesale on the internet.
Although warrantless wiretapping of US citizens is not their job (pdf Justice Report on NSA), monitoring the blipfield might be something else — and easier from the high ground.
Firms that supply high resolution space imaging include GeoEye and Digital Globe while ORBCOMM provides machine to machine communications.
The Hubble space telescope, if it were pointed at the earth, could achieve a resolution of about two inches from an altitude of 132 miles. Linger times can be extended with higher orbits. An Ares V moon rocket would be required to provide Advanced Technology Large-Aperture Space Telescopes that could produce "live" imagery for Google maps. The "moon rocket" is pitched by NASA, but Lockheed and Boeing would likely benefit the most.
Active optics, light-weight, deformable mirror segments and actuated hybrid mirrors can point at gigapixel detector arrays made by Fairchild, Sarnoff, and Fill Factory, (pdf).
Related DailyWireless Space and Satellite News includes; AT&T/TerreStar Ready Satphone Service, Godzilla SatPhones WiMAXed , WiMAX and/or Satellite, HughesNet's Spaceway 3 Now Available, Hughes Launches Switchboard in the Sky, HughesNet & Broadband Corporation, Spot Beam Sats Multiply, Clearwire & SatTV Do a Deal, Sprint Beams Up with MSV, TerreStar: I-HSPA for Satphones, Satphones: Merger Ahead?, Inmarsat + SkyTerra = Spectrum Sharing, Mobile Satellite on the Move, TerreStar Gets a Slot, Satellite Repeaters – Grounded In Reality?, WildBlue Partners with DirecTV & Echostar, John Malone in Space, TerreStar Gets a Slot, BSkyB + Google, SkyNet Satellite Hacked?, Lockheed CEO: Space is Broken, MSS: AWS Alternative?, WildBlue: AT&T's DeathStar?