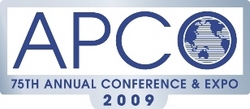 The Association of Public-Safety Communications Officials (APCO) International kicks off the 75th Annual Conference in Las Vegas this week for those who build, supply, operate, manage and maintain the communications systems used by police, fire and emergency medical services.
During the four days of the conference, attendees will learn new skills from more than 90 educational sessions, explore new products and services from more than 350 companies, and connect with over 5,000 other public safety communications officials.
Motorola will be launching and demonstrating several Project 25 (P25) solutions at the Association of Public-Safety Communications Officials-International (APCO), through August 20. They are launching the SmartX migration solution that allows for the gradual transition from an existing SmartZone system to an ASTRO 25 voice and data network. Motorola is also announcing the launch of the APX O9 Integrated Control Head for the APX mobile radio line. The one-touch functionality and intuitive controls in one integrated unit provide instant multi-agency interoperability for mission critical first responders.
Verizon Wireless today announced that customers in September will have Land Mobile Radio (LMR) Push to Talk Interoperability using the company's Push to Talk cell phone service. Existing traditional Land Mobile Radio systems can create a broader talking range using Verizon's cellular network. Verizon Wireless will partner with Catalyst Communications and Link Communications to implement the solution.
The service is ideal for any agency that communicates with large groups of mobile workers, including those in public safety, transportation and utilities. In addition, Verizon Wireless' Push to Talk LMR Interoperability Solution can help customers:
Reduce the costs associated with expanding LMR systems for more effective use of budget dollars.
Free up capacity on the radio network by moving certain user groups to the Push to Talk service.
Implement a back-up solution in case of an LMR system outage.
Introduce additional Verizon Wireless productivity tools such as Field Force Manager for mobile resource management, VZ Navigator(SM) for turn-by-turn navigation, and Mobile Email.
"For a police chief needing to communicate with colleagues in remote locations, a railroad dispatcher needing to contact field workers when they are beyond the range of the LMR system, or a utility company responding in a situation where the LMR service goes down, the Push to Talk LMR Interoperability Solution helps ensure that critical communication is never jeopardized," said Mark Bartolomeo, vice president enterprise data marketing, Verizon Wireless.
The solution requires the deployment of an LMR Gateway and software, provided by Catalyst or Link Communications, which serve as an interface between LMR handsets, two-way radios, and mobile or base stations to the Push to Talk handsets on the Verizon Wireless network.
Push to Talk is available for a $5.00 monthly charge per line when added to a qualifying voice plan. Customers can also choose a Push to Talk-only plan without voice calling for a $29.99 monthly charge per line. Verizon Wireless' Push to Talk gives administrators the ability to manage contacts online (http://pushtotalk.vzw.com/enterprise). Separately purchased Push to Talk handsets are required when subscribing to the service.
Public-safety agencies, particularly law enforcement, are now "tweeting", says Urgent Communications.
Even the most geographically isolated can bond with someone oceans away. Traditional lines of privacy are being redefined voluntarily, as participants post text, pictures and video about virtually any topic
"We're happy with the platform and the purposes it serves in getting our message out quickly to the public," said Dave Pubins, an officer and spokesman for the Scottsdale (Ariz.) Police Department. "That way, the public can utilize different ways to receive the message, whether it's by computer, cell phone, pager or what have you. We're always looking for tools to help us get the message out."
Avaya NG 9-1-1-ready solutions enables organizations to centralize contact center and unified communications applications and distribute them to multiple PSAPs and other supporting agencies, allowing them to serve as back-up for one another. Communications requiring specialized handling by someone with medical skills, foreign language fluency, or other specialized knowledge can be quickly routed to an operator equipped with those skills, regardless of the location of the operator
According to a recent report from the National Emergency Number Association (NENA), the nation's 9-1-1 systems are "in need of a significant overhaul." Public safety organizations face multiple, critical challenges due to the highly-limited, legacy communications systems broadly used by more than 6,000 Public Safety Answering Points (PSAPs) and 500,000 affiliate organizations such as police, fire, EMS, etc. Among the challenges created by these systems are the inability to incorporate and respond to new forms of media increasingly used by the public, such as video and SMS/text services, the ability to quickly add and redistribute staff to support high call volumes and the lack of interoperability among communications systems.