The Ocean Observatories Initiative may be the biggest thing in Oceanography in decades. The undersea network will stretch from Canada to California using Gigabit Ethernet.
According to the OOI, it will serve researchers, policymakers and the public and enable new studies of ocean processes that regulate global climate, form vast mineral resources, support major fish stocks, govern rainfall patterns, and threaten coastlines with storms, tsunamis, and harmful algae ("red tides").
Funded by the National Science Foundation and overseen by the Consortium for Ocean Leadership, the Ocean Observatories Initiative is now getting underway.
Today's ocean sensors run on batteries or solar panels. Most use slow satellite connections.
Unfortunately, many sensors sit on the ocean floor for a year or more, before their data can be retrieved by research vessels. Underwater fiber will change all that. It will create a flood of new data. Everywhere, all the time. Terascale.
When complete, the OOI will measure physical, chemical, geological and biological variables at the sea surface, in the water, and on the seafloor. With greater knowledge of these variables, society will be better able to forecast environmental changes and their effects on biodiversity, coastal ecosystems and climate, and make sound decisions based on that information.
Data from the Ocean Observatories is in the public domain. But it's designed for scientists.
Open source resource mapping projects like Oregon Explorer (www.oregonexplorer.info) and Willamette Basin Explorer (willametteexplorer.info) can make databases, created by government silos, available to everyone using the expertise of Oregon State's Open Source Lab. OpenOceanMap (ohloh.net) is an ambitious project to break the ties of traditional geo-spatial data collection and develop a truly cross platform, Open Source, and transportable decision support tool. Their Gulf Project demo shows the utility of combining open source data bases.
NOAA's Office of Coast Survey and Fugro Seafloor Surveys have received grants to map the Oregon coast in high resolution. Other public domain databases include NASAimages.org at archive.org. Number crunching for web apps could be provided by Amazon Cloud Services.
What if the raw data from sensor networks like OOI could be re-purposed? Made revelant and accessable to a broader population? Tapping into new worlds and new users.
Newport will now be the new home of NOAAs Pacific research vessels. The NOAA Marine Operations Center-Pacific is comprised of approximately 175 employees, including more than 110 officers and crew assigned to the NOAA ships McArthur II, Miller Freeman, Rainier and Bell M. Shimada, a new fisheries survey vessels expected to join the NOAA fleet in 2010.
They are building the West Coast Observatory now. It roughly follows the Cascadia subduction zone, where the oceanic crust of the Pacific Ocean sinks beneath the continent, from northern Vancouver Island to northern California.
Imagine a customizeable website, with lots of widgets and social media feeds creating a live "situation report". It could have elements of MarineTraffic.com, a mashup showing the real-time position of all ships at sea. MarineTraffic.com shows current location and heading, speed, and next port, along with a photo of virually any ship at sea over 300 tons. Updated every two minutes.
I envision an AJAX-heavy website with a strong social component, driven by real-time oceanographic, fishing, weather and sea state data.
A "situation room" would provide live monitoring and be open to the public. A sub-set, using touch-screens and widgets, could deliver "live" thematic displays in coffee shops and taverns. The splash page could be the basis for a free Newport Wi-Fi service.
Handheld satellite phones from Terrastar, Skyterra and ICO will reach ships at sea — with inexpensive data links — for the first time starting this year. Mobile WiMAX will inevitably provide additional services for handhelds and webtablets — some 20 miles off the coast. TwitPic might update vessel or personal status. Twitter clients like TweetDeck can monitor dozens of topics.
Imagine a "splash page" for free public Wi-Fi hotspots that delivers real-time "Sea-State". The bulk of the revenue could be generated from subscriptions and access to sophisticated database tools.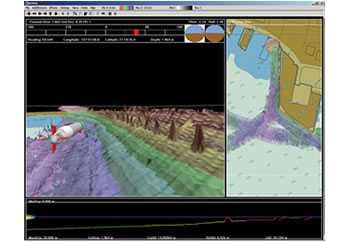 The splash page is the real-time content aggregator. You customize it. Revenue would come from advertising and from sales of specialty data products and services.
JiWire says Wi-Fi splash pages users are a prime target market; "mostly affluent, male, between the ages of 25 and 49, and planning on making a big purchase in the near future". They surveyed 2057 customers randomly selected in over 6,500 café locations across the US.
PubSubHubbub can get near-instant feeds without polling. The aggregation site might stimulate 2-way dialog between the general public and scientists.
Real-time dialogue is needed. Marine Harvest, the world's largest salmon farmer, expects supply to fall short of demand as Chile's output will take as many as six years to return to levels seen before a virus ravaged its fish farms. Salmon export prices from Norway, the biggest supplier ahead of Chile and the U.K., climbed 13 percent this year on a growing world shortage.
The back end might run the Blox content management system, a leading provider of Internet solutions for the newspaper industry. Groups and organizations can be offered their own pages, branded using skins specially created for them.
The Thesis Theme for WordPress is equipped with styles and options that enable fast and easy customization. Content management systems for citizen journalism enable multiple individuals to post content under separate bylines. EveryBlock released their source code a few months ago. GroundReport, says the new iPhone GS will make it easier for average people to gather and distribute video footage. Livestream enables live video on location.
Among the feature sets:
Current ship locations
Twitter streams
Wave energy readout
Physical and chemical oceanographic sea state
Weather and climate change
Interviews with fishermen, scientists, support staff and public
Habitat Mapping and Monitoring
Live ship radio
Data Bases that might be utilized:
Utilizing open source mapping data bases and sensor systems might be profitable for everyone.
Sharing 3D data through Google as opposed to hosting, makes it discoverable by everyone who uses Google Earth and Google Ocean. Google's Street View is available for iPhones, S-60 Symbian phones and Android phones with a digital compass that can be used to look around the locations.
Why not incorporate the latest side-scan sonar, too. Real-Time Synthetic Aperture Sonar is available from Edge Tech, Ultra Electronics, Triton Imaging and Oceanic Imaging Consultants.
Science On a Sphere (wikipedia) is a large visualization system that uses computers and video projectors to display animated data onto the outside of a sphere. It uses 4 video projectors to display images onto the sphere, using off the shelf computers running Red Hat Linux, graphics cards and video projectors.
Rectangular images and maps, using equirectangular projection (right) are broken into four sections and projected onto the sphere from 4 corners in the room.
Textures, or single images, such as Mars or the Moon, are jpeg or png files that have a minimum resolution of 2048×1024 and a preferred resolution of 4096×2048. Animations, such as a 24 hour air traffic loop or real-time weather over the course of a week, are mp4 files, with a preferred resolution of 2048×1024. They can be created using FinalCut Pro or Premier.
A SphereCast is an SOS presentation done simultaneously at multiple sites by a single presenter, via the Internet. Many sites can receive the SphereCast, but only one site is the host.
SOS locations include OMSI (above).
NOAA's Environmental Literacy Grants has provided more than $3.7 million in grant assistance. NOAA loads the software, provides a crew to install the system and offers support for three years.
Science on the Sphere can map Google Earth KML data on the sphere. Viewers will only see content on the hemisphere in front of them, of course.
The Magic Planet's video globe, made by Global Imagination, uses video projectors inside the globe. Oregon State's College of Oceanic and Atmospheric Sciences (COAS) is use Magic Planet to overlay ocean and atmosphere data sets. Add-ons are created by the World Wind Community. Development software for Magic Planet includes;
A Multi-Touch Plugin displaying NASA WorldWind, Google Earth or Microsoft's Virtual Earth on a user-controlled, 42″ flat panel could be more engaging. Zoom in or out using finger-controlled multi-touch — like an iPhone. Microsoft Research even put multi-touch on the Magic Planet sphere
Local governments that have made their 3D data available on Google Earth include Boston Redevelopment Authority, City of Amherst, Massachusetts, and Boise, Idaho.
The Washington State Department of Transportation, charged with monitoring more than 18,300 miles of state highways and 3,600 bridges, is creating a single, seamless repository of transportation information covering the entire state — from the small private road to the primary arterials. The system integrates disparate county data into a centralized database. The team chose Vancouver, BC-based Safe Software's FME which enables GIS professionals to translate, transform, integrate and distribute spatial data from more than 225 formats.
To submit data to WA-Trans, providers securely log on to the provider portal and browse their own system to select data files for upload. The portal validation system verifies that all required GIS files are present; then the provider is allowed to submit the data. Once the data passes the quality assurance process, it's distributed to the WA-Trans Microsoft SQL, ArcSDE from ESRI, that serves the centralized database to all users. ArcSDE technology serves as the gateway between GIS clients and the RDBMS.
The National Oceanic and Atmospheric Administration announced this month that Newport will be the home of the agency's Marine Operations Center-Pacific beginning in 2011. Work on the new facility could begin as soon as the fall, said Port of Newport manager Don Mann.
Once the facility is fully operational the annual return to the community and state is projected to be about $19 million annually. It will be home port to four ships, and also host visiting ships and employ 175 staff members. NOAA expects to be up and running in Newport by July 2011.
Related Dailywireless stories include; Plug and Play Environmental Sensor Nets, Microsoft's WhiteFi: Wi-Fi Using Whitespaces, Mobile Supercomputing, The Platform, Google Ocean Unveiled, Wireless River Monitoring, Shipboard AIS Gets a Satellite Swarm, Emergency Mapping, Cascadia Peril '09, Swine Flu Gets Social, Tracking Soldiers, Mapping Relief, Wildfire, MIT's CarTel, Volcano Sensor Net, Alaskan Volcano Monitored, California Wildfires Networked, Fish Net, Wireless River Monitoring, Remote Ocean Viewer, Wireless Recon Airplanes, Mt St Helens Erupts, On Mt. Saint Helens and Global Tsunami Warning System Announced.