BigAir, an Australian broadband wireless broadband service provider, announced today that it is expanding WiMAX services across Australia following successful deployments in Melbourne and Sydney. BigAir is using Airspan WiMAX equipment in the 5.8 GHz and 5.4 GHz frequency bands, in the Perth, Adelaide, Brisbane and Gold Coast markets.
"We are especially excited by this growth in Australia", said Henrik Smith-Petersen, President of Business Development for Airspan. "With the largest broadband stimulus package of any country thus far, the Australian government has proven its interest in delivering high-speed broadband services to every Australian. BigAir and Airspan are playing a role in this initiative."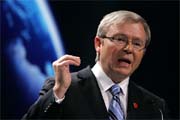 WiMAX technology is expected to play a significant role in Australia's National Broadband Initiative. With a massive $30 billion investment, the network will connect 90 percent of homes, schools and workplaces, and businesses to high-speed broadband over the next 8 years. WiMAX will be especially useful in connecting remote and rural areas.
Australia's National Broadband Initiative will connect 90 percent of homes, schools and workplaces, and businesses at 100 megabits per second. It will be Australia's first national wholesale-only, open access broadband network to be built and operated on a commercial basis.
The broadband network will be deployed using next generation technologies like optical fiber (fiber to the premises or 'FTTP') for urban and regional towns, and wireless and satellite technologies for remote parts of rural Australia.
Australia's $30 billion broadband stimulus package is actually bigger than the non-technology stimuli ($29.3 billon) that Australia has announced so far.