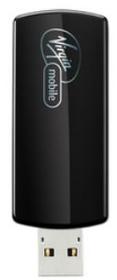 Virgin Mobile USA today announced that it is expanding the retail footprint for Broadband2Go, a 3G nationwide wireless Internet service without an annual contract, monthly subscription or activation fee.
Virgin's Broadband2Go can now be purchased directly from Virgin Mobile for $99, as well as over 1,000 Best Buy Mobile stores, over 4,300 Radio Shack stores, Sam's Club kiosks via Radio Shack, Walmart.com and Target.com as of December 1, 2009.
Megabytes can be added as often as needed with credit/debit cards or Virgin Mobile Top-Up cards. A new Broadband2Go Top-Up card for $20, lets customers purchase 250MB, good for 30 days. Other data plans are available at $10, $40 and $60, and any Virgin Mobile USA Top-Up card can be used.
The MC760 Broadband2Go USB modem operates on the Sprint EVDO Network and was developed in conjunction with Novatel Wireless. A built-in usage meter lets you know how many megabytes you have left in and it doubles as a flash drive with microSD reader. It's compatible with PC or MAC. Here's Virgin's coverage map.
Related Dailywireless stories include; T-Mobile: Faster HSPA Now, Verizon's Prepaid Data for Laptops, T-Mobile's New Plans, Walmart: $30 for 1000 Minutes, and Sprint Buying Virgin Mobile USA