Samsung Mobile, today announced a mobile phone using the North American mobile digital TV broadcasting standard. The Samsung Moment will be exclusively available from Sprint, and receive live digital TV using Samsung's Mobile DTV Chip, the world's first single-chip solution for the recently approved Advanced Television Systems Committee (ATSC) Mobile Digital TV standard (ATSC-M/H).
The TV chip will allow Samsung Moment to receive live TV programming from local broadcast stations, including prime-time network programs, local news and sports and emergency alerts at no cost.
The Samsung Moment was selected for a showcase with Sprint customers in the Washington, D.C. and Baltimore markets during the first quarter of 2010 — the first-ever consumer showcase of this technology. Moment was selected because of its 3.2-inch AMOLED display screen, which delivers bright pictures outdoors, and wide viewing angles. Samsung's single-chip implementation of the standard lowers power, size and cost.
Mobile DTV technology will allow DC area consumers to watch their favorite live programs broadcast by eight local TV stations, according to Brandon Burgess CEO of ION Media Networks and President of the Open Mobile Video Coalition (OMVC).
OMVC is actively promoting mobile digital television technology within the U.S. broadcast industry to achieve widespread market penetration in 2010.
Samsung's Moment phone provides access to built-in Google mobile services, including Search, Maps, Gmail and YouTube, as well as thousands of applications available in Android Market. Moment is powered by an 800 MHz processor and has a full QWERTY keyboard.
With the MPH In-Band Mobile DTV solution, local ATSC broadcasters will be able to dedicate a portion of their 19.39 Mbps transport stream to mobile and/or handheld services. Mobile TV systems typically use H.264 compression systems, at quarter VGA resolution (320×240 pixels) with a data rate between 300 and 500 kbps.
There are many Mobile TV Standards. The United States is the only one trying to make it work using 8-VSB modulation. Most use variations of ghost-resistant COFDM. Typically ATSC-M/H service in the United States will offer two to three program channels. Some 4.4 Mbps may be allocated for the MPH stream, leaving approximately 15 Mbps for the main ATSC television programming.
The Samsung Moment without Mobile DTV capabilities is available through all Sprint channels including Web (www.sprint.com). Retail pricing is currently $179.99 (excluding taxes) after a $50 instant savings and a $100 mail-in-rebate with a two-year service agreement.
As charter members of the Open Handset Alliance, Sprint and Samsung are closely aligned with the Android community. The Consumer Electronics Show in Las Vegas will have more than a dozen companies introducing new Mobile DTV products that are expected to roll out this year.
ATSC-M/H would be free to air, as are regular broadcast signals.
MediaFLO is a subscription service that uses a dedicated 700 MHz broadcast channel. It costs about $15/month and is available in many big US cities. Both broadcast ATSC-M/H and MediaFLO require a special phone with a tv tuner.
MobiTV, available from AT&T, Verizon and Sprint, uses cellular channels. It costs about $15/month and may work with your current phone.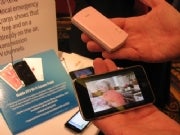 Another alternative comes from a company called Valups, which can use the free broadcast mobile standard. The Tivit is a tiny gadget that doubles as a Mobile DTV receiver and a Wi-Fi access point.
You can watch local Mobile DTV channels in your area using your phone's built-in WiFi, included in the iPhone 3G and 3GS iPod Touch, Android phones, BlackBerry and Windows PCs. The Tivit's built-in, rechargeable battery lets it operate on the go for 3 hours at a time (or you can leave it plugged in to the wall). The Tivit is expected to hit America in the spring, where it will retail for between $90 to $120.
FLO and iPhone accessories maker Mophie announced today a FLO TV accessory for Mophie's Juice Pack. It clips onto an iPhone to enable iPhones to view MediaFLO mobile TV. An app will browse and play FLO content.