Google's Street View application has been one-upped by Microsoft's Bing Maps with indoor panoramas, still and video integration. Microsoft's 3D maps are built from crowdsourced photos and even live video that is shared by others on sites like Flickr and You Tube. Here's Vancouver BC, Seattle and San Francisco.
The new Silverlight-powered version of Bing Maps can be used from a web browser and uses Microsoft's stunning Photosynth technology. Microsoft is integrating Photosynth with their Streetside technology, essentially expanding Streetside to indoor and off-road areas.
Bing Maps architect Blaise Aguera y Arcas gave a brief demonstration of four new features at the TED conference.
Photosynth analyzes digital photographs and generates a three-dimensional model of the photos and a point cloud of a photographed object. Point clouds are generally created with laser range finders (Lidar). They represent the visible surface of an object and can be used to create 3D models. AutoCAD Civil 3D lets you input point clouds (video) to create 3D models.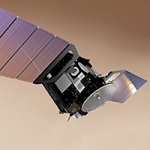 NASA's Mars Global Surveyor used an Orbiting Laser Altimeter to produce a precise global topographic survey of the red planet. MRO's Shallow Subsurface Radar penetrates Mars surface up to 1/2 mile, recording underground layers of ice, rock and possibly liquid water. MARSIS is a subsurface radar sounder with a 40-meter (130-foot) antenna on the Mars Express orbiter, launched by the European Space Agency. CryoSat-2, launching this month, will precisely monitor thickness of ice in the polar oceans, Greenland and Antarctica. The U.S. Navy would like to make the Oceans transparent with Blue/Green lasers. Cyark preserves architectural heritage with Lidar.
You can share your pictures with Bing Maps and make them available for point cloud conversion by geotagging your photos and using the Creative Commons license. Here's a Bing Maps tour of Vancouver. Compare Bing Maps (below)
and the embedded Google Earth view from the Vancouver2010 site (below).
Both are jaw dropping!
As a topper, here's Jason Holt's 20 percent project, a curved, eight-display installation, showcased at the TED conference in San Francisco.
The 2010 Olympic Games in Vancouver (vancouver2010.com and nbcolympics.com) start today (photos of opening ceremonies). Dailywireless has more on the Olympics here (the link is on the page header).
The Olympics started terribly. Georgian luger Nodar Kumaritashvili was killed in a crash during a training run Friday at the Whistler Sliding Centre. He was 21.