Sports photographer Kari Kuukka, based in Porvoo, Finland, posted an interesting essay on Changing Technology and Social Media on his blog.

My [Canon] 1D Mk4s produce something like 48mb files and my [Canon] 5d Mk2s 60mb files. I carry a MacBookPro and over a 1TB of memory with me on external drives. Yes, that is over thousand gigabytes. Over hundred times more than what I had in Salt Lake City.

Now I shoot RAW exclusively. Use the DSLRs also for producing video (btw, here are samples, done yesterday night of Janne Ahonen and Anssi Koivuranta, shot with Canon 1Dmk4).

Use digital recorders (ZOOM or ProTrack) to capture audio. In addition to Photoshop, it is Photomechanic, Final Cut Pro, Soundtrack and countless number of other computer programs.

In Salt Lake, my images ended up on a printed page on paper. The main communication method home was email.

Here, it is a quite different. Yes, they still produce printed papers out of my images. But my images are used more and more in the net. I edit images, I edit video, I edit sound, I code webpages, I build multimedias, rebuild them, etc. It is realtime – and real fast. I still communicate with cellphone and email, but a lot also thru company's noticeboard in the web (due to the timedifference) – and thru facebook, twitter, even my blog….

And actually, these so called social medias constitute an essential part of the work.

For instance, we have a twitterlist set up – not by me – but by my client. And it has already gained a regular, steadily increasing following. See the Vancouver page of Aamulehti, it is right on top of the opening page. And right this moment, as I am writing this, my friend and colleague Elina Paasonen is reporting real time from the WADA info she is attending in Vancouver City – using Twitter.

And are we the only ones doing this? I don't think so: see how BBC is dealing with the social media issue.

Last night I walked home from the WMC (Whistler Media Center) and in the bar across the street Bob Dylan was blasting out of the loudspeakers. It was the "Hurricane" – a great classic, btw – but it reminded me of another hit of his, "The times they are a-changing".

How right he was.
Here's an inventory of 39 social media tools that Jason Baer uses daily. Aaron Hockley's Social Photo Talk covers the convergence of photography and social media. The Oregonian has the story on pdx.fm, which has about thirty shows that stream live on two channels. All Portland, all the time.
The sooner social media replace "reality shows" the better, in my book, although I expect there will always be a healthy demand for a well-crafted story. That's the heritage of newspapers, books, film and television.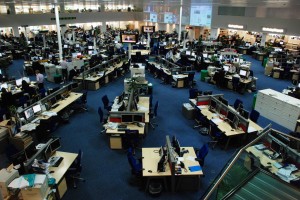 The Olympics are more than an event – they're a communications laboratory.
More media reflections on the Olympics are available by professional photographers at Sports Shooter and Rob Galbraith, while Nozzl Media, Media Storm, Digital Journalist, Knight Digital Media Center and Poynter track changes in the industry. Flickr's Creative Commons photos in the 2010 Winter Olympics Group Pool are great.
Related Dailywireless articles include; Social Olympics, Microsoft's Streetside: Indoors via Stills & Video, 2010 Winter Olympics, 2008 Summer Olympics and Super Bowl XLIV.