FCC Chairman Julius Genachowski on Tuesday told broadcasters assembled at the National Association of Broadcasters conference in Las Vegas to ignore the rumors surrounding the commission's plan to auction off broadcast spectrum.
Genachowski spoke before the Senate subcommittee on commerce and science about the plan earlier.
Last month, the FCC delivered their National Broadband Plan to Congress, which lays out strategies for providing all Americans with access to broadband service over the next 10 years. One section details a plan to obtain 300 MHz of spectrum — with 120 Mhz coming out of the broadband television band.
"Reports of the sacrifices that will be demanded of broadcasters have been exaggerated," said Genachowski. "The Broadband Plan aims to be a win-win-win for broadcasters, mobile Internet providers and the American people," said the FCC chief.
The spectrum returns, he stressed, would be "voluntary incentive auctions," giving broadcasters the option of channel sharing, in which they could continue to broadcast their primary streams while lowering operating costs and gaining a capital infusion.
In statement released after the speech, NAB spokesman Dennis Wharton called Genachowski's comments "reassuring" and promised to work with the commission.
NAB President and CEO Gordon Smith excoriated the FCC (transcript of Smith's speech). He accused of orchestrating a "spectrum grab" that would deny the most vulnerable Americans — including the elderly and poor — the ability to receive free TV programming.
Steve Largent of the CTIA wrote, "We believe that Mr. Smith's dour prognosis reflects unfounded concerns and ignores the realities of today's market and consumer demand. The commission has charted a rational and wise course that facilitates the dual goals of identifying additional spectrum to be auctioned for mobile broadband without impairing broadcast television."
Charles Rhodes defends the broadcasters, "Repacking the broadcast spectrum so that 120 MHz (20 channels) are surplus to the needs of incumbent broadcasters, it appears that many broadcasters would have to shift to another channel. This is called "repacking," which means reducing the distances between DTV transmitters on the same channel and on adjacent channels. Reducing the distances between transmitters on the same channel would increase DTV-DTV interference if each transmitter continued to operate at its present power and height of its antenna."
The NAB is launching a spectrum grab of its own. Group owners want to keep using broadcast television spectrum without paying, and are launching new broadcast channels devoted to mobile television — using a standard incompatible with FLO-TV, currently used by cellular operators for broadcasting mobile tv. Some 150 stations are expected to be on the air in the U.S. with a mobile DTV system by the end of the year.
A consortium composed of some of the nation's biggest broadcasters — including News Corp.'s Fox, NBC Universal, Gannett Broadcasting, Hearst Television, ION Television and Cox Media Group announced plans to create a joint venture. It will develop programming for mobile devices and a network of mobile television stations.
The as-yet-unnamed venture would offer content to 150 million people. The plan is to use spectrum that is not being used for broadcast and transmit content to mobile phones.
The Open Mobile Video Coalition, an alliance of U.S. commercial and public broadcasters, was formed to accelerate the development and rollout of a mobile DTV service that works with 8-VSB, developed by US broadcasters for DTV.
Starting on May 3rd, TV viewers in Washington, D.C. will be able to watch the NAB, group owner-approved, Mobile Digital TV system. Standardized by the Advanced Television Systems Committee and formally adopted as the Mobile DTV standard just 12 weeks ago, the new Mobile DTV standard allows broadcasters to use their existing 19.4 Megabit-per-second DTV channel for mobile, pedestrian and handheld applications.
At the NAB show, Mobile TV competitor FLO TV announced an enhanced mobile TV service with new interactive applications that integrate video with Web-based content and social media tools.
FLO TV and ATSC-M/H are incompatible. Both deliver 320×240 video, with H.264 compression.
Neither standard is very efficient, consuming about 75% of the bit stream for error correction and overhead.
Broadcasters say their mobile tv system is free. One or two channels can be piggybacked on the broadcast television signal. FLO-TV usually costs $15/month (through cellular operators). It delivers some 16 channels on a dedicated 6 MHz channel.
Qualcomm bought two nationwide channels to deliver mobile television, on channel 55 and 56. Now U.S. broadcasters are launching a similar thrust, using their incompatible ATSC-M/H standard.
Broadcasters may promote their service as free, but there's no inherent reason while MediaFLO could not also switch to the adverting-only revenue model. Group owners would also like to diminish the role of cellular operators in delivering newspapers and magazines. TV stations aren't common carriers — they could charge newspapers anything they want.
It's a spectrum grab by the NAB using their royalty-driven ATSC-M/H standard. The consumer benefit isn't immediately clear.
Speaking of Clear, WiMAX/LTE operators are promoting the WiMAX 2.0 standard. One of the features of WiMAX 2.0 (802.16m) is multi-casting. It allows cell towers to "broadcast" a single multi-media source to many users.
Unlike FLO TV or ATSC-M/H, WiMAX 2.0 would not require a built-in television tuner. Video can be streamed individually (on-demand) or multi-cast (in broadcast mode). WiMAX 2.0 is expected to deliver up to 200 Mbps — about 10 times faster than either FLO-TV or ATSC-M/H (which use 6 MHz broadcast television channels).
There's not much demographic targeting in 20th century "broadcast" models. Combining Unicast and Multicast with cellular targeting seems a better bet for advertisers in today's saturated – and social – media environment.
That could be what Comcast/NBC has in mind — free mobile tv via WiMAX.
Germany is set to auction more than 340 MHz, and Japan is making 500 MHz available for mobile broadband.
In other news at NAB, startup Nomad Innovations is showcasing a WiMAX newsgathering solution for professional camcorders. The 1.5 pound LiveEdge unit or "brick" attaches to the back of news cameras via industry-standard battery mounts and enable bi-directional, broadcast connectivity between the station's studio and their field reporters.
Scott Richardson, formerly Clearwire's Chief Strategic Officer, is a boardmember of Nomad Innovations.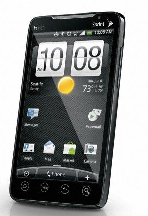 Of course Sprint's WiMAX phone features live, 2-way video using Qik. Turn it on. Let it rip. Ustream Producer can manage your streamcast for mobile or static users.
Related Dailywireless stories include; NAB: Mobile TV for 700MHz, Mobile Ads for Apple, Google & Yahoo, WiMAX 2 Collaboration Initiative, Flickr Bike, Cell Bazaar, iPad Street View, 360 Degree Haiti Video, Microsoft's Streetside: Indoors via Stills & Video, Live 360 Degree Streaming Video, Google Streetview on Cell Phones, The 2010 Vancouver Olympics, Gigapixel Man, Street View & Photosynth Head Home, Wireless Coverage at Indy 500, Live Map Integrates Photosynth 3D Tours, The Virtual Set, Microsoft's 3D Photo Flyby, Photosynth Launch, Street View and Photosynth Head Home, Infinite Zoom.