SES WORLD SKIES, a division of SES S.A., the largest satellite operator in the world, today announced plans for an intricate set of orbital maneuvers later this month aimed at steering its AMC-11 satellite away from Intelsat's troubled Galaxy 15 spacecraft, referred to in recent media coverage as a "Zombie" satellite.
According to Space.com, a solar storm in April shut down the electronics payload of the Galaxy 15, rendering it unresponsive to ground controls. It stopped responding to commands April 5 and is now closing in on the orbital slot occupied by AMC-11 with its active payload, and will be in a position to cause potentially severe interference during a two-week period starting around May 23, according to Intelsat and SES estimates.
Galaxy 15 has drifted out of its 133 degrees west longitude orbital slot and is now on an eastward path along the geostationary arc
As the satellite approaches AMC-11 at 131 degrees west, SES WORLD SKIES plans to have AMC-11 match the eastward drift of Galaxy 15 in order to maintain a minimum separation between the two satellites. This synchronized drift is designed to protect AMC-11 services from interference caused by Galaxy 15.
At the same time, SES WORLD SKIES will move its new SES-1 satellite to the opposite side of Galaxy 15, thereby enabling some customers, including cable television networks, to leapfrog their broadcasts over interference caused by the zombie spacecraft. Customers will either be able to maintain services on AMC-11 during its drift, or repoint antennas to SES-1 in order to best protect their services.
Several "undead satellites" are drifting out of control along the geosynchronous arc, creating havoc.
Eutelsat's W2M telecommunications satellite failed in orbit shortly after launch in 2009, leaving it dead in space. W2M is now moving west reports Satobs.org (gif photo animation).
The failure of Northrop Grumman's missile-tracking satellite has sparked concerns that Washington's longstanding refusal to disclose the location of classified spacecraft, even if they are dead, could boost the risk of disastrous collisions in space. The satellite is still loaded with lots of fuel but no longer responds to commands. "There's no practical way at the moment to adjust the orbits of dead objects," said the official. DSP 23 has drifted past at least three geosynchronous satellites so far, including a European weather satellite, about 2.5 miles away. DSP-23 died before it could be nudged into a graveyard orbit, where it would no longer be a collision threat. DSP-23, designed to detect enemy missiles, has become one.
An Iridium and Russian satellite collided 500 miles above Siberia in the first-ever in-orbit collision of two spacecrafts, reports SpaceFlightNow. Orbital junk has collided before, but this is the first time two fully intact satellites have smashed into each other, says the Washington Post. Iridium's satellite collied with a 1 ton Russian spacecraft Cosmos 2251, a military store-dump satellite, 490 miles (790 km) above Siberia.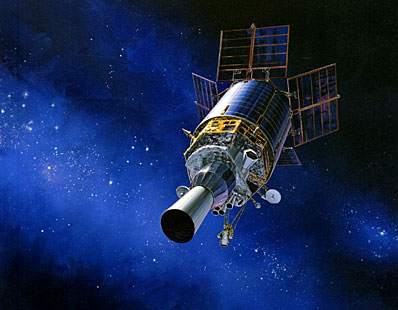 Craig Covault says a fleet of small robot spies are now on-station and taking pictures of a variety of satellites along the geosynchronous arc.

In a top secret operation, the U.S. Defense Dept. is conducting the first deep space inspection of a crippled U.S. military spacecraft. To do this, it is using sensors on two covert inspection satellites that have been prowling geosynchronous orbit for nearly three years.

The failed satellite being examined is the $400 million U.S. Air Force/Northrop Grumman Defense Support Program DSP 23 missile warning satellite. It died in 2008 after being launched successfully from Cape Canaveral in November 2007 on the first operational Delta 4-Heavy booster.

The Orbital Sciences and Lockheed Martin "Mitex" inspection spacecraft involved are part of a classified Defense Advanced Research Projects Agency (DARPA) technology development program. When initially launched on a Delta 2 from Cape Canaveral in 2006, the project involved maneuvering around and inspecting each other at geosynchronous altitude.
Galaxy 15, launched October 13, 2005, was one of nine Orbital Sciences spacecraft ordered by Intelsat since 2001 that are either now in orbit or in production for upcoming launches. Galaxy 15 was equipped with WAAS GPS, providing precise location data for pilots.
In addition to the C-band commercial communications, Galaxy 15 (pdf), features a unique hybrid payload configuration that broadcast GPS navigation data using L-band frequencies as part of the Geostationary Communications and Control Segment (GCCS) being implemented by Lockheed Martin for the FAA.
The purpose of GCCS (pdf) is to generate and transmit the WAAS signal in space.
The Wide Area Augmentation System enables increased position accuracy for GPS receivers. GCCS is the GPS-based navigation and landing system for aviation use to provide precision guidance to aircraft at thousands of airports and airstrips where there is currently no precision landing capability. Orbital engineered the payload and integrated it onto the existing Galaxy 15 satellite.
SES WORLD SKIES operates a fleet of 27 satellites – part of the 43 spacecraft of the SES group. Some 6,000 satellites have been sent into space since the Soviet Union launched the first man-made orbiter, Sputnik 1, in 1957. About 3,000 satellites remain in operation, according to NASA.
Related DailyWireless stories include; Satellites Collide, Chinese Destroy Satellite – Create Space Debris Field, Satellite Fallout, U.S. Antisatellite Weapon to be Tested, Geosync Spies, Space Cold War, Antartic Communications, Space Capsule, China/US Space News, Russian Satellite Hit, Pacific Satellites Fail, T-Minus 10 for Space X, Space Lasers, Satellite Jam, Advanced EHF – Wait for It, Pacific Telecommunication Council: 007, State Department on Space Policy, Robot Space Combat, F.I.A. FUBAR, Space Cold War, Space Radar Launch, Satellite Jam, Lockheed CEO: Space is Broken, NRO Rides Again, T-Minus 10 for Space X.