Justin Houk notes that last week NOAA released GeoPlatform.gov to provide near-real-time mapping of the oil spill in the Gulf.
The site lets you track everything from daily spill positions to the locations of ships responding to the crisis, he writes in ReadWriteWeb. State and non-governmental organizations are also collecting and mapping real-time information. In some instances the efforts include citizen-generated data from iPhone apps and photos mapped on sites like Flickr.
The site is designed to be a one-stop access point for location data, and uses a Web-based mapping system called ERMA (Environmental Response Management Application).
Its list of data layers includes spill trajectories, shoreline conditions, and the current positions of ships registered as responders. NOAA hopes to add things like wildlife impacts, field photos, and agency analysis to the site in the near future. NOAA is currently serving over 325 data layers (pdf) to the public ERMA site.
The iPhone app Oil Spill Response (iTunes download) allows you to file mobile reports on wildlife, oiled shorelines and other types of spill-related damage.
Oil Reporter was created by Crisis Commons and is available for both iPhones and Android smart-phones, reports Justin Houk in ReadWriteWeb.
LA Earth (Louisiana Earth) is a Google Earth Enterprise Server operated by the state of Louisiana that provides daily oil spill trajectories, closures, and many other maps as a Google Earth layer. Here's the KML data file.
WFN recently assisted Stratos Global Corporation with its recent selection as the winning bidder for two of the three geographic zones for 2.5 GHz WiMAX licenses in the Gulf of Mexico. The FCC's Auction 86 awarded two zones to Stratos, covering approximately 90 percent of the structures and platforms in the three auctioned areas. The StratosMAX broadband wireless network is powered by Alvarion's BreezeAccess gear.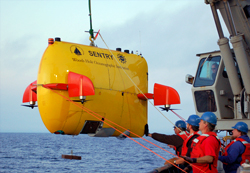 This month the R/V Endeavor, a National Science Foundation ship operated by the University of Rhode Island will use Ethernet on Sea Cable with two key instruments: a Lowered Acoustic Doppler Current Profiler, which will record information on strength and direction of currents; and Rich Camilli's undersea mass spectrometer (from WHOI), which will detect chemicals from the oil spill. "This system is the only way to get real-time data on the plumes," said WHOI engineer Marshall Swartz.
The NY Times has complete coverage and lots of interactives.