A rescue plan is being implemented to salvage the U.S. military's gold-plated AEHF communications satellite after a serious malfunction knocked out its main engine and stymied the craft's maneuvering ability, reports SpaceFlightNow.
The billion dollar Advanced Extremely High Frequency 1 spacecraft was launched into a preliminary orbit by an Atlas 5 rocket on August 14 from Cape Canaveral, Florida.
AEHF 1 was expected to reach its on-orbit testing location at 90 degrees West longitude over the equator within 105 days of liftoff.
But those plans were thwarted a day after launch during the initial orbit raising burn when the satellite's main engine shut down shortly after ignition for still-unexplained reasons. Another attempt tried August 17 also ended immediately when the engine again failed to generate the expected acceleration.
Built by Lockheed, it's the successor to the currently-operational Milstar system.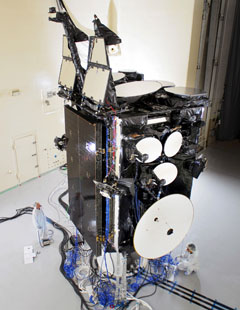 AEHF will consists of three geostationary satellites plus a possible on-orbit spare. When the constellation is finished, the satellites will be also able to communicate with one another directly as well as provide spot beams on Earth.
There are three AEHF communication services: a new one providing data rates up to 8.192 Mbit/s per user, and the previous Milstar Low Data Rate (LDR) services (75 – 2400 bits per second) and Milstar Medium Data Rate (MDR) services (4.8 kbit/s – 1.544 Mbit/s).
Military satellites seem prone to years of delays and multibillion-dollar cost overruns. TSAT, the Transformational Satellite communications system, cost U.S. taxpayers $2.5 billion before Secretary Gates pulled its plug.
AEHF was expected to cost $5.6 billion in 2001 when the program was getting under way, but today the price tag is more than $10 billion for fewer satellites, according to the Government Accountability Office (GAO).
There is also the Space-Based Infrared System (SBIRS), a group of four infrared satellites designed to warn of missile launches and perform other reconnaissance operations. This 1996 program has ballooned from about $ 2 billion to more than $13.6 billion today. A Lockheed Martin-Northrop Grumman effort, SBIRS is eight years late. Two satellites have been launched so far, but hardware defects have since been discovered on the first one, the GAO said.