Scientists at the Monterey Bay Aquarium Research Institute say their newest autonomous underwater vehicle, called Tethys, introduces a new class of AUV that will take their oceanic research to a whole new level, reports C/Net.
Propeller-driven autonomous vehicles can travel at a relatively fast and carry big payloads but can only be out at sea for a few days. Gliders, which shift their center of gravity from gliding up and down the water column, can do weeks at a time but are slow.
Engineers at Monterey Bay Aquarium Research Institute say their newest autonomous underwater vehicle, called Tethys, combines the best of both, introducing a new class of AUV.
"Tethys can travel to a spot in the ocean and 'park' there until something interesting happens," said MBARI Chief Technologist Jim Bellingham, who led Tethys' development.
Tethys is optimized around a "high power" payload power consumption of about 8 watts. Power management is integral to the vehicle, and the ability to operate sensors intermittently or not at all to reduce power consumption is key to achieving large ranges and endurances.
Over operational deployments of weeks to months, Tethys vehicles can be infrequently monitored and controlled from shore via an Iridium satellite link (pdf). Tethys will be able to travel thousands of kilometers — far beyond the capability (or economic feasibility) of rescue vehicles to retrieve the AUV if it encounters trouble.
The Integrated Ocean Observing System (IOOS) is an integrated network of regional Ocean Observatories.
Both UW and UC San Diego are involved in the $400 million Ocean Observatories Initiative, and its Cyberinfrastructure group – led by Scripps Institution of Oceanography and based in the California Institute for Telecommunications and Information Technology (Calit2).
Tom DeFanti leads Calit2′s five-year collaboration to develop 3D, high-resolution displays, as well as teleconferencing, networking, computation, and storage. "21st century discovery will be driven by the automated analysis of massive amounts of sensor data captured from the world around us," said Ed Lazowska, the Bill & Melinda Gates Chair in Computer Science & Engineering and Director of the eScience Institute at UW.
The OOI will monitor and forecast environmental changes in the oceans on global, regional and coastal scales.
The SATURN Collaboratory monitors the Columbia River in real-time. The Monterey Bay Accelerated Research System , known as MARS, is the testbed for many scientific instruments. Neptune Canada is now operational. It's all about collaboration, with data transmitted to an innovative data archival system at the University of Victoria via fibre.
Cloud computing is expected to lower costs and enhancing access to these "co-laboratories". Scientists are expected to share data, rather than hoard it.
The NeMO Net system used acoustic modems to relay data at 600 baud from seafloor instruments to a buoy at the surface, which in turn sent data to NOAA's Pacific Marine Environmental Laboratory via Iridium satellite link.
The cabled system will boost speeds about a million times, using 10GigE. Scientists will then be able to share data with their colleagues around the world via OOI's networked cyberinfrastructure.
Scientists will be able to extrapolate from data gathered by an array of more than 50 diverse sensor types and other scientific instruments that will communicate through permanently installed seafloor cables and satellite links.
Amazon's Simple Storage Service (S3) provides a simple web interface to store and retrieve any amount of data, at any time, from anywhere on the web. Like Amazon S3, Amazon's Elastic Compute Cloud (EC2) is a web service. It provides resizable compute capacity in the cloud with a simple web service interface that allows a researcher to obtain and configure the massive compute resources.
Amazon Web Services is offering Cluster Compute Instances specifically for the needs of HPC users. Amazon's Cluster Compute Instances consist of a pair of quad-core Intel Nehalem X5570 processors. They look much like Amazon's Elastic Compute Cloud on the interface but have been specifically engineered to pack more CPU punch. Amazon has benchmarked its new cluster service at spot 146 on the top500 list.
Research vessels like the R/V Atlantis use Inmarsat with a Nera Saturn B terminal for slow speed voice and data. But cost per megabyte is expensive on Inmarsat's BGAN so oceanographers have developed HiSeasNet, which uses gyro stabilized dishes pointed at commercial satellites for lower costs.
Harris manages OceanNet, a world wide system of deep, shallow and coastal buoys equipped with VSAT terminals.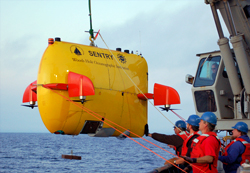 A realtime Oil Spill Map might be enabled by the R/V Endeavor, a NSF ship using Ethernet on Sea Cable with two key instruments: a Lowered Acoustic Doppler Current Profiler, which will record information on strength and direction of currents; and Rich Camilli's undersea mass spectrometer (from WHOI), which will detect chemicals from the oil spill. "This system is the only way to get real-time data on the plumes," said WHOI engineer Marshall Swartz.
Related Dailywireless articles include; Ocean Observatory Gets Funded, Ocean Observatories: The Ultimate Splash Page, The 100 Gbps Backbone, 66 Broadband Grants Awarded, Mobile Supercomputing Access, Plug and Play Environmental Sensor Nets, Tracking Tour de France , Microsoft's WhiteFi: Wi-Fi Using Whitespaces, Mobile Supercomputing, The Platform, Google Ocean Unveiled, Wireless River Monitoring, Shipboard AIS Gets a Satellite Swarm,