Engineers have regained communications with the "Zombie satellite", a rogue satellite that has spent nine months threatening satellites along the geosynchronous arc.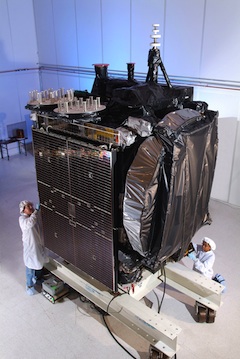 Galaxy 15 is now responding to commands and ground controllers, Intelsat announced this week.
Galaxy 15 stopped communicating with engineers in April, but the craft continued blaring powerful C-band television signals as it drifted uncontrollably through geosynchronous orbit, terrorizing satellites along its path.
It required maneuvers by Intelsat and other operators affected by fly-bys of Galaxy 15 — including SES, Telesat and SatMex — to avoid serious interference and service interruption.
A solar storm may have crippled the satellite, but officials are still investigating the root cause of the anomaly.
Intelsat says the spacecraft temporarily lost Earth lock on Dec. 17, causing it to lose enough power to shut down its primary C- and L-band payload. On Dec. 23, the battery completely drained and the baseband equipment command unit reset automatically, as it was designed to do. The spacecraft then began accepting commands and sending telemetry again, allowing engineers to place it in safe mode.
In other space news, Germany and the United States are jointly developing secret spy satellites under the guise of a commercial programs despite opposition from France, according to US diplomatic cables on Wikileaks.
The project, named HiROS, which stands for High Resolution Optical Satellite System, envisions the construction of an undetermined number of high-resolution observation satellites capable of spotting any object on the planet down to a size of just 50 centimetres (about 1.5 feet). The satellites will also have the capacity to take infrared images at night and to send images much quicker back to earth than the satellites currently in service, the cables showed.
According to Wikileaks, US and German officials have decided it should be presented as a civilian project with environmental aims, run by commercial entities. But in reality it is "under the total control" of the German intelligence service BND and the German aerospace centre DLR, the cables showed.
A DLR spokesman on Monday denied HiROS was a spy satellite.
"The purpose of HiRos will be to transmit data for public services, for example for crisis management in natural catastrophes," Andreas Schuetz told AFP in an email.
"HiROS is not a spy satellite nor a secret project," he said.
The German government would probably like to lessen their dependence on the French Spot system. The French two-satellite Pleiades spacecraft, for high-resolution (sub-meter) optical Earth-imaging , are currently operational.
DLR and Astrium GmbH of Germany co-financed work on an optical imager for South Korea's Kompsat-3 satellite, scheduled for launch in 2011. The Kompsat-3 imager is designed to provide a ground resolution as sharp as 70 centimeters.
Earth observation satellites include Ikonos/GeoEye and DigitalGlobe in the United States.
Ball Aerospace (right) built DigitalGlobe's WorldView-2, launched on October 8, 2009. The satellite includes a panchromatic sensor with a 46 cm (18 in) maximum resolution and a multispectral sensor of 184 cm. The Ikonos/GeoEye GeoEye-2, due to launch in early 2013, will have a resolution of 25 cm, making it the highest resolution commercial Earth observation satellite in orbit.
DigitalGlobe, of Longmont, Colorado, has scheduled WorldView-3 for launch in 2014 or 2015. It will have essentially the same technology as GeoEye-2, being built for DigitalGlobe's principal U.S. competitor, GeoEye of Dulles, Va.
NASA's James Webb Space Telescope (JWST) is a planned infrared space observatory and is the scientific successor to the Hubble Space Telescope . Its main scientific goal is to observe the most distant objects in the universe beyond the reach of either ground based instruments or the Hubble.
The Spitzer Space Telescope (SST), is an infrared space observatory launched in 2003. The planned mission period was to last until the onboard liquid helium supply was exhausted. This occurred on 15 May 2009. Without liquid helium to cool the telescope to the very cold temperatures needed to operate, most instruments are no longer usable. However, the two shortest wavelength modules of the IRAC camera are still operable with the same sensitivity as before the cryogen was exhausted, and will continue to be used in the Spitzer Warm Mission.
Aerospace.org provides systems engineering and integration for many NRO spacecraft such as the Space Based Infrared System which continues to struggle with cost overruns, with several Nunn-McCurdy breaches. The initial $2.16 billion contract has now increased to $10.4 billion.
Related DailyWireless Space and Satellite News includes; Eutelsat Launches Ka Band Internet Satellite , O3B: Funded for Launch, SkyTerra 1 Launched, Broadband Satellites: Black Hole?, LightSquared: Phase 1, LightSquared: 5K Basestations by 2011, LightSquared Announces LTE Network, FCC Okays Terrestrial LTE for SkyTerra, TerreStar Successfully Launched,Broadband Satellites: Looking Up, WiMAX and/or Satellite, HughesNet's Spaceway 3 Now Available, Hughes Launches Switchboard in the Sky, HughesNet & Broadband Corporation, Spot Beam Sats Multiply, Clearwire & SatTV Do a Deal, Sprint Beams Up with MSV, TerreStar: I-HSPA for Satphones, Satphones: Merger Ahead?, Inmarsat + SkyTerra = Spectrum Sharing, Mobile Satellite on the Move, TerreStar Gets a Slot, Satellite Repeaters – Grounded In Reality?, WildBlue Partners with DirecTV & Echostar, John Malone in Space, TerreStar Gets a Slot, BSkyB + Google, SkyNet Satellite Hacked?, Lockheed CEO: Space is Broken, MSS: AWS Alternative?, WildBlue: AT&T's DeathStar?