Apple has started manufacturing a new version of its iPad tablet with a built-in camera and faster processor, said the Wall Street Journal. The new iPad is expected by Apple watchers to debut in the next couple of months at a similar price range as the current iPad.
The new iPad will be thinner and lighter than the first model. It will have at least one camera on the front of the device for features like video-conferencing, but the resolution of the display will be similar to the first iPad, according to reports. It will also have more memory and a more powerful graphics processor.
The new iPad will initially be available through Verizon Wireless and AT&T , but not Sprint Nextel or T-Mobile USA, reports the WSJ.
Foxconn–a key maker of iPhones and iPads–had been notified that it should be ready to ship 400,000 to 600,000 units of the new device by the end of February, reports C/Net. Another rumor pegs February 14 as the release date for Apple's iOS 4.3, the newest update for iPhones, iPads, and iPod Touches.
The iPad, introduced in April 2010, sold more than 14.8 million units worldwide last year. ISuppli forecasts 57 million tablets will be sold this year and 171 million in 2014.
Tablets could displace around 10 percent of PC units by 2014, according to Gartner.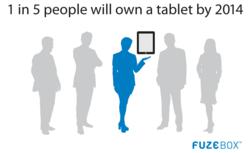 More than 1 in 5 Americans will own a tablet by 2014, says a new survey by Harris Interactive, and 37 percent of them will own them for business use, according to the survey.
About half of all tablet owners plan to use the devices for social networking.
Meanwhile, Engadget says Palm's 10-inch tablet, called the TouchPad, is similar to the first generation iPad but with WebOS and cloud storage. Apple's entry lacks both memory (256MB vs. 1GB for everyone else) and a front-facing camera – but that will likely change soon enough.
The TouchPad is only offered with a 3G connection. No Wi-Fi-only model was announced. The device supports multi-tasking and Flash. It comes with Quickoffice and supports Google Docs, Dropbox, and Box.net for cloud file storage as well as HP Wireless Printer support. It also uses Skype for video calls. The TouchPad won't be available until this summer. No price yet.