Austin-based Freescale Semiconductor, one of the 10 largest chip makers worldwide, unveiled the industry's first multimode wireless base station processor family that scales from small to large cells. Their QorIQ Qonverge integrates DSP and communications processor technologies to create a true 'base station-on-chip.'
According to Freescale's press release, the scalable family of products shares the same architecture to address multi-standard requirements spanning from small to large cells. The base station-on-chip line will be applied to a new generation of femtocell, picocell, metrocell and macrocell base stations on a common architecture.
Advanced process technology and integration allows the new product the convergence of multiple functions traditionally perfomed on separate FPGA, ASIC, DSP and processors to be incorporated on a single device. Standards supported include LTE-FDD & TDD, LTE-Advanced, HSPA+, TD-SCDMA and WiMAX. The architecture also allows for evolving standards with software upgrades. Alcatel-Lucent today announced that it has been selected by Zain KSA for the first small cells trial in Saudi Arabia.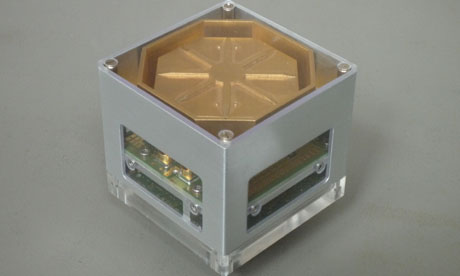 Freescale's new baseband SoC is also playing a critical role in lightRadio technology, recently announced by Alcatel-Lucent. LightRadio is a small cube which combines an active array antenna with a software defined radio. LightRadio, it is claimed, will cut the cost of site rental by 66% and reduce power by 51%. The radios are tiny cubes of 2.5 inches square, and each can operate between 1.8GHz and 2.6GHz. They use tiny amps, built into the antenna enclosure.
Alcatel-Lucent says it is first in the industry to announce products in this space, in partnerships with Freescale and HP. Lisa Su, senior vice president and general manager of at Freescale's networking and multimedia group, said, "Our new baseband SoC is in it."
Texas Instruments, on the other hand, has developed a new multimode wireless base station chip, called TMS320TCI668, delivering "double the LTE performance of any existing 40nm SoC," according to the company. TI has added hardware accelerators to the company's recently announced base station SoC, called TCI6616. they both use TI's new DSP, the TSM320C66x – featuring floating point and fixed point math in every core.
Sequans Communications announced an initiative named 4Sight on the client side that allows operators to go forward with next-generation wireless plans, without immediately having to decide on whether to use the LTE or WiMAX protocol. WiMAX operators planning to add or transition to LTE -– whether full overlay, partial overlay, or no overlay with their existing network -– can seed their market with LTE-ready devices.
"Any operator who says they know what client devices will demand in flavors of 802.11, WiMax, LTE, various flavors of 4G…is lying, overly optimistic, or both!" noted Rick Doherty, co-founder and director, at The Envisioneering Group in EE Times. "So the only sane survival method is build cell systems with agile software radio support until 4G 'stratifies' into clear winners… again, driven by the consumer, business and institutional device mix and demand."
More WMC action at Google News, C/Net, TechMeme, BlogRunner, Engadget, Gizmodo, PC Magazine, RCR Wireless News, Mobile Burn, Mobilebusinessbriefing, MWC: Show Daily, Light Reading, Fierce Wireless, Phone Scoop, MocoNewsTech Crunch, GigaOm, ARM Devices,Liliputing, The Register, Guardian