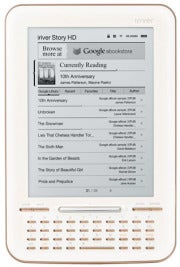 The first e-reader for Google books, the Sony iriver Story HD e-reader, will be available this Sunday in Target stores for $139. The iriver Story HD is the first e-reader integrated with the open Google eBooks platform, so you can buy and read Google eBooks over Wi-Fi, rather than connecting it to your computer via usb cord. It has a 6″ E Ink screen with 1024×768 resolution and 8 gray levels.
Google eBooks, which launched in December, 2010, is supported by over 80 e-readers that support Adobe Digital Editions. Supported reading devices for the Google eBooks file format include the Sony Reader, Nook and Kobo e-readers but not the Kindle. Google eBooks, which come in the ePub format, can be read on the Nook and Kobo, just not purchased on the device itself. A free app lets you read Google eBooks on most desktop computers, and on Android and iOS devices.
The Google Books storefront is believed to have well under 10 percent of market share for e-book sales. The main competion comes from Amazon (perhaps 58% of ebook sales), Barnes & Noble, Apple, Sony, Kobo and others. Google says that this is just the first of a number of devices that will be directly support its Google Books service.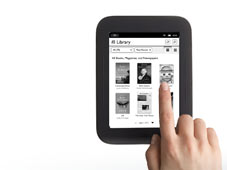 The smallest and lightest dedicated e-book reader is the Sony Reader Pocket Edition PRS-350, which has a 5-inch touch screen and weighs just 5.5 ounces, but lacks Wi-Fi.
Other 6-inch ebook readers include the Kobo eReader Touch ($129 with touchscreen, Wi-Fi, MicroSD and Micro USB, 7.1 ounces), Nook Simple Touch ($139 with touchscreen, Wi-Fi, microSD, usb, 7.5 ounces), and the Nook Color ($249 with a larger 7-inch touchscreen, Wifi, USB, 15.8 ounces).
There are also a number of 7-inch Android tablets available. Most will read books from Amazon, Google, Borders, Barnes and Nobile as well as independent suppliers that use common ebook standards such as ePub, mobi, PDF, TXT, RTF, and others.
Since its launch in April last year, Apple's iPad tablet has defied skeptics, becoming a breakthough product.
Roger Fidler, program director for digital publishing at the Reynolds Journalism Institute at the University of Missouri, has been conducting surveys of iPad users since last fall and is surprised by the high levels of user satisfaction.
Fidler found this spring that nearly 70 percent of the 561 owners who responded said they were even more satisfied than they were last fall.
"While the iPad is designed for consuming all kinds of media, it has become clear that leisure reading of news and features is very popular with owners," Fidler said. "The iPad's ultra-thin, lightweight nearly magazine-size screen is more conducive for reading than laptop computers and other mobile devices. The screen size seems to be one of the main reasons for its sustained user satisfaction."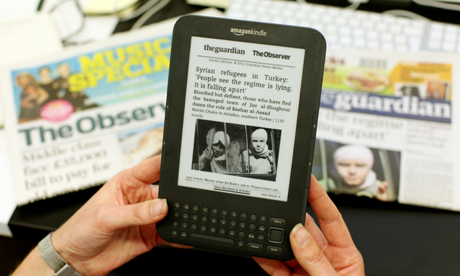 The Guardian announced that it has launched a Kindle edition. It comes as the Guardian prepares to stop printing international editions this October. The Guardian says will be available in the UK, U.S. and 100 other countries, and will feature all content, including supplements, from both the Guardian and its sister Sunday newspaper, the Observer—for now, all in black-and-white.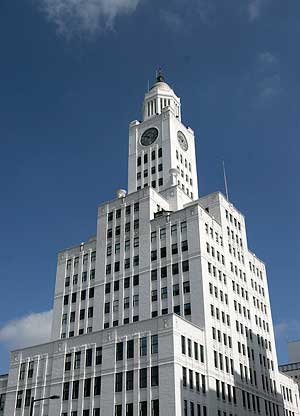 The Philadelphia Inquirer and the Philadelphia Daily News, both published by owner Philadelphia Media Network, will sell Android tablets this year with subscriptions.
According to AdWeek the final pricing hasn't been set yet, but the goal is to offer a roughly 50 percent discount on the tablet and the digital subscription. The hope is to breach the print and digital worlds with the program. Currently the papers' digital editions each cost $2.99 a week.
The average seven-day newspaper subscription is $3.85 a week, with circulation revenue per subscriber over two years adding up to $400. But the expense of producing and delivering the paper, plus acquisition costs is more than $450. Advertising makes newspapers and magazines possible.
A tablet like the Nook Color may have an advantage for newspapers and magazines over a B&W Kindle in that it can run Android apps and display color banner ads as well as embed video and photos. Amazon is rumored to have an Android color tablet in the works, perhaps similar to the Nook Color. Amazon already has an Android App Store.
Related e-book articles on Dailywireless include; The Future of Newspapers, Apps & e-Books: Merging with EPUB-3?, E-Book Judgement Day , Nook Color Updated for Android Apps, Kindle Library Lending, Amanda Hocking: e-Book Sensation, Pagination comes to Google Docs, Adobe: Tablet Publishing for Android, Google Editions: Web eBooks Readied , Bookstores: Preparing for E-Books?, e-Publishing: The New Normal, iPad Publishing Model: It's People!, Here Come the Tablets, 2010: 11 Million Tablets, Google: King of all Media?, WiFi Nook: $149, Free Download for iOS 4 Ready , Starbucks: Free WiFi + Free Content, Scribd Does HTML 5 Magazines, Kindle Announces 70% Royalty Option